AvePoint's Technology team consist of: Support Services, Delivery, and Pursuit.
Support Services provides customer support, technical account management, and managed services to ensure the adoption of the customer's Microsoft and AvePoint investment. Delivery provides services to support adoption of AvePoint solutions, SharePoint, and Office 365. Pursuit partners with our sales organization to drive AvePoint product and services sales.
Get the inside scoop on our Technology team: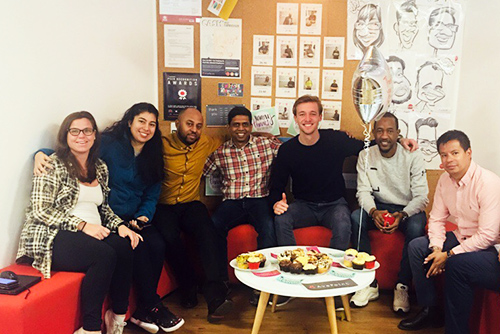 Open Positions
There are currently no openings for this department. Please check back later!
Meet Our Team

Kan Taguchi
Manager, Delivery, Tokyo
Camper / Rugby Enthusiast / Soba Explorer / Environmentalist
#WhyAvePoint
"I have been able to transition into roles at AvePoint that best fit my passion and skills. I appreciate how AvePoint lets me try and do the things I feel I do best."

Sangcher Kim
Manager, Solution Engineering, Tokyo
Tennis Player / Ramen Lover / World Traveler / Positive Thinker
#WhyAvePoint
"AvePoint allows me to fulfill my ever-changing appetite. I have been able to experience various roles and business domains including: Support and Delivery, Sales and Business Development, and Consulting."

James Nankervis
Associate Solution Engineer, Richmond
Researcher / Technology enthusiast / Software writer / Security tester
#WhyAvePoint
"Working at AvePoint is amazing for many reasons: the People Team, my colleagues, and the endless opportunities to grow."

Anna Kot
Customer Success Manager, Melbourne
Gamer / Animal Lover / Amateur Astronomer / DIY Guru
#WhyAvePoint
"AvePoint challenges me daily and drives me to be better in everything I do. The impact it has had on my personal as well as professional life has been astounding. I've found the perfect balance in my role!"

Kayo Harimoto
Customer Success Manager, Tokyo
Basketball Player / Logical Thinker / Ambitious Person
#WhyAvePoint
"AvePoint provides challenges and the opportunity to demonstrate my skills in various fields to achieve goals. I believe this is the best workplace for people who love developing and accomplishing challenging tasks."