AvePoint Media Contact
Nicole Caci
Tel: +1 201-201-8143
Email: nicole.caci@avepoint.com
AvePoint Announces Third Quarter 2021 Financial Results
JERSEY CITY, N.J., Nov. 15, 2021-- AvePoint, Inc. (NASDAQ: AVPT), the largest data management solutions provider for Microsoft 365, today announced financial results for the third quarter ended September 30, 2021.

"AvePoint delivered its eleventh consecutive record quarter with total revenue of $54 million and 79% year over year growth in subscription revenue for our SaaS and data management platform," said Dr. Tianyi Jiang (TJ), CEO and Co-Founder, AvePoint. "With most companies still in the early stages of their SaaS optimization and multi-cloud shifts, there is a massive market opportunity for AvePoint to manage and protect digital collaboration data on a recurring basis that will only increase as companies' SaaS operations become more mature and complex."
Third Quarter 2021 Financial Results
Total Revenue of $53.9 million, up 36% year-over-year
Total ARR of $147.5 million as of September 30, 2021, up 32% year-over-year
SaaS Revenue of $22.4 million, up 59% year-over-year
GAAP Operating Loss of $28.7 million
Non-GAAP Operating Income of $4.0 million
Cash and Short-Term Investments of approximately $262.3 million as of September 30, 2021
Third Quarter 2021 Key Highlights
Launched first global partner program, designed to support the unique needs of different types of channel partners as they build services around digital collaboration.
AvePoint was awarded a $37 million SGD ($27.5 million USD) contract from lead agency Temasek Polytechnic to deploy a training management platform for career professionals. The platform will be powered by AvePoint EduTech and will be available to six institutions of higher learning (IHL) for over 100,000 students.
Maintained triple digit growth in monthly recurring revenue (MRR) tied to the managed services provider (MSP) business.
Achieved record level sequential growth in accounts with over $100k in annual recurring revenue (ARR).
Financial Outlook
For the fourth quarter of 2021, AvePoint currently expects:
Total revenues between $56.4 and $58.4 million
Non-GAAP operating income between break even and $1.5 million
For the full year ending December 31, 2021, AvePoint currently expects:
Total revenues between $194.4 and $196.4 million
Non-GAAP operating income between $4.7 and $6.2 million
Conference Call
AvePoint will host a conference call today on November 15, 2021 to review its third quarter 2021 financial results and to discuss its financial outlook. The call is scheduled to begin at 8:30am Eastern Time. Investors are invited to join the webcast by visiting https://ir.avepoint.com/events. The webcast will be available live, and a replay will be available following the completion of the live broadcast for approximately 90 days.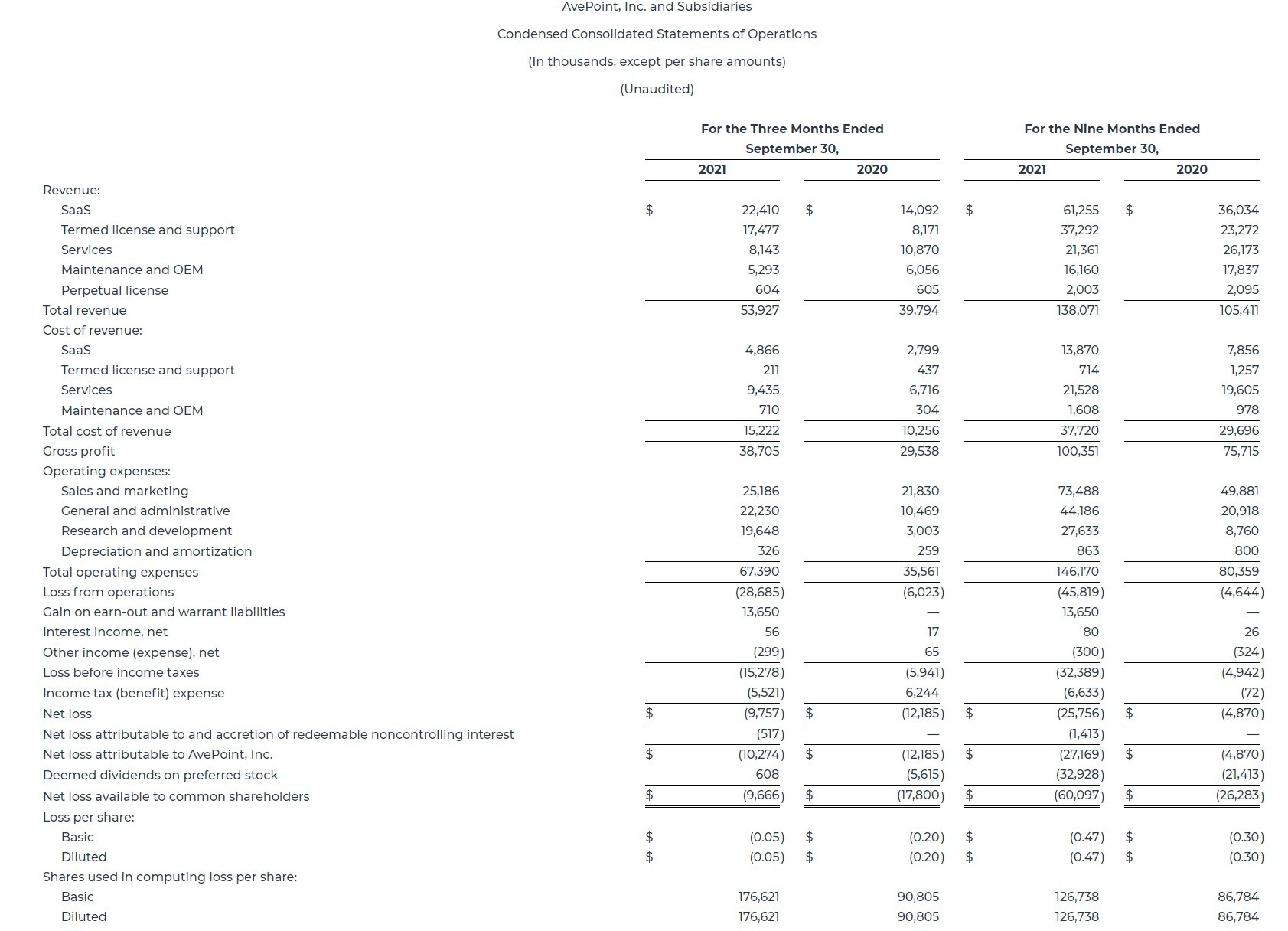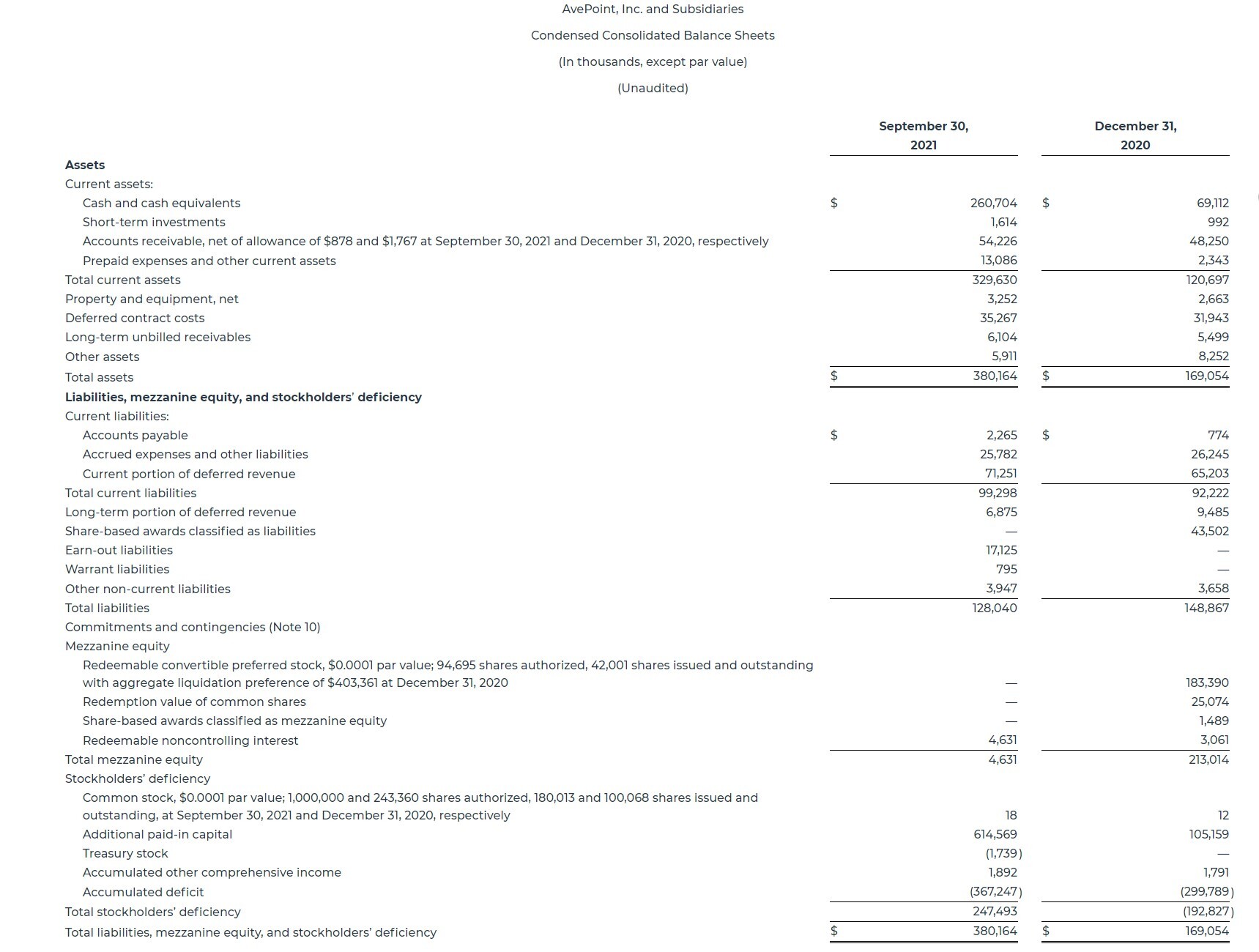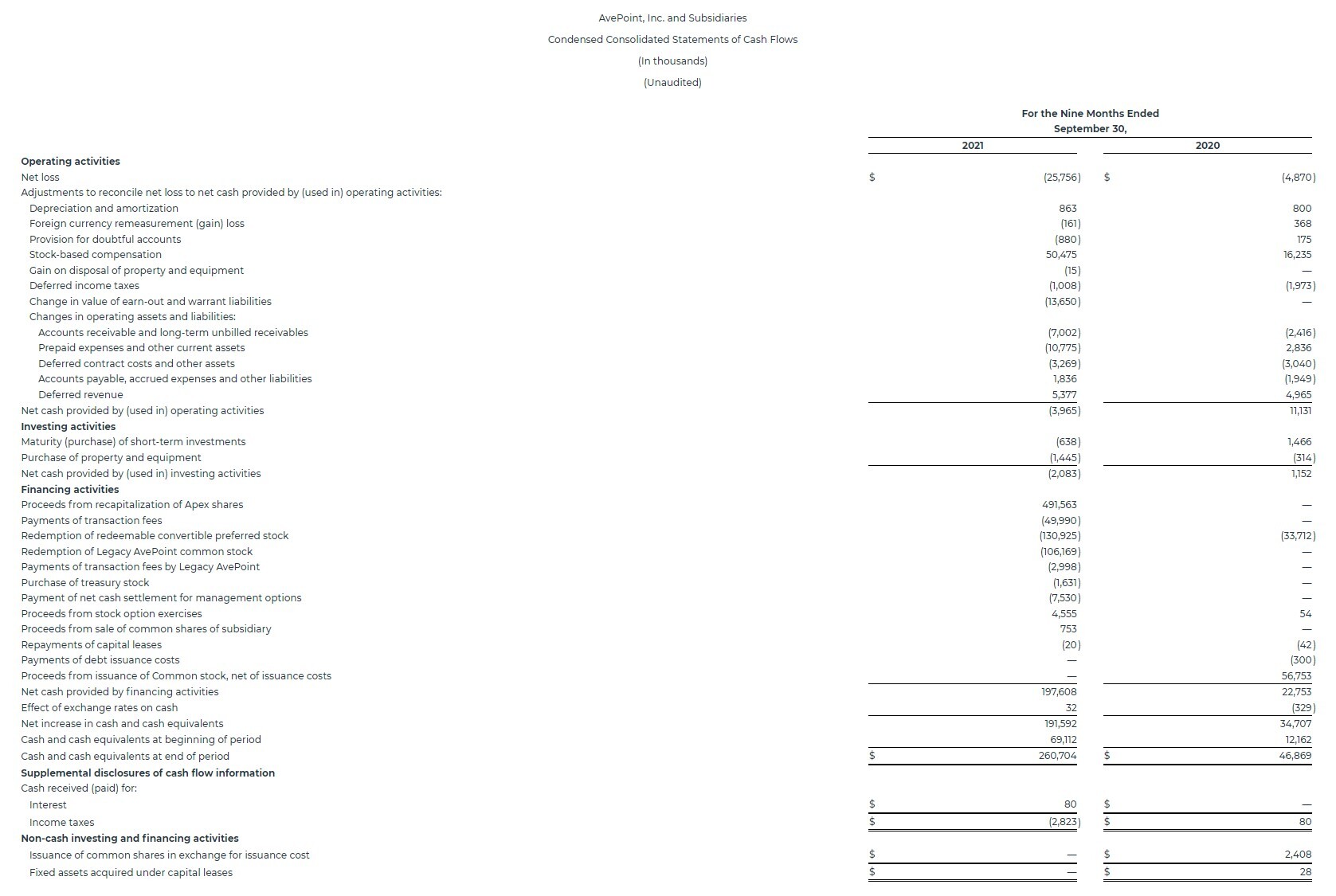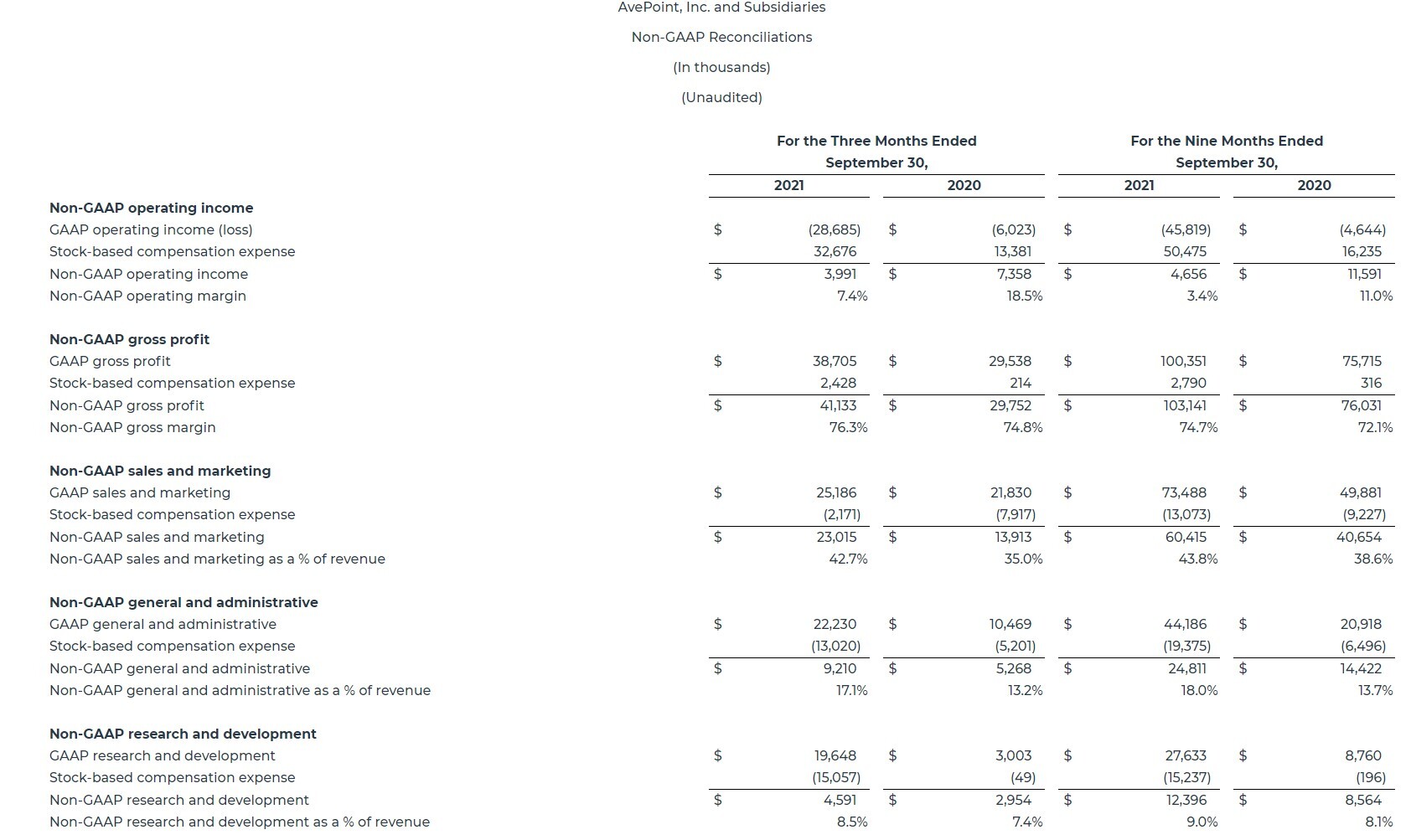 Collaborate with confidence. AvePoint is the largest Microsoft 365 data management solutions provider, offering a full suite of SaaS solutions to migrate, manage and protect data.
More than 8 million cloud users rely on our solutions to make their organizations more productive, compliant and secure.
Our SaaS solutions are also available to managed service providers via more than 100 cloud marketplaces, so they can better support and manage their small and mid-sized business customers.
Founded in 2001, AvePoint is a five-time Global Microsoft Partner of the Year and headquartered in Jersey City, New Jersey. For more information, visit https://www.avepoint.com
All product and company names herein may be trademarks of their registered owners.