Is your organization still transitioning to working online? AvePoint is offering free Office 365 migration services when buying Cloud Backup through June 30, 2020! Click here for details.
---
OneDrive for Business (ODFB) is Microsoft's answer to the personal cloud storage space. Microsoft has been working on this model of hosted storage in one form or another for a few decades now, and many of the features they offer with OneDrive were once far ahead of their time, but now are a standard across the cloud storage and collaboration space.
OneDrive for Business is separate from "OneDrive" as it has many more tie-ins to the enterprise features that Office 365 for Business or Enterprise brings to the table. The version of "OneDrive" that comes with a personal license or a "Home" Office 365 license has plenty of capabilities but lacks some of the enterprise-level controls given to organizations for workplace security, automation, and integration.
If you want these features for your homework (some of us really do- it's great to be able to automate and keep track of personal banking and when/who is doing the chores…) you can simply buy a business license for Office 365 for plus or minus a few dollars the home license depending on which options you choose.
The features available via OneDrive For Business make it an ideal collaboration tool for business users, especially when included as a feature within the other applications of Office 365.
Are you looking for a good, clear introduction to OneDrive? Check out this post:
Click To Tweet
Personal Cloud Storage for Employee Collaboration
The real power behind OneDrive for Business is that it gives employees a place to store files and work on documents that is accessible from anywhere. People can generate documents within their OneDrive space or upload documents and files and have a multitude of tools at their disposal to organize their personal content.
One of the biggest advantages for OneDrive for Business is that it empowers users to easily interact with MS Office files. Business users with OneDrive for Business have the full functionality of PowerPoint, Word, Excel and most other Office 365 applications that interact with it seamlessly in multiple ways.
Share Files and Manage Security
OneDrive for Business enables users to securely share information and control levels of security via direct access or links for editing or viewing files. This can also be done at the folder level within OneDrive to enable access to a set of files or folders within the drive.
This makes it extremely easy for users to collaborate on projects or finalize documents before they are published to more visible spaces in Office 365 like SharePoint sites or Microsoft Teams. Sharing can also be done right from with the office applications without having to navigate to another interface. This naturally makes for an even more seamless collaboration experience.
Organizations managing Office 365 can dictate if information can be shared externally, and permissions and properties for files within OneDrive for Business can be managed as well. With some licenses, businesses can get reports and manage security based on whether or not users' documents have sensitive content within them.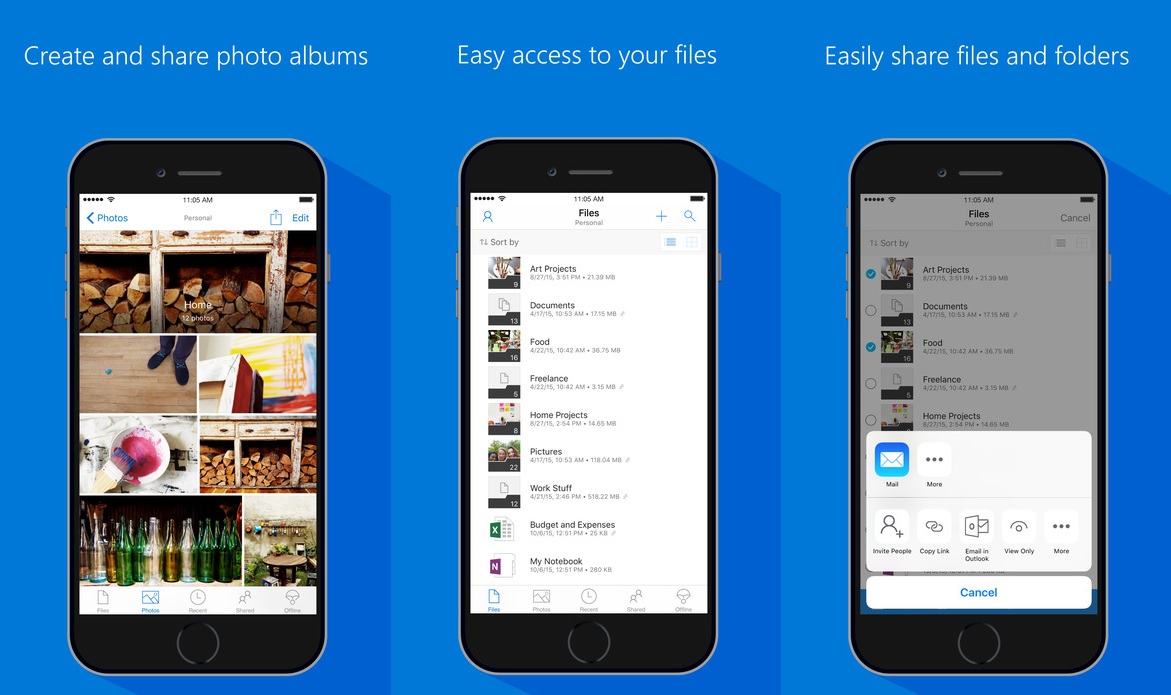 OneDrive Has A Mobile Device App
OneDrive for Business can be installed on and synced to any Android or Apple mobile device or laptop and is super easy to use. Some licenses enable organizational controls around which devices can access OneDrive for Business information, and from which IP addresses and domain users can connect to their OneDrives for Business.
OneDrive for Business Integrates with Microsoft Teams, Exchange Email and SharePoint
The personal "Chat" spaces in Microsoft Teams that enable shared persistent chat conversations with one or more users utilize OneDrive for Business to enable those users to share files. When you upload a file to Teams, it is actually uploaded into your OneDrive for Business and automatically shared with the other users in your chat.
You're given the same option if you upload a document as an email attachment- the document can be uploaded to your OneDrive and shared via a link within the email to reduce duplicate versions of the document from being created.
---
---
It's also possible to move or copy documents to different locations in Office 365 from within the OneDrive for Business interface. This is especially useful when sharing to SharePoint sites or Teams and Groups that exist across the organization.
Versioning, "Backup" and the Recycle Bin
Microsoft was one of the first organizations to enable document "versioning" capability, where users can essentially go back in time through the changes to Office documents that are stored in SharePoint, Office 365 or OneDrive for Business. Users can revert back to the last 500 versions of a document by default, essentially allowing them to go back in time for any individual document for up to and sometimes over 90 days.
Microsoft has enabled a 30-day "Backup" of the information in users' One Drives for Business, which utilized the versioning functionality to revert all the files in the drive back to a certain point in time.
Versioning does not allow the user to restore documents that have been deleted, but the recycle bin feature allows documents that the user has "deleted" to be restored to the point in time that they deleted it for up to 90 days.
Syncing Files
The OneDrive for Business application for Mac and PC allows for the syncing of files to a user's computer. This allows for a desktop copy for offline editing and a cloud copy for mobile access and high availability. Recently, Microsoft introduced the capability of a PC to sync the files in OneDrive for Business to a user's desktop without actually copying the files, thus enabling a live-syncing cloud authoring experience from the user's device without having to worry about file syncing. The OneDrive for Business application also enables the syncing of documents stored in SharePoint sites, which makes it all the more powerful for organizational collaboration.
Whether from the desktop or via the browser-accessible cloud application, it's possible to live edit files in the cloud from Office 365 Applications on a Mac or PC.
Co-Authoring
This live editing feature can be done by multiple users at the same time. You can view the edits that a user is making as you work on documents together.
New Capabilities are Always Being Added…
New features are being added at an increasingly rapid pace, and these features are becoming increasingly complex and powerful. Audio transcription was added to OneDrive for Business this year as well as the ability to find text within image files stored in OneDrive. More integrations to apps like Microsoft Teams and connections to third-party apps like Google Drive, Box, and DropBox make it a versatile and empowering solution for business user collaboration, both now and in the foreseeable future.
---
Like what you read? Make sure to subscribe to our blog for more great OneDrive content.