Confide for Microsoft 365
Control collaboration on your most confidential projects in our virtual data room
When you're working on high-stakes projects, normal data protections are not enough. So how can you enable internal and external teams to collaborate securely? When everything is on the line, trust in Confide.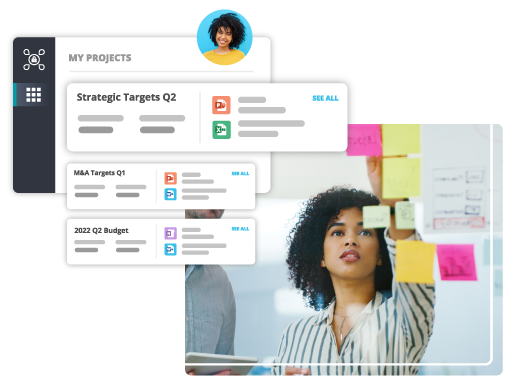 All Data is Not the Same
Rest easy knowing that your most sensitive data is being shared as intended
Exposure. Mistake. Breach. When you're working on highly confidential projects, these possibilities can keep you up at night. Typical enterprise data protection measures are not adequate. When the stakes are that high, how can you balance the security of your most important data with the ability for users to collaborate seamlessly? With more than 20 years of experience enabling digital collaboration, AvePoint is intimately familiar with these challenges.
WATCH CONFIDE IN ACTION
One of the reasons we historically used SharePoint is that we felt more comfortable keeping our data in-house. When our Security team found out that Confide would store the data in our own tenant, rather than hosting it themselves, it made the conversation easier. We hadn't seen that with any other VDR solutions we looked at.
SIMPLE IS SMART
Drive Growth Through Next-Level Collaboration
Collaboration drives the growth and innovation that business leaders demand. M&A, Legal, Finance, and Investment teams work closely together on highly confidential, business-critical information. Traditionally, these teams turned to virtual data rooms for added security around deals, legal proceedings, due diligence on mergers and acquisitions, audits, and more. However, virtual data room providers often lack the flexibility to support a range of projects. The result is too many applications, a disjointed experience, and stalled productivity.
Built on the Microsoft Cloud and backed by AvePoint's powerful security and governance framework, Confide offers a low-friction, high-security solution:
Locally hosted within your own Microsoft tenant
No need to enable external Office 365 access
Flexibility to manage projects without IT dependency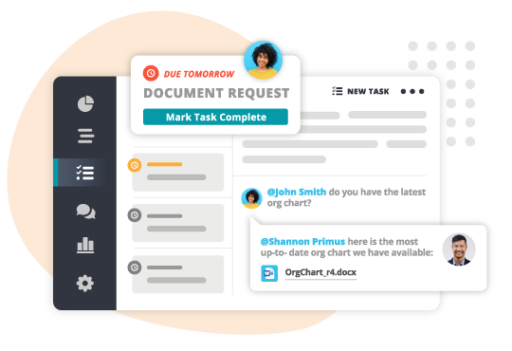 PRECISION IS POWERFUL
A Changing World Requires a Modern Approach
Gone are the days of holing up in a conference room for hours on end with colleagues, working through a complex project. As the world has shifted toward hybrid and remote working models, more and more critical business activities are being conducted entirely online. Cross-border, cross-company collaboration has become the norm. Confide's simple, yet powerful controls allow business leaders to manage sensitive, project-specific sharing with pinpoint precision, enabling IT to focus on other priorities. No matter the size or scope, AvePoint's purpose-built virtual data room software easily scales up or down to suit the needs at hand.
Efficient
Spin up a new workspace within moments. Manage multiple projects from one centralized dashboard, keeping an eye on key metrics and recent activity.
Precise
Manage access with accuracy. Enable sharing across internal and external users. Assign and manage tasks with secure, in-line communications.
Customized
Build your Project Library to your exact specifications with customizable folders and subfolders. Easily update the structure to meet changing needs.
Smart
Optimize sensitive projects with real-time insights and intel. Drill down into individual projects to monitor user activity, project engagement, and more.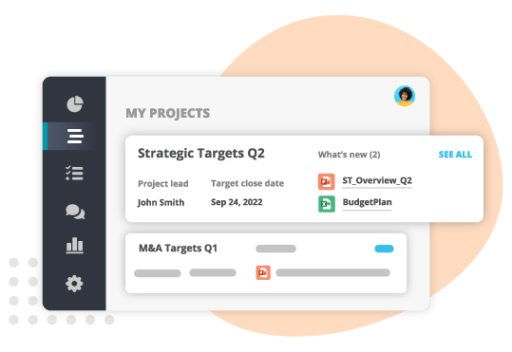 THE PRIVACY YOU NEED, WITH PROTECTION YOU CAN TRUST
Power Your Most Business-Critical Projects
While virtual data rooms (VDRs) and deal rooms first originated in the financial industry, they are now widely used in scenarios where users are exchanging and collaborating on sensitive information, particularly with external parties. An essential tool for financial dealings, mergers & acquisitions, legal projects, and other high-profile business activities, data rooms provide a safe, private space for business to be conducted.

M&A
Due diligence is the foundation of any business-to-business transaction. Parties can vet each other's business and financial portfolios in a restricted virtual deal room.
Capital Raising
When courting investors, organizations must share sensitive financial records and business with multiple external parties. Use built-in insights to gauge their interest and engagement.
Legal
Complex transactions and litigation often require privileged information to be shared between general counsel, external law firms, and third-parties. Enable 24/7 access to up-to-the-minute documents and filings.
Compliance
Whether you're complying with a routine audit or responding to a regulatory issue, compile relevant financial details and company reports in a virtual data room, giving access to the external auditing firm as needed.
Real Estate
In commercial transactions, potential buyers, lenders, and financial institutions need easy access to financials, blueprints, and other property info. Work with multiple parties and revise or revoke access as needed.
Intellectual Property
Industries such as Biotech and Pharma or Mining and Energy use VDRs to streamline and secure the sharing of mission-critical data such as intellectual property, clinical trial data, environmental audits, and project bids.
ON-DEMAND WEBCAST
One Dream, One Team, One Collaboration Environment
How to launch a stunningly successful Microsoft 365 migration in 5 simple steps
Sensitive projects keeping you up at night?
Take the next steps toward controlling collaboration.