AIIM 2021 State of the Intelligent Information Industry
A Wake-Up Call for Organization Leaders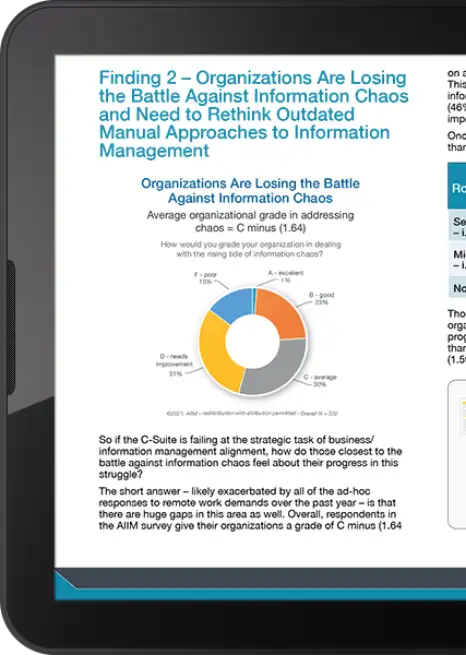 Don't slip through the gaps in common information management strategies.
Dive into the current state of information management within organizations, based on research conducted in February 2021, with 229 decision-makers drawn from the AIIM community.
The data and commentary in this AIIM state of the industry report highlights four specific information concerns that organizations need to seriously address if they hope to succeed in their journey to becoming truly digital organizations.
The C-Suite is failing to align business and technology strategies.
Organizations are losing the battle against information chaos and need to rethink outdated manual approaches to information management.
Organizations need to increase their investment in critical IIM competencies.
Money, focus, and culture – not just technology – are key to true digital transformation.
Table of Contents
2020 – A Wake-Up Call for Organization Leaders
Finding 1 – The C-Suite Is Failing to Align Business and Technology Strategies
Finding 2 – Organizations Are Losing the Battle Against Information Chaos
Finding 3 – Organizations Need to Increase Their Investment in Critical IIM Competencies
Finding 4 – Money, Focus, and Culture – Not Just Technology – Are Key to True Digital Transformation
Final Thoughts – Building an Industry Watch IIM Strategy
Take a sneak peek:
Digitization, document control, and information management are not well understood. It is difficult to get management to understand the need to identify business strategy and how information management strategy plays an essential part in its success. (pg. 19)
AI and machine learning are not panaceas; they are not going to fix every business issue. You've got to look at these technologies in a properly aligned fashion. Do a proof of concept – whatever it takes to prove to yourself that it's worth doing and it's going to provide value. (pg. 24)