Collaboration in this digital age is so much more advanced than it was even a few years ago. To help keep up, users need a flexible and dynamic virtual space that can handle much more than basic communication. In this post, we're going to go over Microsoft's latest application addressing this need, Microsoft Loop.
How Collaboration Evolved Over The Years
In the past, if a team or group wanted to collaborate on a single document, they needed to share it over email. It would then be edited by whoever thought it was necessary and sent back to the owner to review the changes. Before real-time chat became widely adopted, data and files traveled farther to reach recipients and announcements were not shared immediately. These old methods of collaboration would take too much time inevitably delay productivity.
In the years that followed, Microsoft developed various collaboration tools to ease this process. From SharePoint Online to Microsoft Teams and everything in-between, Microsoft doubled down on ease of sharing and collaborating on content both internally and externally.
At the recent Ignite conference, Microsoft once again announced their plans to elevate the collaboration experience by introducing Microsoft Loop. Let's take a look at this new tool and see how it can be utilized into our day-to-day tasks.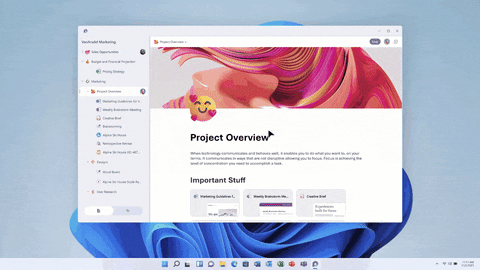 What is Microsoft Loop?
Microsoft Loop is a new collaboration tool that provides a centralized workspace for users that can be accessed from many different apps inside the Microsoft ecosystem. Changes can be seen in real-time, and this feature allows users to have a single space where they can place all the ideas, documents, schedules, links, and assignments about a specific project instead sharing them individually (and endlessly).
How Does it Work?
There are three main components of Microsoft Loop:
Loop Workspaces – Shared spaces that are visible to the team and contain all the relevant documents and items. Collaborators can use this space to catch up with the current progress of a project or task.
Loop Pages – These are flexible canvases that can be customized to suit the needs of a project. This can start small and grow larger as it progresses.
Loop Components – The smallest unit of Microsoft Loop that can be used to start the Loop collaboration. These can be as simple as lists, tables, or notes. There are templates available that can be customized based on your collaboration needs.
How can Microsoft Loop elevate your collaboration experience?
1. Work from different apps and track changes in real-time
As mentioned above, Microsoft Loop components can be accessed from different Microsoft app such as Teams, Outlook, Word, and more. Even if that first Loop component is created inside Microsoft Teams, other shared users outside of the Teams tenant can work on it.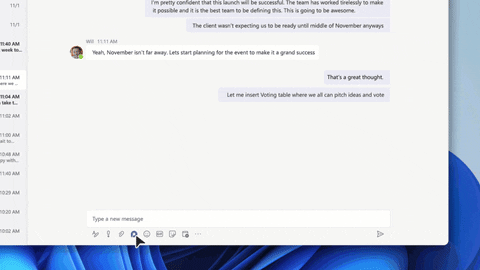 To start, click on the highlighted button in Microsoft Teams chat where you can begin building your Loop components. These can be bullets, lists, or tables. This Loop file—also called "fluid file"—will be stored in the owner's OneDrive account and can be shared afterwards. Users will receive a Microsoft Teams notification whenever there is new Loop activity.
Specific users can start to work on this Loop space even from Word, OneDrive, Outlook, and more. This flexible feature allows users to collaborate from anywhere in the Microsoft ecosystem.
The Loop component can also be accessed and worked on from the Office 365 homepage.
2. Using Loop in Microsoft Teams Meetings
One great place to use of this new collaboration feature is in Teams meetings. Though users must be in a public preview to see these components inside Teams, they can still access them via a link when shared.
Currently no options exist to add a Loop when creating a meeting invite, but soon Microsoft will allow users to insert a component right from the invite page.
This could be a great way to handle meeting minutes so everyone can catch up and be updated, both in real-time and on-demand for those who have not yet joined the meeting. A loop component can be added during a meeting from the chat box.
Once up, everyone in the chat can see it and can be synced in real-time with all other users. Again, the component can still be seen even outside of Microsoft Teams.
3. Track the Status of Your Projects
One Loop component that will certainly be beneficial to Teams is the status tracker. This enables users to see updates and monitor tasks while having a centralized view for all. This can significantly help cut down on meeting frequency.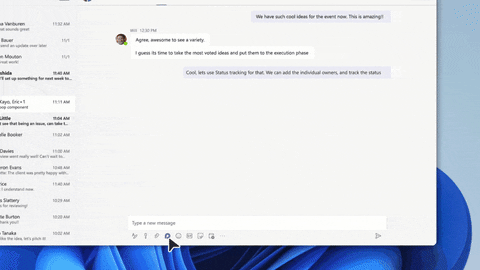 4. Using Loop to Gather Votes
One of the great components of Microsoft Loop is the voting table. It's now easier for a team to come up with a decision and even reach those outside of Teams; poll updates can be seen in real-time by everyone for added transparency.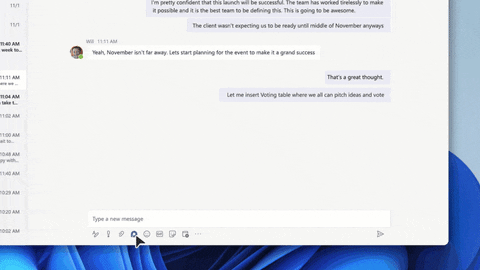 Aside from these four practical applications of how Loop can help make our day-to-day tasks easier, there are other features that we can see in this new tool such as:
Versioning – You can roll back when a sudden deletion or mistake occurs
Permissions – Copy links or provide direct permissions to invite users to collaborate
A mobile version – Microsoft Loop is mobile-friendly, especially for those who work on the go! It will be publicly available for all.
It's hard to collaborate with different users from different workspaces and different setups; thus, the connectivity and transparency Microsoft Loop provides should surely elevate the collaboration experience for all users. Try it out now and let us know your favorite feature!
---
Keep up with all the latest Microsoft 365 updates by subscribing to our blog.