AvePoint Opus - Next-Level Information Lifecycle
Powered by Advanced AI
Good business is based on good information. AvePoint Opus is the better decision for the next generation of information lifecycle solutions allowing you to have complete control from creation, to archive or defensible disposal, all through a central interface.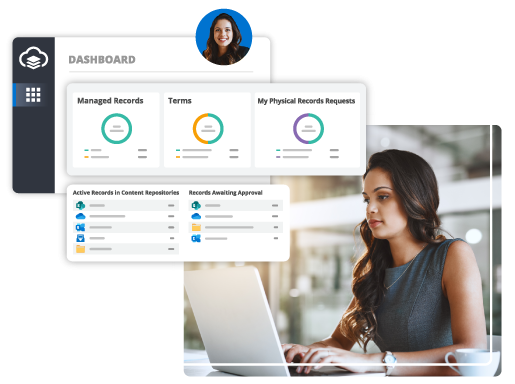 Don't just manage your information, command it.
Organizations worldwide have moved to the cloud in pursuit of digital collaboration, IT agility, and on-the-go access. But the digital workplace inherently leads to content sprawl, which brings with it greater exposure to risk, increased compliance challenges, and rising storage costs. No matter where you are in your journey to the cloud, a comprehensive information management strategy, including automatic data classification powered by AI, is critical to achieving operational efficiency and compliance.
View Product Brochure
AvePoint has always had a modern information management solution, which allows the Australian Transport Safety Bureau team to seamlessly integrate recordkeeping and compliance as part of their responsibilities. New capabilities within AvePoint Opus will enhance our organization and we look forward to continuing to work together.
Your information is an asset. Turn it into an advantage.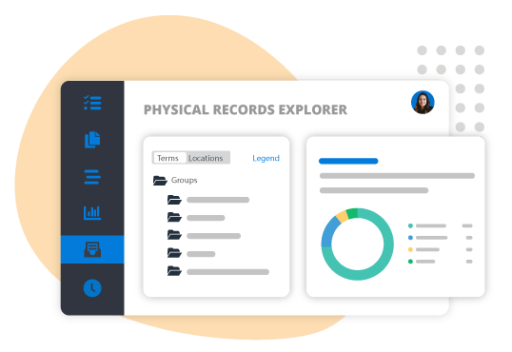 COMPLIANCE MADE EASY
Built with your legislative and regulatory compliance standards in mind
AvePoint Opus is purpose-built to assist organizations in meeting global regulatory requirements, from international standards to local legislation and laws, as well as your company's own policies. Backed by AvePoint's powerful security and governance framework, we take the guesswork out of keeping up with the ever-changing compliance landscape.
Case Study: Cardinia Shire Council
National Archives and Records Administration (US)
AvePoint Opus is certified compliant for NARA's Federal Electronic Records Management Initiative (FERMI) and available as part of GSA arrangements
Information Security Registered Assessors Program (IRAP)(AUS)
We have had our AOS platform IRAP assessed including AvePoint Opus to an official level making it easier for departments to onboard their solutions with confidence that they meet a high-security standard.
Victorian Electronic Records Strategy (VERS)(AUS)
The Public Office of Victoria (PROV) has certified that government agencies and enterprise customers alike can leverage AvePoint Opus and has deemed it a VERS compliant solution.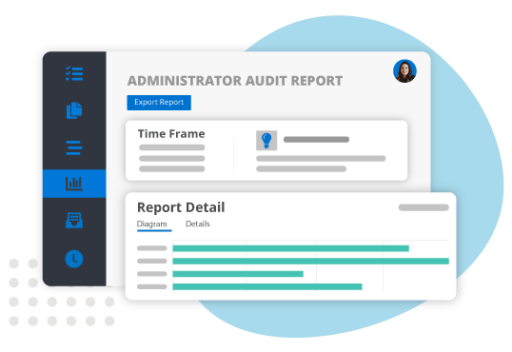 FLEXIBLE, YET PRECISE
Inspired information management, no matter the industry
While some may think that information management is only business-critical for regulated entities, in fact, an advanced information management strategy is a universal need. Smart and scalable, AvePoint Opus easily adapts to your industry-specific requirements. Maintain oversight with built-in reporting and auditing, all from our SaaS application.
Healthcare
Industries subject to U.S. Food and Drug Administration regulation must comply with the FDA's Part 11 Electronic Records; Electronic Signatures – Scope and Application, which provides clear requirements for records and information management. Take control of your data with audit trails, data retention, and ongoing oversight.
Manufacturing
International standards like ISO 90001 and ISO 27001 contain requirements relating to information management. From capture and classification to defensible disposal, AvePoint Opus helps you meet your requirements.
Financial Services
Subject to stringent information management regulations set forth by the U.S. Securities and Exchange Commission (SEC), Financial Industry Regulatory Authority (FINRA), and the Commodity Futures Trading Commission (CFTC), FinServ entities can take control of their compliance activities with AvePoint Opus.
Government
Governments around the world have a responsibility to create, maintain, and keep data of long-term value. Meet those information management requirements with a solution tailored to your specific needs.
Education
Educational institutions typically follow their local government's relevant information management protocols, with some jurisdictions having sector-specific requirements. Built with flexibility in mind, AvePoint Opus empowers you to meet your challenges in a way that works for you.
YOUR SYSTEMS. YOUR ROLES. YOUR WAY.
Make your information work for you
With AvePoint Opus, manage your information strategy, not your end users. Our solution empowers information managers to make better use of their time and expertise by simplifying the management of data lifecycle and storage. Tackle compliance, data overload, and inconsistent classifications with streamlined information lifecycles, from classification and storage to retention and disposal, so you can make your information work for you.
CLASSIFICATION MANAGEMENT
Manage a classification scheme or file plan, or apply multiple rules to a single classification and set term expiration.
STORAGE GROWTH MANAGEMENT
Take control of your ever-growing content with cost-saving controls. Custom dashboards provide clear visibility into your saved costs and archived content details.
RETENTION & DISPOSAL
Build business rules to manage an information lifecycle. Use action or date-based triggers or metadata to drive rules.
CHOOSE YOUR RULE
Delete, retain, declare, or export content based on business rules. Configurable rules will automatically react.
REPORTING
Manage outcomes with built-in reporting. Dashboards display number of managed items, destroyed records, outstanding tasks, and more.
AUDIT RECORDS ACTIONS
Interrogate audit trails of actions performed on an item, or by a specific user to ensure and document record integrity.
AUTOMATIC CONTENT CLASSIFICATION
Use advanced machine learning models to automatically classify your content, enabling efficient organization and bulk identification in M365.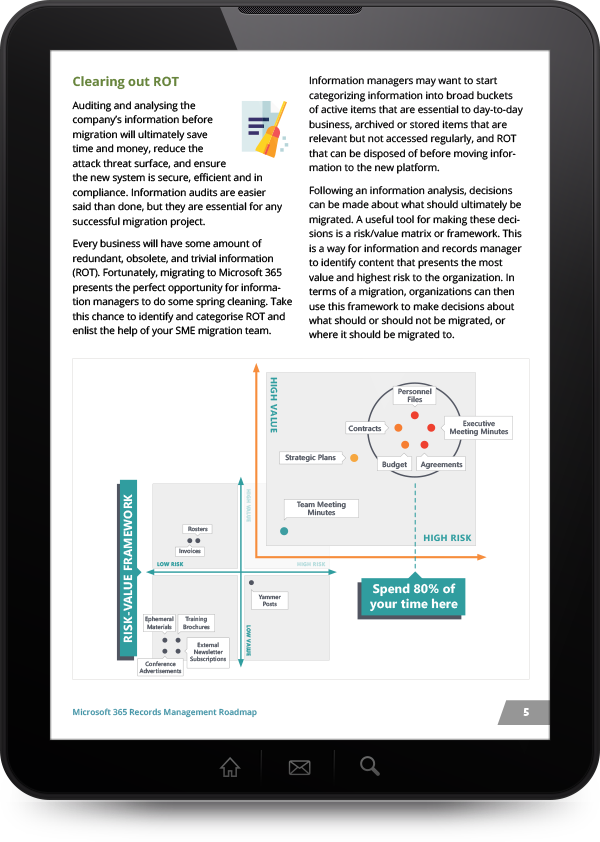 Future-proof Your Business with Effective Information Management
With the global datasphere predicted to reach 175 ZB in 2025, businesses must take control of data overload. Centralizing records and information management practices is crucial for governance and record integrity in the cloud-based world, especially with the rise of hybrid and remote work. Learn how to navigate common records compliance requirements, create retention and disposal schedules, and ensure secure information management.
Free eBook
Microsoft 365 Records Management Roadmap
Plan, execute, and manage a migration to a digitally centered Microsoft 365 records management system.
DOWNLOADS & RESOURCES
AvePoint Opus – Discover how new capabilities allow you to go beyond records management and achieve comprehensive information and lifecycle management.
AvePoint Opus vs. Microsoft 365 Native Functionality – Learn how AvePoint Opus enhances M365 native functionality. Continue Reading
FREE EBOOK
4 Strategies for Cloud Storage Optimization 
Discover how to maximize your Microsoft 365 investment without maxing out your storage costs
Just for the record...
AvePoint Opus is a masterpiece.