Policies & Insights for Microsoft 365
Secure Teams, Groups, SharePoint, and OneDrives with ease
Reduce IT's security burden. Easily find, prioritize, fix, and enforce controls for permissions, membership, and configuration. All your workspaces, completely secure.
Security reporting, transformed. Find, prioritize, fix, and enforce Microsoft 365 access controls.
PI makes it easy to run tenant-wide security reports. But how do you know if there's an issue? PI aggregates sensitivity and activity data across your tenant, so your critical issues are prioritized for action. Then, edit in bulk, and set policies to be enforced automatically.
Microsoft made sharing easy. Almost too easy. Keep your sharing secure with PI.
Built to scale, built to last
We use Microsoft's own data to give you valuable insights, so we're not crawling Microsoft 365, or adding to your throttle concerns. We do the dirty work of combining, parsing, and prioritizing your potential issues – so you don't have to! Because what good are permissions reports without the context of sensitivity and activity? Admins can stay focused on what matters most.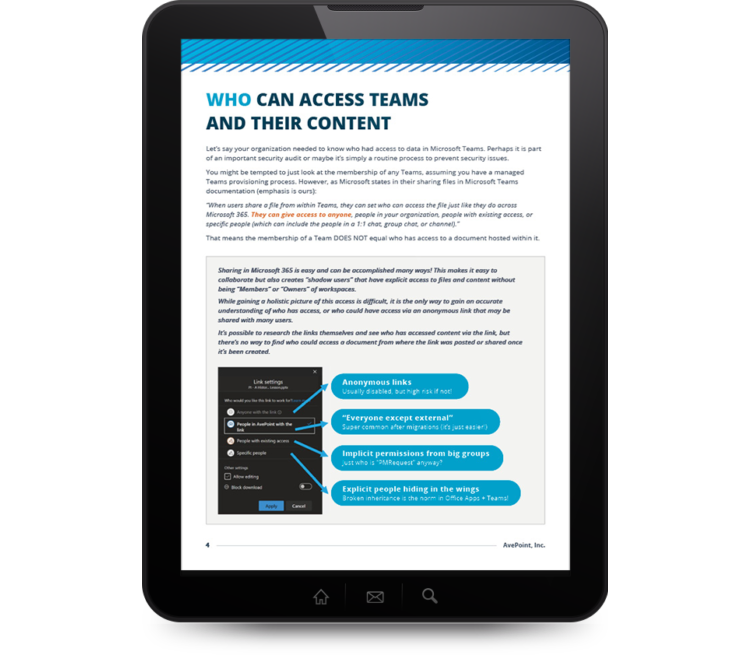 Automate and Enforce Data Protection in Microsoft Teams
When it comes to understanding potential data exposures, IT admins are weighed down by manual, time-consuming processes that don't even tell the full story. Learn how to design a more efficient, personalized approach to Teams management!
Policies & Insights Features
Security Insights
Easily see who has access to what. Object- or user-based security searches give unmatched insight into Team, Group, SharePoint, and OneDrive permissions
Actionable Insights
Enable admins to take action to expire, remove, or edit permissions right from within reports.
External User Management
Easily monitor, control, and set access policies for external users, tailored for workspace purpose or metadata
Prioritized Permissions Issues
Highlight known and potential issues for content, prioritized based on content sensitivity
Microsoft Sensitive Information Types
Use Microsoft's sensitive information templates aligned to your industry or region to define risk, or build your own within Microsoft 365 security and compliance centers
Security Dashboards
Track exposure, including anonymous links and external user access, over time
Permissions Management
Add, edit, expire, or remove permissions for entire workspaces, or individual documents with sensitive information
Bulk Access Control
Update permissions in batch, directly from object- or user-based security reports
Automated Policy Enforcement
Ensures user actions will not violate content and security rules by automatically reverting out of policy changes in Microsoft 365.
Risk Scoring
We cross-reference highly exposed content with sensitive information types to present a heat-map of at-risk data across Microsoft 365