Cloud Backup for Microsoft Office 365
Automatic SaaS backup solution with on-demand restore
Bounce back from service outages, ransomware attacks, user errors, and even permissions fiascos! We have the most complete backup for Microsoft Teams and your critical Microsoft 365 services. Fast flexible restore gets your teams back to work, fast.
Unmatched Microsoft Office 365 Backup
Microsoft 365 covers service disruptions, but good luck recovering lost, deleted, or corrupt content, especially past recycle bin or backup windows! Cloud Backup makes the best of a worst-case scenario. Whether it's user error, an outage, or a ransomware attack—we've got your back(up).
Video: Microsoft Office 365 Backup
Unlimited design with the future in mind
Our robust capacity planning ensures your backups run up to 4 times a day, every day, to avoid throttling and achieve maximum performance. We keep up with the pace of SaaS. You get support the latest Microsoft Teams and Microsoft 365/Office 365 features for data protection greatness.
THE PROOF IS IN THE PLATFORM
Our SaaS platform supports over 7 million users. We take security seriously, and work with a wide range of organizations. From government to regulated industries to commercial and small businesses, we've got you covered.
ISO 27001:2013 certification with respect to secure software development and maintenance process.
SOC 2 Type II audit and attestation meets strict information security and privacy standards.
FedRAMP Authorized AvePoint Online Services for use across all agencies at the Moderate impact level.
CSA Self Assessment (STAR Level 1) Cloud Controls Matrix, to evaluate and document our security controls.
Cybersecurity Tech Accord Member pledging to foster safe collaboration, protecting customers and users.
Microsoft Office 365 Cloud Backup: Protect Critical Cloud Services
Why do I need Microsoft 365 backup?
Microsoft native cloud backup protection…
Loss of service due to hardware or infrastructure failure

Loss of service due to natural disaster or data center outage

Short-term (93-day) user error with recycle bin/version history, including new OneDrive "Files Restore"

Short-term (14-day) administrative error with soft-delete for Groups, Mailboxes or services-lead rollback
What's not covered…
Loss of data due to malicious insiders, hacktivists, malware or ransomware

Recovery from prolonged outages

Loss of data due to departing employees and deactivated accounts

Long-term accidental deletion coverage with selective rollback

Permissions fiascoes that interrupt user access
TEAMS CHAT BOT
Meet AVA - Your new Virtual Assistant!
Say hello to AVA, AvePoint's Virtual Assistant that helps users find lost content. AVA responds to Microsoft Teams chats to help users find lost files or emails, without burdening your help desk or IT teams. Find AVA in your Teams App store today!
AVA IN ACTION
Empowered restore
AVA allows users to find, recover, and restore lost Microsoft 365 content themselves.
Search & recover
Locate missing, misplaced, or deleted files or emails in Exchange, Outlook, OneDrive, and Teams.
Savings for days
Eliminates help desk and end users from wasting precious time (and money) searching for content.
Security trimmed
Respects your already set permissions so users can locate only the content that's allowed.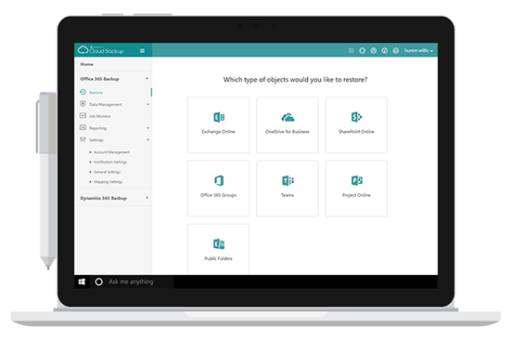 FLEXIBLE RESTORE
The most flexible Microsoft Office 365 restore
Easy to use and powerful restore saves admins time! Cloud Backup provides the industry's best coverage for all the Microsoft cloud content you generate, not just the files. Content is stored in our unlimited 256-bit encrypted storage, or in your storage of choice when you BYOS. What sets us apart, though, is our restore. With extensive coverage and restore options, we'll meet your needs with ease.
Granular restore for mail, files, collaboration
On-demand granular recovery manages conflicts to ensure the most authoritative copy is recovered.
Out-of-place restore
Restore content out of place, to another cloud site, mailbox, OneDrive, or Group. We make it easy to keep and restructure data as your organization evolves, or users join or leave.
Offline restore
Restore .ZIP and PST files to local storage for any time access. Export OneDrive, SharePoint, and Outlook data, including files, mailboxes, or mail items such as chat histories.
Security rollback
Perform full security rollbacks to undo Microsoft 365 permissions changes.
Object-based restore
Directly locate Microsoft 365 Teams, files, emails, or other objects with full-text search for rapid discovery and recovery.
Point-in-time restore
Recover content to a specific point in time using a simple calendar based interface.
End user restore
AvePoint's Chat Bot (AVA) allows users to perform restores from Microsoft Teams while keeping security in mind.
Delegated restore
Delegate restores to trusted users based on roles. Security trim by AD properties, such as location, department or role.
GDPR, CCPA, COMPLIANCE, & DATA SOVEREIGNTY
Backup with GDPR, CCPA, governance, and compliance in mind
Cloud Backup helps you meet your compliance requirements with ease. Data is protected in encrypted storage based on your retention policies. Feel free to BYOS, or mix and match to meet security and data sovereignty needs. Our Privacy Dashboard searches across backup mail, calendars, and OneDrives to satisfy Right to Be Forgotten and Data Subject Access Requests, no matter where it's stored. Whether you need to respond to external requests or internal audits, we help you find, report, and delete what you need.
COMPLIANCE IN ACTION
Right to be forgotten
Search across user Exchange mailboxes as well as OneDrives. Remove users' data from your backups.
DSAR processing
Export all the latest information in a given user's OneDrive or Mailbox to comply with EU GDPR Article 15.
Admin auditing
In addition to auditing restore operations, track administrative activity, including who made changes or downloaded a report.
Preserve accountability
Record the consent to purge and delete data for accountability, plus create a trail of evidence for the Defensible Deletion of the content.
Data security with delegated administration
Control access to view and manage backups and restores. Security trimming based on AD properties, manual configuration, or Microsoft 365 permissions enables role-based access.
Status monitoring
Monitor and produce reports of your protection status across Microsoft 365 Exchange mailboxes, calendars, Groups, Teams, SharePoint, and more.
Granular content deletion
Search for and delete content from Microsoft 365 backups across the whole organization. Security trimmed, role-based access prevents unauthorized deletions.
Backup data sovereignty
Multi-geo support and granular storage control keeps your backup data storage and processing where you need it. Choose built-in Azure storage or BYOS by organization, entity, or even department! Mix and match for complex data sovereignty requirements.

INTELLIGENT INSIGHTS
Dashboard insights keep you informed and in control
Insights into backup data consumption and growth show how much data you've covered and enable future planning. Past trends predict how much your backup data may grow in the future. Easily enable charge-back for your customers, departments, or entities you've protected.
DOWNLOADS & RESOURCES
OFFICE 365 RETENTION POLICY: 3 THINGS YOU NEED TO KNOW!
Data is intangible and can be easily lost. There are many reasons data loss can occur, from simple mis-clicks to sinister network breaches. Continue Reading
Try AvePoint Cloud Backup with no strings attached.
Absolutely free for 30 days.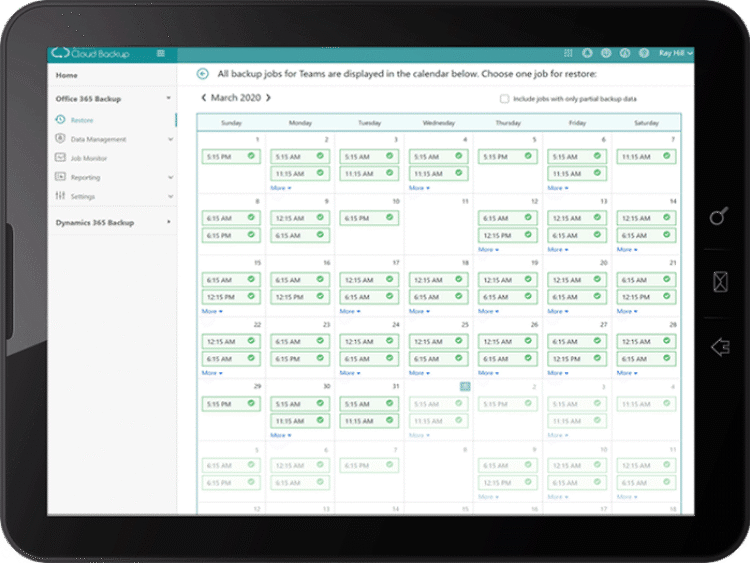 Supporting the latest in Microsoft Teams, Groups, and SharePoint Sites
It's never been easier or speedier to protect your workspaces, apps, files and more! When Microsoft Teams and Microsoft 365 roll out their latest features, we release comprehensive updates too. It's never too soon to start your data protection journey, and we're here to support you and your Microsoft investments every step of the way.