Cloud Backup for Microsoft Office 365
Automatic SaaS backup solution with on-demand restore for MS Office 365
Bounce back from service outages, ransomware attacks, user errors, and even permissions fiascos! We have the most complete backup for Microsoft Teams and your critical Microsoft Office 365 services. Fast flexible restore gets your teams back to work, fast.
Unmatched Microsoft Office 365 Backup
Microsoft Office 365 covers service disruptions, but good luck recovering lost, deleted, or corrupt content, especially past recycle bin or backup windows! Cloud Backup makes the best of a worst-case scenario. Whether it's user error, an outage, or a ransomware attack—we've got your back(up).
Video: Microsoft Office 365 Backup
Unlimited design with the future in mind
Our robust capacity planning ensures your backups run up to 4 times a day, every day, to avoid throttling and achieve maximum performance. We keep up with the pace of SaaS. You get support the latest Microsoft Teams and Microsoft 365/Office 365 features for data protection greatness.
We are Microsoft's cloud experts
AvePoint has been backing up data in Microsoft Office 365 and SharePoint for over 18 years. Providing our customers the best in quality and support is a part of our DNA.
THE PROOF IS IN THE PLATFORM
Our SaaS platform supports over 7 million users. We take security seriously, and work with a wide range of organizations. From government to regulated industries to commercial and small businesses, we've got you covered.
ISO 27001:2013 certification with respect to secure software development and maintenance process.
SOC 2 Type II audit and attestation meets strict information security and privacy standards.
FedRAMP Authorized AvePoint Online Services for use across all agencies at the Moderate impact level.
CSA Self Assessment (STAR Level 1) Cloud Controls Matrix, to evaluate and document our security controls.
Cybersecurity Tech Accord Member pledging to foster safe collaboration, protecting customers and users.
Microsoft Office 365 Cloud Backup: Protect Critical Cloud Services
Why do I need Microsoft 365 backup?
While enabling retention and versioning can help preserve critical files and mail, you're still responsible for additional data protection scenarios. Without the right backup plan, data recovery can be really expensive, or even impossible!
Learn more about what's covered and what's not in Naveen Chhabra's Forrester Report (paywall).
 FREE WEBINAR
5 Most Common Office 365 Backup Mistakes (And How To Avoid Them)
Learn the core areas you need to think about when evaluating cloud backup strategies so you can avoid the most common mistakes
Microsoft native cloud backup protection…


Loss of service due to hardware or infrastructure failure



Loss of service due to natural disaster or data center outage



Short-term (93-day) user error with recycle bin/version history, including new OneDrive "Files Restore"



Short-term (14-day) administrative error with soft-delete for Groups, Mailboxes or services-lead rollback
What's not covered…


Loss of data due to malicious insiders, hacktivists, malware or ransomware



Recovery from prolonged outages



Loss of data due to departing employees and deactivated accounts



Long-term accidental deletion coverage with selective rollback



Permissions fiascoes that interrupt user access
TEAMS CHAT BOT
Meet AVA - Your new Virtual Assistant!
Say hello to AVA, AvePoint's Virtual Assistant that helps users find lost content. AVA responds to Microsoft Teams chats to help users find lost files or emails, without burdening your help desk or IT teams. Find AVA in your Teams App store today!
AVA IN ACTION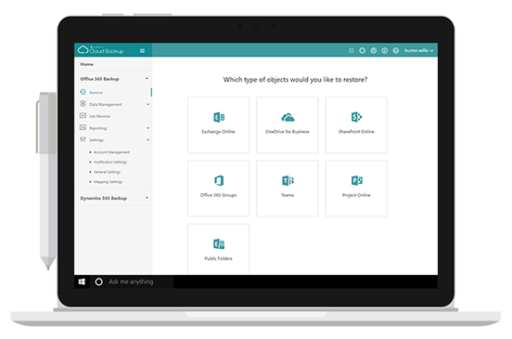 FLEXIBLE RESTORE
The most comprehensive Microsoft Office 365 backup with flexible restore
Easy to use and powerful restore saves admins time! Cloud Backup provides the industry's best coverage for all the Microsoft cloud content you generate, not just the files. Content is stored in our unlimited 256-bit encrypted storage, or in your storage of choice when you BYOS. What sets us apart, though, is our restore. With extensive coverage and restore options, we'll meet your needs with ease.
GDPR, CCPA, COMPLIANCE, & DATA SOVEREIGNTY
Backup with GDPR, CCPA, governance, and compliance in mind
Cloud Backup helps you meet your compliance requirements with ease. Data is protected in encrypted storage based on your retention policies. Feel free to BYOS, or mix and match to meet security and data sovereignty needs. Our Privacy Dashboard searches across backup mail, calendars, and OneDrives to satisfy Right to Be Forgotten and Data Subject Access Requests, no matter where it's stored. Whether you need to respond to external requests or internal audits, we help you find, report, and delete what you need.
COMPLIANCE IN ACTION
INTELLIGENT INSIGHTS
Dashboard insights keep you informed and in control
Insights into backup data consumption and growth show how much data you've covered and enable future planning. Past trends predict how much your backup data may grow in the future. Easily enable charge-back for your customers, departments, or entities you've protected.
DOWNLOADS & RESOURCES
OFFICE 365 RETENTION POLICY: 3 THINGS YOU NEED TO KNOW!
Data is intangible and can be easily lost. There are many reasons data loss can occur, from simple mis-clicks to sinister network breaches. Continue Reading
Try AvePoint Cloud Backup with no strings attached.
Absolutely free for 30 days.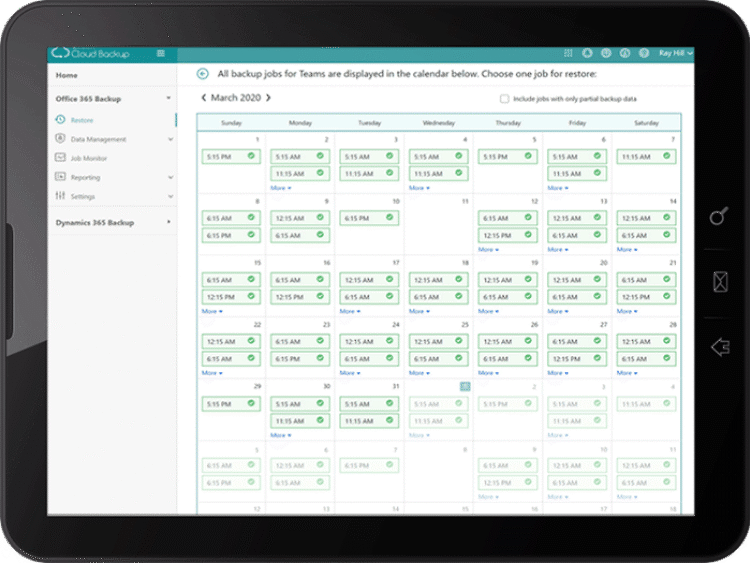 Supporting the latest in Microsoft Teams, Groups, and SharePoint Sites
It's never been easier or speedier to protect your workspaces, apps, files and more! When Microsoft Teams and Microsoft 365 roll out their latest features, we release comprehensive updates too. It's never too soon to start your data protection journey, and we're here to support you and your Microsoft investments every step of the way.