Information Lifecycle Management
Ensuring data integrity and compliance for collaboration workspaces and content
Our holistic approach to information management means we can help you reduce risk, decrease storage costs, and optimize efficiency while you manage data from creation to disposal.
Clean up your act
To ensure efficiency, compliance (and savings!), organizations must accurately capture, track, and record all Microsoft 365 collaborative workspaces as they are created. This includes applying appropriate information lifecycle management policies to ensure content is not only retained as long as necessary, but then defensibly destroyed when no longer required. Additionally, measures must be in place to address the redundant, obsolete, and trivial content (ROT) left behind by short-lived projects. This ROT content not only hinders productivity and causes user frustration, but it also creates unnecessary risk exposures. By taking action on life on lifecycle outcomes when content is no longer required for business purposes or by law, organizations can maximize productivity and minimize risks associated with data mismanagement.
Reduce risk
Protect your organization by ensuring you're not holding on to too much— or too little—information.
Decrease storage costs
Combat rapidly growing data volume. Reduce storage costs and mitigate overage fees by purging extraneous content.
Optimize efficiency
Get rid of ROT to drive productivity and improve the speed and accuracy of search, analytics, and e-discovery solutions.
Every dollar that is spent on IT are dollars that can't go back to the clubs and rescue efforts. It could mean the difference in a club having a rescue boat or extra jet rescue when they need it. With these solutions, we are successfully reducing our IT budget and putting more money into saving lives.
Rest easy knowing that your Microsoft 365 workspaces and content are under control
MANAGE YOUR WORKSPACES

Scale. Automate. Secure.

For good governance, balance collaboration and control.

With AvePoint's Cloud Governance, you can empower users to create Teams, Sites and Groups in real-time, backed by a sustainable, efficient, and secure governance framework. From the very moment a Microsoft 365 workspace is provisioned, it enters the lifecycle management process. Organizations can right-size their policies to ensure that provisioned assets have correct classification, retention, metadata, and access controls in place from the outset. Going forward, workspace owners can also be automatically asked to review permissions and metadata and revise or confirm as necessary.

Oversee configuration settings, membership, and ownership change requests, with the ability to delete, revert, or notify of unauthorized changes

Improve data quality and speed up processes with automated, structured end-of-life processes that trigger alerts for potentially idle or irrelevant sites and content

Ask workspace owners to explicitly confirm the extension of a workspace's lease or flag it for managed disposition

COMMAND YOUR CONTENT

Good business is based on good information.

Your information is an asset. Turn it into an advantage.

Just as workspaces must go through an information lifecycle process, the content within them should be subject to the same. AvePoint Opus automates the management ofyour entire content lifecycle—from creation to classification and retention—without user intervention. This ensures compliance with your company's own policies as well as rapidly changing regulatory requirements at the local, state, and federal level. All this while achieving high value savings on storage and managing content at scale with advanced auto classification. You really can have it all!

Automatically organize your content with cutting-edge machine-learning models for consistent, efficient classification, including bulk identification in M365

Manage the entirety of cloud and physical data lifecycles in active or inactive repositories with customizable policies and lifecycles for easy compliance


Optimize your storage footprint with cost-saving controls and custom dashboards that allow you to have a clear view into achieved savings and archived content

MIGRATE TO THE MODERN

Discover. Migrate. Monitor.

Drive digital transformation with Microsoft 365 migration.

Our Fly migration solution enables organizations to seamlessly migrate their on-premise files directly into Microsoft 365. Detailed pre-migration discovery reports allow the organization to manage and maintain metadata, permissions, and complex data structures. Integrate legacy data into modern information management frameworks by filtering and restructuring content as it moves into Office 365.

With automated data synchronization, Fly captures changes throughout the duration of the

Remap metadata, domains, and other information during the migration process

Ensure that legacy information being moved into Office 365 is in line with data governance and information management policies

Advanced search makes finding information for access requests quick and easy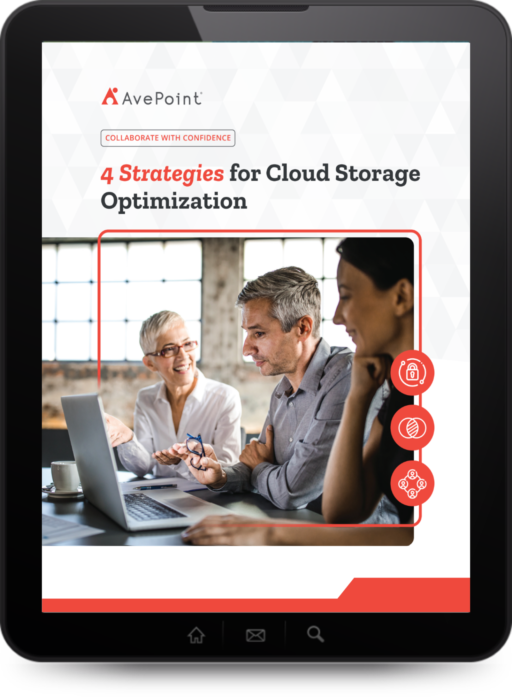 FREE EBOOK
Future-proof Your Business with Effective Information Management
With the global datasphere predicted to reach 175 ZB in 2025, businesses must take control of data overload. Centralizing records and information management practices is crucial for governance and record integrity in the cloud-based world, especially with the rise of hybrid and remote work. Learn how to:
GET THE EBOOK
Navigate common records compliance requirements
Create retention and disposal schedules
Ensure secure information management
DOWNLOADS & RESOURCES
Why It's Time to Change Your Approach to Information Management
With Microsoft 365 adoption, cloud storage adoption, and volumes of data all increasing at unabated rates, most organizations are struggling to manage information efficiently. Read the blog.
FREE EBOOK
How to Boost Security & Business Productivity in Office 365 & Microsoft Teams with Governance
The MOST comprehensive resource on Office 365 Governance
Intelligent Information Management Solutions