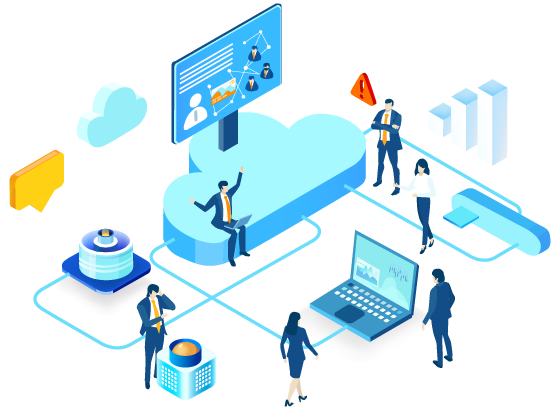 Did you know?
The average worker toggles between apps 10 times an hour, costing organizations 32 days per worker, per year.

Workers spend 25% of their time looking for information they need to do their jobs.

Workers spend 40% of their time on work about work.
The digital workplace is today's business technology hub. Workers use technology to communicate, innovate, and collaborate to drive their businesses forward. With that comes challenges to manage these applications in a way that improves efficiency, connectivity and flexibility.
Intelligent Data Orchestration that Guides Your Digital Transformation
What if you could bring context and clarity to the apps and data you manage? That's where the AvePoint Confidence Platform comes in: Our data orchestration engine helps you understand your digital workplace environment, giving you key insights into each of your workspaces, users, guests, and repositories so you can modernize, protect and control your environment.
Compliance & Risk
Safeguard sensitive data and protect against cyber threats.
Data Ownership
Maintain control over your data by knowing who has access.
Business Context
Make informed business decisions by understanding how data is used.
Usage
Optimize the spend for your digital workplace environment.
Access Rights
Monitor and manage who – inside or outside your org – can access your data and workspaces.
Engagement
Understand how knowledge workers interact to drive better business outcomes.
Versatile Platform to Optimize & Control Your Digital Workplace
The AvePoint Confidence Platform takes all this information and applies platform-wide capabilities, building upon each of the products you use to deliver a modern, resilient and controlled workplace.
Automation
Create repeatable processes to govern and secure your digital workplace seamlessly.
Insights
Stay ahead of your company's innovation, proactively monitor usage and data for informed decision-making.
Delegation
Tailor policies and user lifecycle approaches with role-based access control to meet your unique business needs.
Self Service
Empower knowledge workers with productivity tools and peace of mind through proper governance.
Supporting Every Stage of Your Digital Transformation Journey
The AvePoint Confidence Platform is organized into three interconnected suites – each targeting a core set of needs that scale with your business.
MODERNIZATION SUITE

The Case for Modernization:

Modernization is all about moving your business forward – your data, your processes, and your collaboration strategy.

Modernize with AvePoint Confidence Platform

Transform legacy data into modern SaaS platforms and legacy business processes into modern end-user business applications. Drive digital transformation across the organization, measuring and accelerating the impact of this transformation on employee experience and engagement.

RESILIENCE SUITE

The Case for Resilience:

Resilience is about ensuring as your business moves forward your environment is compliant, able to meet regulatory and security responsibilities.

Resilience with AvePoint Confidence Platform

Efficiently and effectively comply with data protection regulations, preserve critical records, and ensure business continuity. This provides regulatory, audit, and risk management teams with the assurance that you are meeting your compliance obligations and keeping IP secure.

CONTROL SUITE

The Case for Control:

Control is the thread that ties digital transformation together. Your attempts to modernize and build a resilient digital workplace require a sustainable governance framework to manage it.

Control with AvePoint Confidence Platform

Efficiently ensure the sustainability and operational capacity of your digital workplace by providing a ready-made framework for automated governance and policy enforcement. This allows infrastructure and operations teams to protect business-critical information across collaborative workspaces.
A Platform You Can Trust
More than 17,000 organizations trust the AvePoint Confidence Platform to collaborate with confidence in the digital workplace.
Hyperscale & Enterprise Grade
The AvePoint Confidence Platform delivers top-notch performance, scalability, efficiency and precision.
Operational Efficiency
The AvePoint Confidence Platform is hosted on Microsoft Azure: no more infrastructure, configuration, or maintenance headaches.
Data Sovereignty
The AvePoint Confidence Platform is hosted on 14 Azure data centers worldwide to support your unique data sovereignty requirements.
Enhanced Security
We provide a complete architecture that meets key industry standards and provides the flexibility you need to protect your data.
Collaborate with confidence in the digital workplace with the AvePoint Confidence Platform.
Optimize SaaS operations, secure collaboration, and stay ahead of the digital transformation cycle.