Smooth moves, always
With step-by-step guidance, DocAve Content Manager provides administrators with the ability to manage and restructure SharePoint and Office 365 content with minimal interruption to business processes to quickly respond to evolving information governance requirements.

Full-fidelity migration
Easily copy, move, and restructure SharePoint content while maintaining configurations and metadata integrity throughout
Hybrid integration
Being Microsoft Office 365 compatible lets administrators easily move and manage content in hybrid SharePoint environments

Enhance user experience
Respond to evolving policies by managing enterprise content through a single, intuitive console with graphical mapping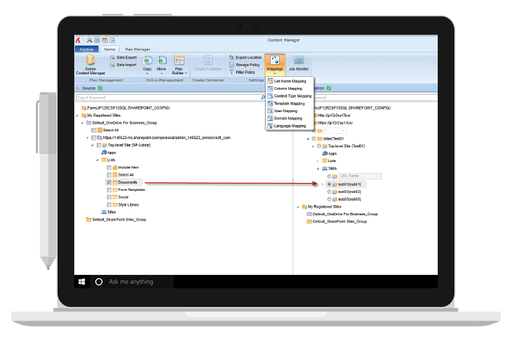 Migrate & restructure SharePoint content
Respond to evolving information architecture requests. Move, restructure, and manage content within or across SharePoint and hybrid Office 365 environments. Your content…always where you need it.

Migrate content
Move, copy, and restructure content for tenant-to-tenant migrations or reflect evolving information architecture needs

Batch taxonomy
Tag and classify SharePoint content by updating metadata in bulk for faster organization

Full fidelity
Maintain list and library integrity with full support for all list types, content metadata, and configurations

Cross deployment
Ease cross-domain migration, restructuring, and reorganization by graphically mapping domains, users, and permissions

Flexibility
Promote or demote sites on the fly and copy content from list to list, library to library, or site to site

Risk reduction
Backup the source or destination environment before performing a copy or move action for easy rollback and restore
Have a need for speed?

We know no limit.
Create an account / Sign in
The AvePoint Portal is your centralized hub for all things AvePoint!
User guides
Release notes
Webinars
Videos
Create your account
Already have an account? Sign in
Get Started Today
Our experts are on it! We'll be in touch shortly to get you set up.