Digital Learning and Examination
Transform your learning technology with the Microsoft Cloud
Move your students from the classroom to the chatroom to enable remote learning in a flash!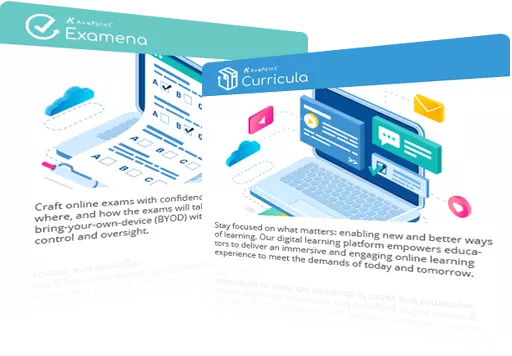 Going remote? We've got you covered!
Let our experts guide your education transformation.
Outpace the COVID-19 chaos with online learning, formative assessments, and digital exams
Keep your learning programs and students ahead of the curve with online learning and exams. With AvePoint, lecturers can deliver personalised, immersive, and collaborative learning today, for the leaders of tomorrow. Empower educators with the latest Microsoft cloud technology, without the IT overhead. Students may take exams on their own devices, but proctors have complete oversight and control!
Get Started with our Onboarding Guide

Examena: Your Online Exam Management System
Craft online exams with confidence. Control when, where, and how the exams will take place. Students can bring-your-own-device (BYOD) without compromising control and oversight.
LEARN MORE

Central exam administration
Create and publish exam schedules. Define and delegate roles for creating, proctoring, accessing, and grading exams.

Create and craft questions
Select from more than 10 question types! Build a question bank, or create questions from scratch.

Advanced AI recognition
Ensure the integrity of long-distance exam proctoring with facial recognition.

Taking the test
Students get clear, concise instructions and an intuitive exam experience. Proctors keep attendance and track progress.

Anti-cheating technology
Ensure exam and course integrity by mitigating risk of cheating.

Emergency Response Mechanism
Prevent unexpected hardware failure or network loss.

Intelligent Marking System
Increase grading accuracy & efficiency with a central dashboard to view, grade, delegate, and analyse exam submissions.

Curricula: Learning Management System
Give your team bandwidth to focus on what is important: enabling new and better ways of learning! Let AvePoint support the rest!
LEARN MORE

One-stop-shop learning
Centralize formerly siloed learning systems for unified access and management, lower overhead, and reduced security risks.

Break the language barrier
Real-time, multi-lingual translation with Teams connects global students.

Virtual Assistants
Chatbots serve as virtual guides or teachers assistants to keep students on track.

Cloud-enabled NextGen learning
Take advantage of scalable, access-from-anywhere cloud technology to enable learners for tomorrow.

Automate IT administration
Automate policy implementation and deliver IT as a service.

Streamline lecturer activities
Maximum automation for lecturers all the way from module scheduling to grading.

Adaptive Learning for students
Encourage proactive learning habits through various collaboration apps and interfaces.

Student data insights
Gain an overall picture of student progress and take early action for students identified as at-risk.
Proven by Singapore's own Institutes of Higher Learning
AvePoint's digital learning systems were first built by our team of experts in Singapore, for Singapore's Institutes of Higher Learning (IHL).
Powered by AvePoint
Over 7 million cloud users trust AvePoint to protect and manage their Microsoft 365, Dynamics 365 data. Our 100% SaaS platform comes with the service levels, scale, and security features your users, IT department, and security teams need to have confidence in your cloud investment.
Going remote? We've got you covered!
Let our experts guide your education transformation.