Synchronize in real time
Replicate SharePoint content, configurations, and security within or across multiple SharePoint environments—whether hosted on-premises, in the cloud, or hybrid deployments. You'll get a seamless SharePoint service to meet your evolving global collaboration needs.
Enterprise synchronization
Synchronize business-critical SharePoint content in real-time across local or globally distributed environments

Boost productivity
Improve end-user productivity and provide quick access to new content with multiple, real-time synchronization options

Content availability
Ensure content's available across distributed teams by automating content publication across multiple environments

Enhance service
Increase SharePoint service quality and resiliency against WAN/service failure to ensure global farms are synchronized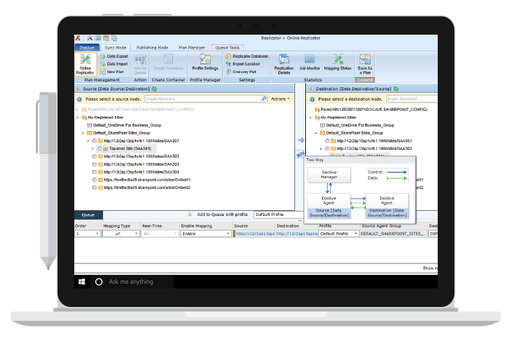 Synchronization & publishing
AvePoint grants global SharePoint users optimal content availability with event-driven and configurable one-way, two-way, or one-to-many online or offline replication options.

Real-time SharePoint replication
Publish and sync content in real time or scheduled within or across hybrid environments in batch or based on filters

Two-way sync
Utilize one- or two-way replication with customizable rules to resolve any conflicts and keep content synchronized

Smart rules
Trigger actions (e.g. copy or delete metadata) to specific destination lists based on configurable publishing rules

Full fidelity
Synchronize an entire site collection or individual items with associated metadata, workflows, and security settings

Backup & rollback
Backup SharePoint content per sync in the event of accidental overwrite to content, configuration, or security settings
Sync up to link up!

Or risk having missed connections…
Create an account / Sign in
The AvePoint Portal is your centralized hub for all things AvePoint!
User guides
Release notes
Webinars
Videos
Create your account
Already have an account? Sign in
Get Started Today
Our experts are on it! We'll be in touch shortly to get you set up.