Cloud-to-Cloud Backup
Cloud Backup for Microsoft Office 365, Salesforce®, and Dynamics 365
Does your cloud provider do enough to protect your data? Common user errors may be covered, but how fast can you recover from a ransomware attack? Or roll back permissions fiascos? We've got you covered.
Cloud Providers Protect their Service – not your data!
Your cloud service comes with a Service Level Agreement (SLA). But a Service Level Agreement doesn't cover it all. SLAs are focused on ensuring the availability of your cloud service. So, the next time you login to your Microsoft Teams app, or Salesforce.com, you can access the service. When it comes to your data, however, terms of service may not always protect you.
Cloud providers like Microsoft and Salesforce even encourage their customers to seek 3rd party solutions to protect their data. Salesforce went as far as discontinuing their own native restore service in July of 2020! AvePoint's Cloud Backup will keep you protected!
Video: Microsoft Office 365 Backup
BE IN CONTROL OF YOUR DATA
Get Covered with a Backup Solution for Your Cloud
Protect your data and bounce back fast from data loss with a backup solution. Make sure you can recover from permissions fiascos, corrupt content, or complex data loss scenarios. Cloud-to-cloud backup can help make the best of a worst-case scenario. Whether it's user error, an outage, or a ransomware attack—you need a backup!
Make sure you're covered for:
Anytime access
You need offline access to data during service outages
Long-term retention
Your retention requirements may exceed service-provided SLAs
Prevent data loss
You need flexible, granular roll-back to avoid data loss upon restore
KEEP IT SIMPLE WITH SAAS
Protecting Your Cloud Data
What's the best approach to protecting your cloud data? You've already made the choice to go to the cloud for a SaaS service like Salesforce.com or Microsoft 365. So, avoid the overhead of VM-based, on-premises, or hybrid solutions. Stick with SaaS!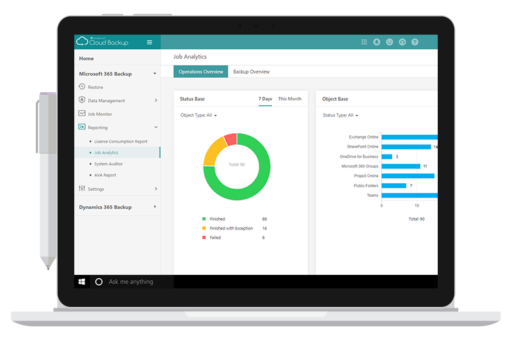 YOUR BEST-IN-CLASS BACKUP SOLUTION
Meet AvePoint Cloud Backup
AvePoint's been backing up your business-critical content since SharePoint was Team Services, and Microsoft 365 was BPOS. Our SaaS solution for multi-cloud backup has been in market since 2013. We know backup, and we'll cover your SaaS!
Cloud to Cloud Backup
Our backup is 100% SaaS. Whether you've got 10 or 10,000 users, get the same powerful yet elegant service. Backups run automatically so you're protected from day one.
Unlimited Storage & Retention
Our customers and partners trust us to protect over 50 petabytes of their data. We're built to scale, with services in over a dozen global data centers.
Encrypted by Design, and Default
Your data is secure. Use our built-in storage and encryption, or bring your own storage and key. Plus, we're ISO:27001 certified so you can rest easy.
Download: Platform Security Brochure
ENHANCE YOUR MULTI-TENANT CLOUD SERVICES
MSPs, we've got your back(up)!
We make multi-tenant management a breeze with our Elements Portal, built just for you. Our backup products are available in global distributor marketplaces for flat, fixed rates. Take advantage of monthly billing!
Learn more
Boost Your Cloud Confidence
Exceed Expectations with AvePoint Cloud Backup
The coverage you want. The cloud you need.
Microsoft Office 365 Backup
Backup Teams, Groups, mailboxes, and more. Minimize downtime and data loss with the most complete service protection and flexible restore. Get encrypted, ensure compliance, stay protected.
Cloud Backup for Office 365
Salesforce.com Backup
With a combination of automatic daily backups for Salesforce and sandbox, on-demand backups, and comprehensive restore, we keep your business moving forward.
Cloud Backup for Salesforce
Dynamics 365 Backup
Automated backup for your critical CRM data. Flexible storage and capacity options ensure all of your cloud investments are secure, and you can restore on-demand.
Cloud Backup for Dynamics 365