Digital Learning, Training, and Examination
Transform Your Training with AvePoint EduTech
Together with our partner Microsoft, AvePoint Edutech has designed an end-to-end Education Solution for training providers in Training and Adult Education (TAE) sector. This solution is affordable, user-friendly, and linked to SSG system.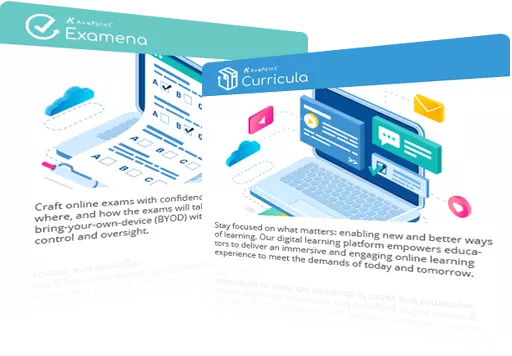 Going remote? We've got you covered!
Curricula is a holistic and SSG integrated Training and Learning Management System for training providers in the TAE sector who conduct SSG funded courses,are EduTrust certified and need to comply with CPE requirements.
Examena is a comprehensive and intelligent Exam Management System for institutes that conduct Certificate, Diploma and other higher tertiary qualification programs.
Let our experts guide your education transformation.
Survive and thrive in the adult training sector in this challenging time, with online learning, training management system, and digital exams
Keep your education programs and learners ahead of the curve with online learning and online exams. With AvePoint, trainers can deliver personalised, immersive, and collaborative learning today, for the leaders of tomorrow. Empower educators with the latest Microsoft cloud technology, without the IT overhead. Learners may take exams on their own devices, but remote proctoring gives complete oversight and control!
Get Started from Our Onboarding Guide

Exam Management System
Craft online exams with confidence. Control when, where, and how the exams will take place. Learners can bring-your-own-device (BYOD) without compromising control and oversight.
LEARN MORE

Tailor-Made Testing Experience
Candidates get an intuitive test-taking experience. Moderators, proctors, or other exam administrators can keep watch with complete control.

Central Exam Administration
Create and publish exam schedules. Define and delegate roles for creating, proctoring, accessing, and grading exams.

Create and Craft Questions
Select from more than 10 question types! Build a question bank, or create questions from scratch.

Advanced AI Recognition
Ensure the integrity of online exam proctoring with facial recognition.

Taking the Test
Learners get clear, concise instructions and an intuitive exam experience. Proctors keep attendance and track progress.

Anti-cheating Technology
Ensure exam and course integrity by mitigating risk of cheating.

Emergency Response Mechanism
Prevent unexpected hardware failure or network loss.

Intelligent Marking System
Increase grading accuracy & efficiency with a central dashboard to view, grade, delegate, and analyse exam submissions.

Learning & Training Management System
The NexGen learning & training solution to help you to adapt to change! A SaaS solution that unifies SSG integration, virtual classroom, mobile, and social learning.
LEARN MORE

Convenient Grant Disbursements
Integrated with SSG to reduce repetition in data submission and ease back-end admin work.

Next Generation Learning for Today and Tomorrow
Leveraged on Microsoft 365 technologies to match learners' needs of today and tomorrow.

Unleash the True Potential of Cloud Technology
Work from a single pane of glass, create and share information without leaving the interface.

Personalised Dashboard
Quickly view future, in-progress, and completed tasks, with clearly visible due-dates.

Automate Administration for IT Admins
Automate your policy and provision it as a service.

Streamline Activities for Coaches
Maximum automation for trainers all the way from module scheduling to grading.

Implement Adaptive Learning for Learners
Encourage proactive learning habits through various collaboration apps and interfaces.

Gain Insights into Learning Data
Centralise all education-related data to provide an overall picture of learner progress.
Proven by Singapore's Own Leading Certification Center and Higher Learning
AvePoint's education solution were first built by our team of experts in Singapore, for Singapore's Leading Certification Center and Institutes of Higher Learning (IHL).
Powered by AvePoint
Over 7 million cloud users trust AvePoint to protect and manage their Microsoft 365, Dynamics 365 data. Our 100% SaaS platform comes with the service levels, scale, and security features your users, IT department, and security teams need to have confidence in your cloud investment.
Going remote? We've got you covered!
Let our experts guide your education transformation.