Protect smartly & securely
Negligence can cause major loss. We'll have you winning again with full-fidelity backup and recovery—from individual content items to entire SharePoint environments and all farm-level components. Plus, you'll maintain all metadata, security settings, and version histories.

Comprehensive backup
Protect your organization from data loss with truly comprehensive backup for your SharePoint and Microsoft Office 365 environment

Business continuity
Minimize business disruptions caused by service interruptions or accidental deletions with quick and efficient recovery

SLA satisfaction
Satisfy even the most aggressive SLAs by minimizing downtime, data loss, and restore times with robust restore

Centralized management
Track, manage, and report on all backup and restore processes through a centralized management console
Granular or platform, backup & restore
Business-aware and comprehensive protection of SharePoint Server 2019, SharePoint Server 2016, SharePoint Server 2013, SharePoint Server 2010, virtual machines (VM), SharePoint Online, and OneDrive for Business.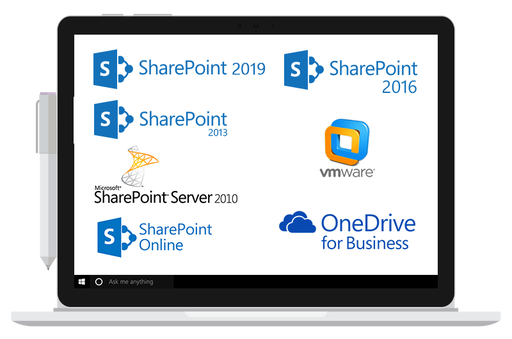 Platform protection
Ensure platform-level components—applications, databases, web front-ends, and VMs—are protected in your backup plan

Full or incremental
Full backups capture all data, while differential and incremental options capture changes made since the last backup

Granular restore
From farms and servers to individual documents, restore everything and maintain metadata, versions, and permissions

Farm restore wizard
Reduce the complexity of a total farm recovery with intuitive clone or rebuild wizards

Recover on-demand
End users, Help Desks, or IT Admins can restore content at any time – to anywhere (even a file share)

Backup when you need
Schedule SharePoint backups to automatically run daily or hourly during non-office hours

SLA compliance
Automate SharePoint backup with retention rules that retain or delete records to comply with your unique SLAs
Baby got back (up)

It's the only way to play
Create an account / Sign in
The AvePoint Portal is your centralized hub for all things AvePoint!
User guides
Release notes
Webinars
Videos
Create your account
Already have an account? Sign in
Get Started Today
Our experts are on it! We'll be in touch shortly to get you set up.