How can AvePoint support MSPs?
We help you accelerate your Office 365 and Dynamics 365 end-user adoption and usage. Do this, and so much more, with our backup, migration, and management services…all from a single SaaS platform.
Our Managed Service Providers get a dedicated portal to seamlessly oversee multiple tenants from just one place. You'll get:
Easy license management
Enhanced service delivery and adoption
Single-pane administration and reporting
Built-in support ticketing system
Simplified multi-tenant management
Deepened customer engagement
Increased sales!
Become a Managed Service Provider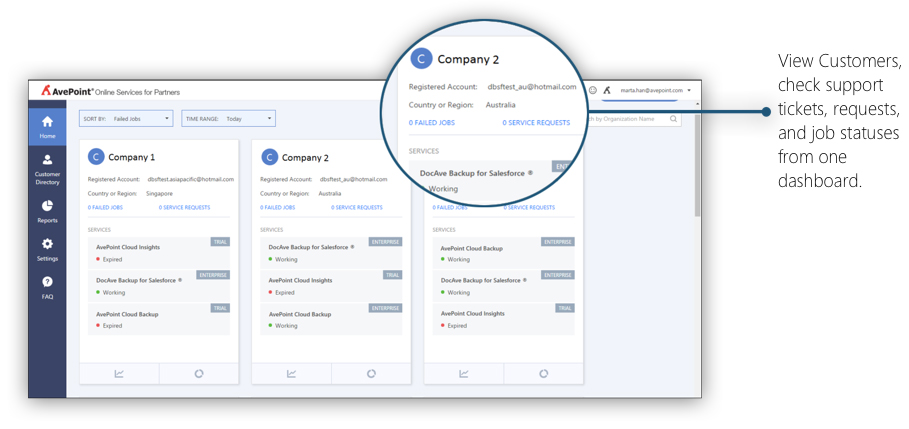 Simplified Customer Management
View, invite, and manage customers from one easy-to-use portal. Manage licenses as a value-added reseller, managed service provider, or distributor.
Provide Differentiated Service Offerings
Leverage our IT service management tools for Office 365 and Dynamics 365 to provide additional value-add on top of native Office 365 and Dynamics 365 capabilities.
Simplify Multi-Tenant Management
Support multiple Office 365 and Dynamics 365 clients through a dedicated, partner-centric portal so you can easily scale resources and improve response time.
Deepen Customer Engagement
Create recurring revenue opportunities via Office 365 and Dynamics 365 management services, backed by AvePoint Online Services. Higher efficiency equals higher customer satisfaction.
Drive Licensing, Increase Adoptions
Migrate customers from file shares, SharePoint server and legacy collaboration platforms on to Office 365.
Extend Your Capabilities & Service Offerings with an AOS Partnership
Enhance and differentiate your Office 365 managed services offerings with AOS' powerful migration, management, and protection software suite