IT operations, controlled.
Whether you're a team of one or twenty, gain operational control of your SharePoint farm or complex hybrid system with AvePoint. Easily and centrally manage or delegate common administrative tasks, permissions, content and customization management across your IT assets.

Reduce admin costs
Centrally manage SharePoint and Office 365 permissions and configuration tasks. Report on and fix issues in bulk.

Security & policy
Resolve policy violations and report on or repair unauthorized security settings or configuration changes as they occur.

Migrate & synchronize
Move, restructure, sync, and publish content and customizations on demand, or on a schedule, for quick and easy access.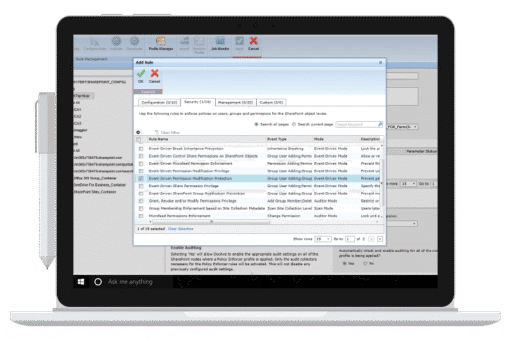 Administration & policy enforcement
Scale your team to quickly fly through IT audit and operational management tasks. Automate policy enforcement for added efficiency, and decreased risk.
Manage security
Search for and edit, clone, transfer, or delete built-in or custom user or group permissions.
Temporary access
Grant temporary access to individual users or groups – including external users. Centrally manage temporary, AD, and external users.
Policy compliance
Scan and monitor operational policies or build your own. Identify out-of-policy configurations, permissions, or activity.
Automate & enforce
Report on, notify, or automatically revert any out-of-policy changes to permissions and configurations.
Batch configuration
Apply, edit, or remove settings, features, and configurations in bulk across Sites, Groups, and OneDrive for Business.
Integrate & delegate
Let power users manage permissions from SharePoint, or security trim rights to the admin console based on their role.
Search & filter
Define a scope of users, sites, or content for further action with search or filter rules based on metadata or other criteria.
Report. Gain insight.
Get informed to make better decisions. Track user activity, growth, and your expanding information architecture to improve planning and decision making.

Audit users & admin
Track all administrative actions, and user activity, to monitor for suspicious behavior or create activity records.

IT audit reports
Gain a comprehensive understanding of your platform's topology – including configurations, settings, and users.

Behavior reporting
Surface content- or user-centric reports for business owners, including usage, and performance trends.

Storage trends
Track site or database growth over time to improve capacity planning and avoid excessive storage costs.

Proactive alerts
Configure alerts and notifications based on threshold triggers so admin and business owners are notified before issues arise.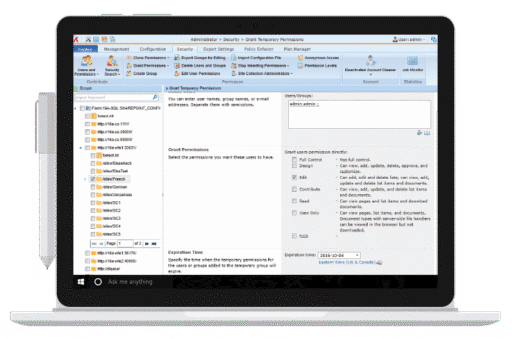 Migrate, manage & synchronize
Respond to evolving information architecture requests. Move, restructure, or replicate content within or across SharePoint and hybrid Office 365 environments. Your content…always where you need it.

Content migration
Move, copy, and restructure content for tenant-to-tenant migrations or reflect evolving information architecture needs.

Artifacts & design
Compare, bundle, and deploy designs, metadata, customizations, or configurations within or across multiple environments.

Replication
Publish and sync content in real time or scheduled within or across hybrid environments in batch or based on filters.

Full fidelity
Optionally map or maintain permissions, metadata, templates, designs, and configurations per move, copy, or replication.
Products for Operations Management & Control
Be the master of your universe

Superhero costume not required
Get Started Today
Our experts are on it! We'll be in touch shortly to get you set up.