Collaborate with Confidence
AvePoint provides the most advanced platform to optimize SaaS operations and secure collaboration.

Join over 17,000 global customers who rely on our solutions to modernize the digital workplace across Microsoft, Google, Salesforce and more.

Recognized as "Vendor Offering Backup for SaaS Application" in 2022 Gartner's "Innovation Insight: Backup for SaaS Applications" Report

Recognized as "Office Productivity Governance Vendor" in 2022 Gartner's "Market Guide for SaaS Management Platforms"

Recognized as a "Specialist Vendor" in Gartner Market Guide for "Backup as a Service". DOWNLOAD REPORT
#CloudLife can be easy.
That's what we are here for.
Sprawl. Risk. Chaos. Exposure. Likely a few of the scary words that pop up when you're thinking about your current or future cloud environment. AvePoint's SaaS solutions ensure these words stay, well, words. We'll prove to you that the cloud isn't that scary of a place after all. Since 2001 AvePoint has helped our customers and partners make the most of their Microsoft 365 and SharePoint investments. We can help you too!
I've looked at multiple products and none compare to AvePoint when you consider price, functionality, and user friendliness.
Trusted world-wide by these great organizations and many more!
Free Microsoft 365 learning resources
THE ULTIMATE GUIDE TO MICROSOFT TEAMS PERMISSIONS
Access the Ultimate Microsoft Teams Permissions Guide covering everything from guest permissions to private channels to the Files tab and more! Continue Reading
The Value of Automated Office 365 & Microsoft Teams Governance
The MOST comprehensive resource on Office 365 Governance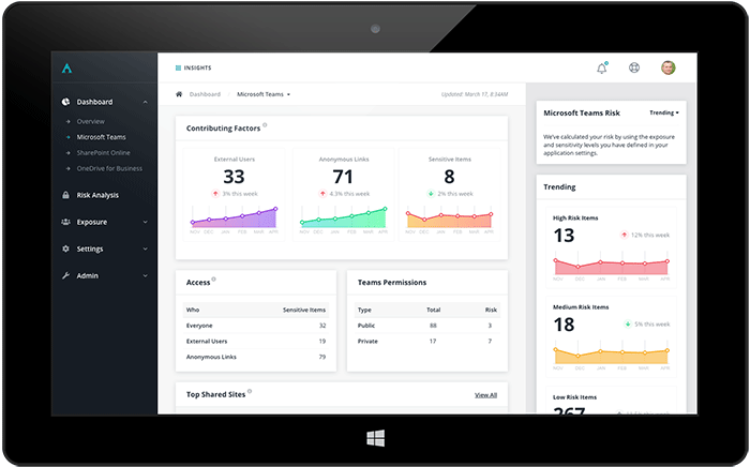 Unlock your full potential. Absolutely free for 30 days.
No gimmicks, no credit card required and definitely no "cancel or get billed" nonsense. We're confident in the value our solutions provide for both on-premises and cloud environments. We think you're gonna love it!