Working from Anywhere is the New Modern Workplace…
AvePoint wants to make sure you're ready to work, from home, the office, or on the go. The remote workforce boom's here, and Microsoft's got a universal collaboration tool that unites global employees, ensuring they're connected, engaged and productive—and that's Microsoft Teams.
Teams usage has skyrocketed over double due to the surge in demand for remote work. Microsoft's responded by offering Teams for free—which means more Teams usage, more Teams, more Private Channels, and more sprawl.
Is your business ready? AvePoint can help! Our solutions help your teams be more productive and efficient. Get started to help you ensure your teams are on their A-game as your work style evolves.

MyHub
Don't get buried beneath Teams, SharePoint Sites, and Microsoft 365 workspaces. Use MyHub to find, search through, access and oversee all your workspaces, whenever you need them.

AVA
AvePoint's Virtual Assistant helps users seamlessly find lost content. AVA responds to Microsoft Teams chats to help your users locate lost files or emails, without burdening your help desk or IT team.

WFH Kickstart Session
Need help? Consult AvePoint's Microsoft experts to find out how to kickstart, implement, configure, and manage your Office 365 environment to support your organization's remote or hybrid work movement.
MyHub: All your workspaces, all in one place
Time spent searching for the right Team or Site can impact adoption and productivity. That's why we created MyHub—to simplify your users' Microsoft 365 experience. Microsoft 365 Admins can quickly enable MyHub company-wide so that users can understand and organize their memberships across Groups, Teams, and Sites.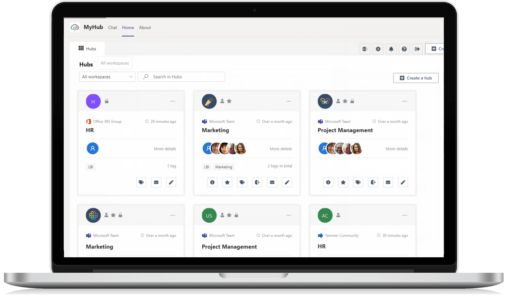 Drive productivity
Users can easily see and organize the workspaces they own, or have membership to, and quickly navigate to content they need.
Workspace management
Tagging helps users organize the workspaces they own, or have membership to. Quick actions, and quick actions.
Advanced governance
Access policy-driven services for provisioning, classification, and lifecycle management via Cloud Governance integration.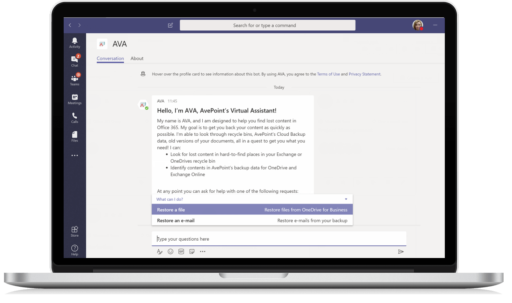 AVA: AvePoint's Virtual Assistant
AVA's the essential little chat bot you never knew you needed! She's personable, witty and incredibly helpful. AVA automatically and quickly responds to your users' Microsoft Teams chats to help search for lost or deleted content, whether it's an email or a misplaced document they can simply initiate a Teams chat with AVA, and voilà! — content is automatically recovered and restored. She's even more mighty when she joins forces with AvePoint Cloud Backup—what a power couple!
Search & recover
Locate missing, misplaced, or deleted files or emails in Exchange, Outlook, or OneDrive (and recycle bins)—including recently modified docs or broken URLs.
Savings for days
Your help desk team and end users won't waste precious time (and money) searching through Office 365's recycle bins or AvePoint Cloud Backup data.
Security trimmed
AVA respects your permissions—so users can locate only the content that's allowed—ensuring content is always in the right hands!
WFH Kickstart Sessions
Are you ready to kickstart your digital transformation journey? Engage our engineers for a free Kickstart Session help admins in charge of enabling remote workers get the most out of Office 365.

In your session, our experts will help set you up for success. We'll assess your current collaboration landscape, sensitive information concerns, remote worker experience, growth planning, and more!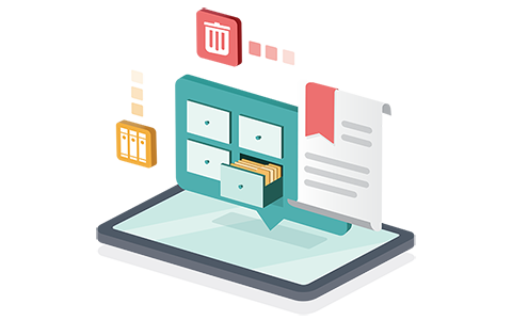 Strategic consultations
AvePoint's Office 365 and Microsoft Teams experts will be available for one phone consultations.
Leverage that SaaS
Learn how to successfully configure and manage Office 365 to support remote work for your organization.
Hot topics
During your session, we'll review your current collaboration landscape, sensitive information concerns, remote worker experience, growth planning, and more!
Microsoft Teams #WFHready Kit Products
and Services
Hybrid work is here to stay.

Be sure you're ready!
Get Started Today
Our experts are on it! We'll be in touch shortly to get you set up.