Texas Public Sector
Transform Your Agency with Secure Digital Collaboration
With AvePoint products, you get the right controls to protect and recover data, collaborate securely, and scale IT operations.
Modernize Your Agency and Departments in a Secure Way
Transforming and digitizing into a modern collaborative workplace is a MUST for your agency. And it's up to IT to figure out what that means and how to get it done securely. So where do you start? No matter if it's securing PIM, maintaining control of your Microsoft 365 tenants and assets, or getting to the cloud in the first place, we've got you covered.

Protect against Ransomware
Surface potential ransomware attacks events and understand the impact in real time.
Optimize policy compliance
Automate policy enforcement across workspaces and content while reducing policy oversight IT burden.
Prioritize security issues
Monitor sensitive data, the risk of exposure, and where the data is being accessed.
When we first ran Policies and Insights, it came up with thousands of links that were shared incorrectly. We hit a button and it basically fixed all the links and that risk was instantly mitigated.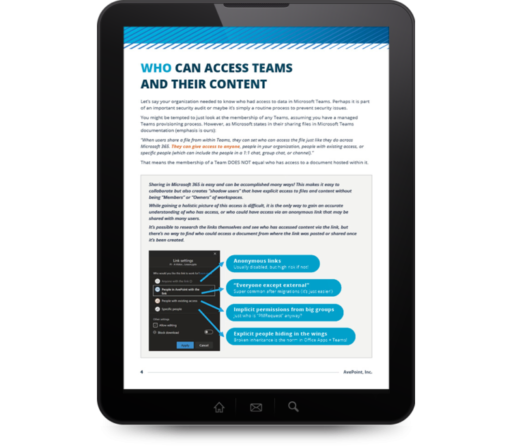 Automate and Enforce Data Protection in Microsoft Teams
Right-Sizing Teams Management and Security
When it comes to understanding potential data exposures, IT admins are weighed down by manual, time-consuming processes that don't even tell the full story. As Teams usage continues to rise, IT admins must have a deep understanding of their organization's data ecosystem. Find out how to identify risks and design a control plan to make Microsoft Teams smart, safe, and simple for your users.
READ EBOOK
What types of sensitive information exist in Teams?
Where does our sensitive data live?
Who has privileged access to the data (internal and external parties)?
Did they access it? And if so, when?
How are we enforcing a least-privileged mindset with Microsoft Teams security policies?
AvePoint is a TX-RAMP Level 2 Certified Provider
MODERN TRANSFORMATION WITH MIGRATION

Discover. Migrate. Monitor.

Drive digital transformation with Microsoft 365 migration

Our Fly migration solution enables organizations to seamlessly migrate their on-premise files directly into Microsoft 365. Detailed pre-migration discovery reports allow the organization to manage and maintain metadata, permissions, and complex data structures. Integrate legacy data into modern information management frameworks by filtering and restructuring content as it moved in Microsoft 365.

With automated data synchronization, Fly captures changes throughout the duration of the migration product

Remap metadata, domains, and other information during the migration process

Ensure the legacy information being moved into Microsoft 365 is in line with data governance and information management policies

PROTECT YOUR CLOUD DATA

Secure. Scale. Monitor.

Protect your data against ransomware and permissions fiascos

AvePoint has backed up public sector-critical content since SharePoint was Team Services, and Microsoft 365 was BPOS. Our SaaS solution Cloud Backup for multi-cloud backup has been in market since 2013. We know backup, and we'll cover your SaaS!

Our backup is 100% SaaS. Whether you've got 10 or 10,000 users, get the same powerful yet elegant service. Automatic cloud backups run from day one, so you're fully protected.

Our customers and partners trust us to protect over 50 petabytes of their data. We're built to scale, with services in over a dozen global data centers.

Your data is secure. Use our built-in storage and encryption, or bring your own storage and key. Plus, we're ISO:27001 certified so you can rest easy.

WORKSPACES: SECURE COLLABORATION

Discover. Automate. Enforce.

Can your sensitive data live in a "free and open sharing" system?

With AvePoint's Cloud Governance, you can empower users to create Teams, Sites, and Groups in real-time, automatically protected by the policies and procedures required to ensure your most sensitive data is safe. From the very moment, a Microsoft 365 workspace is provisioned, it enters the lifecycle management process. Organizations can right-size their policies to ensure that provisioned assets have the correct classification, retention, metadata, and access controls in place from the outset. Going forward, workspace owners can also be automatically asked to review permissions and metadata and revise or confirm as necessary.

Oversee configuration settings, membership, and ownership change requests, with the ability to delete, revert, or notify of unauthorized changes

Improve data quality and speed up processes with automated, structured end-of-life processes that trigger alerts for potentially idle or irrelevant sites and content

Ask workspace owners to explicitly confirm extending a workspace's lease or flag it for managed disposition
DOWNLOADS & RESOURCES
BLOG: HOW TO MIGRATE FROM GOOGLE DRIVE TO OFFICE 365
Understand how migrating from Google Drive to Office 365 can easily get complicated due to factors like the number of users, the volume of data transferred, or the intricacies of your structure, and learn how to avoid the pitfalls during the migration. Read Blog
FREE EBOOK
How to Boost Security & Business Productivity in Office 365 & Microsoft Teams with Governance
The MOST comprehensive resource on Office 365 Governance
Products to Support Your Digital Transformation