Built-in Operational Governance
Empower end users with self-service IT for SharePoint provisioning, management, and lifecycle operations. Transcend rigid provisioning or security solutions with user-driven services for sites and security to automatically apply governance policies.

Empower Users
Self-service with control. Grant users access to whatever they need, based on who and where they are.

Secure Collaboration
Provision and recertify collaboration spaces with pre-set policies for classification, ownership, metadata, and access.

Scale IT Resources
Ensure IT works smarter by packaging repetitive tasks into services. Reverse data sprawl with lifecycle automation.

Justify IT Investment
Reporting and auditing lets management review platform usage and provides ROI statistics for resource allocation.
DocAve Governance Automation lets us offer self-service site provisioning while ensuring users follow the policies outlined by IT.
Florian Deckert
Collaborative Tools Manager, Sopra Steria
Solutions Provided
Governance Automation, DocAve, AvePoint Migration Platform (AMP)
Going cloud? We've got you covered.
If you're exploring a move to Microsoft Office 365 soon, or are already in a hybrid state, use our Cloud First approach to streamline the user experience and set yourself up for long-term success. You'll get access to the latest Microsoft 365 features for Teams, Groups, and more automatically.

Spin up Cloud Governance, part of our AvePoint Online Services SaaS Platform, to house all your user service requests and automated business processes. We'll connect the back end, so Governance Automation can take action whenever and wherever necessary, on your on-prem SharePoint servers.

Provisioning
Users can request new workspaces—for departments, projects, or teams—through a self-service catalog. Proactively apply access, classification, and retention policies upon creation.

Management
Periodically recertify content ownership and classification to maintain accountability and validate relevance. Users can keep and update permissions with limited IT intervention.

Lifecycle
Ensure required or relevant content is kept, and archive or get rid of the rest. Reduce risk and improve data quality to improve search results and user satisfaction.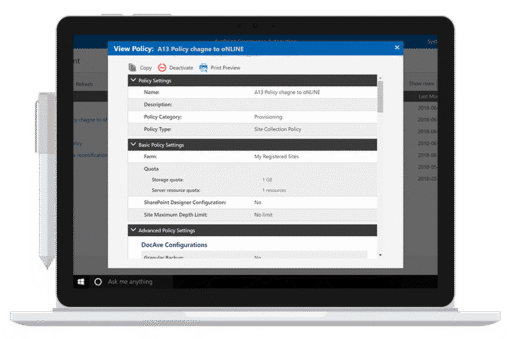 A policy you can enforce
With Governance Automation, implement an extensible and easily scalable governance framework for your most common IT operations—to ensure your policies are implemented, and remain intact. Whether you're on premises or in a hybrid state, we've got you covered.
Flexible approval
Zero-to-three stage approval processes mean you get the level of IT and management involvement required for services
Ongoing recertification
Keep policies intact for life of sites and users with automated recertification, to validate permissions and metadata
Clean house
Content owners, or a lack of activity can trigger lifecycle actions to record or dispose of content
Track resources
Quickly understand who is requesting what, and why, with full auditing and reporting over services and activity
It's automatic
Monitor and enforce configuration settings, membership and ownership. Delete, revert or notify of unauthorized changes.
Policy transparency
Show associated site information like contact, lease, and available services on homepages and service level indicators

Easy on your users
Access to service catalogs from SharePoint or Office 365. We integrate with native controls so users requesting access to a site, Group, or Team can be redirected to the appropriate cloud or on-premises service.

Easier on IT
Delegate approvals to business owners and create reusable services, so IT can save time previously spent on basic requests. Integrate with other service and workflow systems for end-to-end automation.

On Prem or in the Cloud
Governance automation can be hosted on your on-premises SharePoint servers, or in Azure to support hybrid deployments.
Create an account / Sign in
The AvePoint Portal is your centralized hub for all things AvePoint!
User guides
Release notes
Webinars
Videos
Create your account
Already have an account? Sign in
Get Started Today
Our experts are on it! We'll be in touch shortly to get you set up.