AvePoint Fly for Power Platform
Accelerate digital transformation with Power Platform migration
Discover our first-to-market in-tenant and tenant-to-tenant migration of Power Apps and Power Automate workflows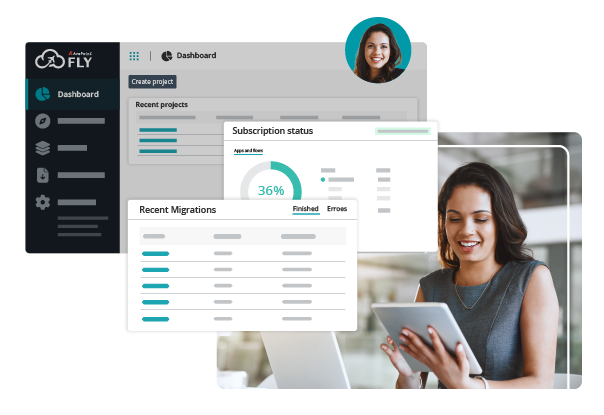 Power Platform is essential to your business strategy. Whether you're working through an M&A or looking for a way to move on-premise SharePoint workflows to Power Automate – we've got you covered.
AvePoint's support for Power Platform has helped us empower employees to safely build solutions that will enhance their work. As an organization, this allows us to continue taking smart risks because we know robust governance solutions will put the right guardrails in place, and data protection will ensure none of our data or workflows are lost.
MIGRATE TO THE MODERN
Our Fly migration solution has empowered organizations since 2003 to securely and seamlessly migrate services under Microsoft 365. Today we extend our SaaS migration capability to Power Platform. With built in inventory scans, mapping, and scheduling clean up data and reach your goals on time and within budget.
Re-structuring of Objects Within a Tenant :
Move or copy Apps and Power Automate Flows between Power Platform environments
Tenant-to-Tenant and M&A Scenarios:
Bring your Apps and Flows along with the rest of your M365 content. Fly provides more fidelity in tenant-to-tenant migration than any other migration vendor
Scan Swiftly
Schedule daily scans that will inventory the Power Apps and Power Automate Flows in your environment, saving you boatloads of time when setting up migration mappings to the destination.
Make Moves
Have the flexibility to move apps and flows from one Power Platform environment to another or from tenant to tenant. Map, filter and schedule, or just migrate in real-time.
Keep Track
Track migration status and progress on the dashboard. Validate your migration progress, generate reports highlighting actions taken, and always be in the know with flexible project reporting capabilities.
FREE WEBINAR
Maximize Power Platform Migration with AvePoint Fly
Migrate, Protect, Manage, and Govern Power Platform
AvePoint EnPower
Advance your management and governance of Power Platform thru insights, monitoring, and additional metadata.
Management and Governance
Cloud Backup
Protect the insights, apps, and automation that drives your business.
Data Protection
Fly
Validate that your data is used as intended and tagged correctly, to enable robust information management, compliant migration, and more.
Cloud Migration