Right-Sizing Teams Management and Security
Identify risks and design a control plan to make Microsoft Teams smart, safe, and simple for your users.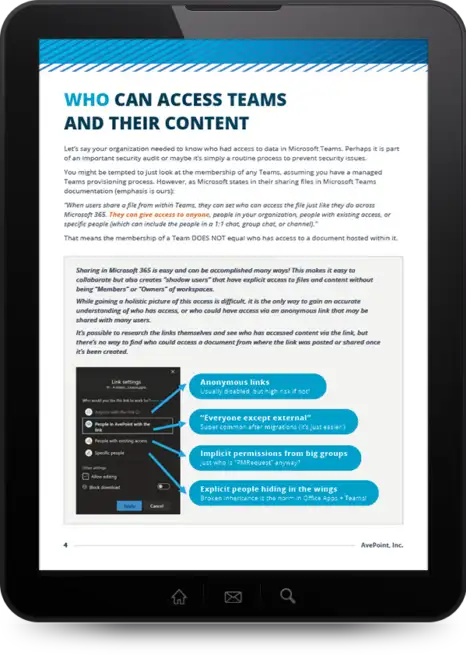 Automate and enforce data protection in Microsoft Teams.
More than 250 million monthly users now rely on Microsoft Teams. This rapid growth of users — and their data — underscore why IT administrators must have a deep understanding of their organisation's data ecosystem, including:
What kinds of information exists in Teams?
Where does our sensitive data live?
Who can access the data (internal and external parties)?
DID they access it? And if so, when?
How are we enforcing Microsoft Teams security policies?
Like any critical business system, Teams must be proactively managed. But that's easier said than done: Despite their best efforts, IT admins are weighed down by time-consuming, bulky, and inefficient processes that often require deep knowledge of PowerShell and require manually intensive analysis to ensure Microsoft Teams privacy.
It is a complex job, it isn't sustainable, and it puts your data at risk.
In this e-book, we'll show you how to solve for these issues using Microsoft 365's native, out-of-the-box functionality that is powerful but too often an "all-or-nothing" fix. We'll also highlight a more efficient, personalised approach using third-party solutions from AvePoint designed to prevent oversharing across Microsoft 365 with automated policies that not only apply controls but also enforce them.
Table of Contents
Introduction: Balancing security and usability
Why is Microsoft Teams security important?
Who (can access Teams and their content)?
What (collaboration is sensitive) and Where (is it located)?
When (was this workspace accessed)?
Why (does this Microsoft Team exist)?
How (to implement a control and management plan)?
Let's review
Bringing it all together
Additional resources
Sneak Peek
Uncover your vulnerabilities
The downside to sensitivity labels? Unless your organisation has an E5 or other advanced licensing, these settings must be manually applied by users, which is not a sustainable or comprehensive method for securing data in Microsoft Teams. (pg. 7)
Learn about limitations
Microsoft 365 allows you to either enable or disable external sharing across the tenant — the same with guest user access. While you do have the option to create specific policies for specific Microsoft Teams, SharePoint sites, and other workspaces, it is a tedious and time-consuming process. (pg. 10)
Drilled-down data protection
We've found that native controls can be one-size-fits-all, which doesn't help us "right-size" at all. Using criteria like workspace ownership, purpose, or even metadata like location or region, Policies & Insights (PI) allows you to create tailored, effective controls for your organisation. (pg. 17)
Safe settings, time savings
Not only does effective governance ensure that Microsoft Teams security and Microsoft 365 management requirements are met, but it can also drive powerful efficiency for your organisation. Based on our experience working with thousands of customers, AvePoint estimates that Cloud Governance saves approximately 463 minutes per workspace per year. (pg. 23)