Transform learning with Curricula
Deliver online learning in the cloud that works for students and educators
Stay focused on what matters: enabling new and better ways of learning. Our digital learning platform empowers educators to deliver an immersive and engaging online learning experience to meet the demands of today and tomorrow.
DIGITAL LEARNING FOR MODERN EDUCATION
Curricula is an end-to-end online learning solution for your institute of higher education. Curate smart-campus digital learning and teaching experiences for students, lecturers, and administrators. Engage students, enable lecturers, and empower your administrators to leverage latest, transformative technologies without the extra overhead.
Engage Students
Meet today's on-the-go learner with computer-assisted bite-sized learning – learn anywhere, anytime, on any device.
Scale Academic Faculty
Enable lecturers and administrators to maintain courses and deliver personalized, immersive, and collaborative learning for today and tomorrow.
Empower Management
Identify curriculum gaps and redundancies to improve learning with actionable insights & learner analytics.
Admin & Course Scheduling
Streamline course administration with Curricula. We guide registrars and other academic operators through processes to streamline daily tasks and reduce their administrative burden.
Course administration dashboard. Quickly view pending tasks and next steps.

Guided course setup. We make course setup easy by guiding you through the process for scheduling, assignment, and more.

Built-in backup. We include granular-level backup of high-priority data, so you can easily roll-back unintended changes or bounce back from data loss or malicious behavior.

Security by design and default. Flexible permissions control ensures, and proves, only the right people have access to the right controls.
Curriculum Planning
Say goodbye to one-size-fits-all solutions. Curricula enables course managers to plan syllabus in batch or to suit an individual's needs without compromising quality or scale.
Personalized learning. Create a Personalized Learning Path for students based on their unique needs.

Interactive experience. Design engaging & interactive learning packages (SCORM, Tin Can, IMS Common Cartridge, QTI-compliant).

Intuitive setup. Guided formative assessment and quiz setup ensures educators can align curriculums and learning check-points to desired outcomes.

Built-in integrity. Ensure integrity of assessments with Safe Exam Browser support & integration of plagiarism tools (e.g. Urkund, Turnitin).
Student-centric Learning & Collaboration
Put students first! Curricula has all the mobile, social, and interactive features that students love. Support digital-native learners with a personalized approach to nurture lifelong learning habits.
Personalized student dashboard. Students can easily view their calendar, course notifications, and more from one place.

Gamification. Enable leaderboards, badges, and challenges to keep students engaged in a hyper-competitive landscape.

Your learning companion. Our platform delivers personalized, AI-powered assistance directly in Microsoft Teams to keep your learning and scheduling on track.

Modern collaboration. Collaborative learning through video chats, social networking, games, blog, forum, and more enables students with the latest tools and technology.

Right-sized learning. Our technology can help break down programs into bite-sized online courses through mobile learning, question banks, and Wikis.

Stress-free feedback. Our platform scales grading and feedback. As soon as students submit assignments or quizzes, our technology can provide feedback.
Classroom Learning & Attendance
Make learning management for lecturers easy. Import, build and manage learning processes. Grade students' work, and send individual or bulk communications.
Attendance tracker. Centralized oversight into attendance and learning progress.

Video & screen monitoring. Screen Monitoring with 360° camera spots suspicious behavior to reduce cheating risks and flags potential concerns.

Lesson planning. Drag and drop course components, including handouts for distribution and quizzes into your graphical lesson plan builder.

Scalable grading & grade distribution. Automatic grading & auto-computation of final grades gets results back to students fast, and minimizes human error.
Get the show on the road!
This walkthrough tutorial is designed to help you quickly understand the functions of Curricula and how you could set up a simple course.  Click the video for a step-by-step guide that showcase how Curricula works and meet your online learning needs!
An End-to-End Student-centric Learning Experiences with Smart Collaboration Tools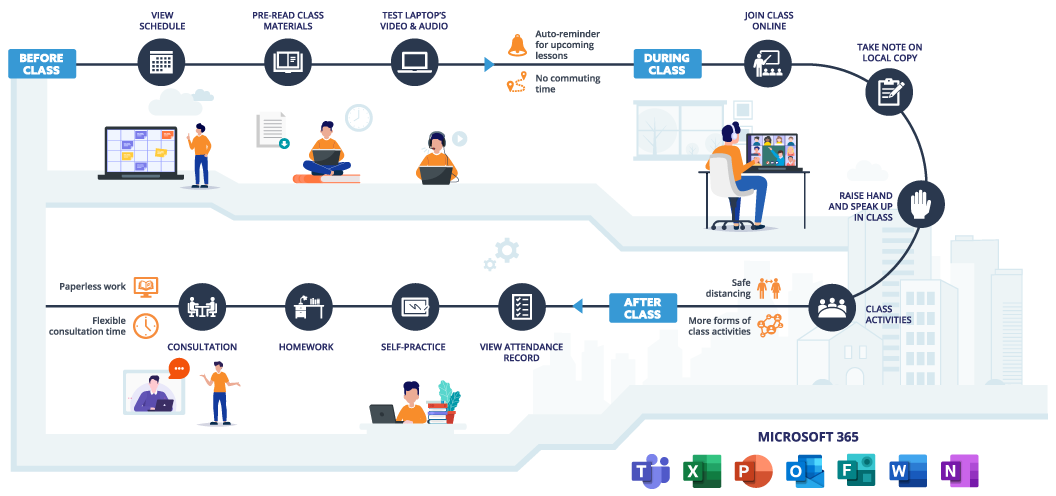 Powered by AvePoint
More than 17,000 customers worldwide trust AvePoint to protect and manage their Microsoft 365, Office 365, Dynamics 365 data. Our 100% SaaS platform comes with the service levels, scale, and security features your users, IT department, and security teams need to have confidence in your cloud investment.