Salesforce Backup and Recovery: Protecting the Platform that Fuels Your Enterprise
Learn how investing in backup and recovery can protect your business-critical Salesforce data and metadata.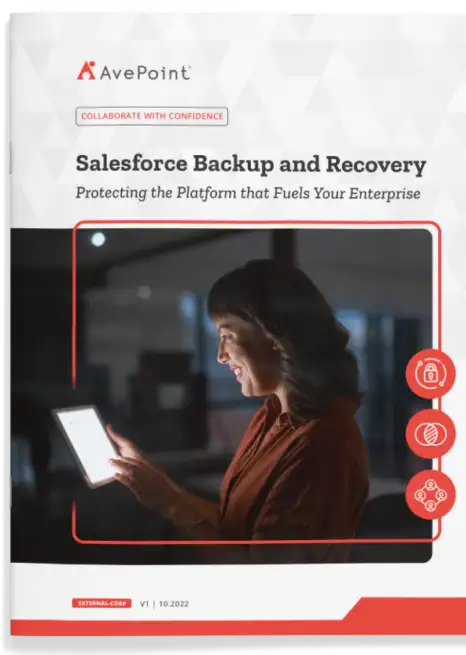 Find your best defense against data loss and downtime in Salesforce
Across your organisation, your team is storing vast quantities of irreplaceable data in Salesforce. This is more than just customer information; it is strategies, trends, and actionable insights based on years of data stored on the platform. To lose this data would be to lose years upon years of hard work, bringing you back to the dark ages of Rolodexes.
To protect these efforts and your legacy information, you must ensure adequate, routine data security is in place. Unfortunately, most SaaS providers focus on providing a great platform, passing data security and management on to the customer. Despite this, the 2021 Data Protection Cloud Strategies Survey found that 35% of respondents think their SaaS vendor is responsible for data protection, and only 41% use a third-party tool to protect their Salesforce data.
Recovering from data loss, whether low or high impact, can be time-consuming, requires a lot of effort, and may affect your bottom line. The good news is that can be avoided with proper data management strategies, including investing in a comprehensive backup and recovery solution.
In this eBook, you'll learn how Salesforce data loss happens, why backing up your Salesforce content is so important, and your options for Salesforce backup and recovery.
Table of Contents: 
The Customer Relationship Management Revolution
Types of Salesforce Data
The Necessity of Backup & Recovery
Salesforce Native Backup & Recovery Offerings
AvePoint Levels up Your Salesforce Protection
Cloud Backup for Salesforce in Action
Conclusion
Checklist: Questions to Ask Your Potential Salesforce Backup Vendor
Get a Sneak Peek
You must protect your Salesforce data and metadata
Data and metadata are essential to ensuring your Salesforce org continues to work for you. Loss of either could be detrimental to your day-to-day or even long-term business continuity, depending on the data incident's seriousness. While losing important customer information and transaction details could derail your sales team and their strategy, losing your metadata is equally as devastating and could result in you losing your custom configurations, labels, permissions, etc. (Pg. 5)
Protecting your data and metadata means backup and recovery
If you want to avoid the consequences of data loss, you need to invest in a backup solution to ensure you have a protected copy of your data elsewhere. This is simple enough in theory, but it is not enough for the data to simply exist somewhere else; it needs to also be made available to users if the need arises, which is why recovery is an equally important part of the equation. (Pg. 8)
Salesforce's native backup and recovery tools aren't sufficient protection
We've already hinted at the limitations of the free tools. From how easy it is to make a bulk mistake with Data Loader or Data Import Wizard to the lack of support for Sandboxes, which are essential testing environments to ensure your production org stays clean and secure, there are many reasons why the free, native options simply aren't comprehensive enough to serve as your essential Salesforce backup and recovery. (Pg. 11)
AvePoint Cloud Backup offers granular data and metadata restores
The solution minimises downtime by capturing data and metadata for faster recovery; you can efficiently and fully export your data in minutes, which significantly helps, especially when you're pressed by time. You can also access search and export functions that simplify information gathering requests such as GDPR, CCPA, and FOI. (Pg. 12)
You invested in Salesforce; now, you need to invest in comprehensive data and metadata backup and recovery solutions to protect your invaluable tool.