The Role of Cloud Backup and Disaster Recovery in Business Continuity
Cloud backup and disaster recovery are key pillars of a robust business continuity plan. Learn how MSPs can growth their business and earn their customers' trust by offering proactive planning.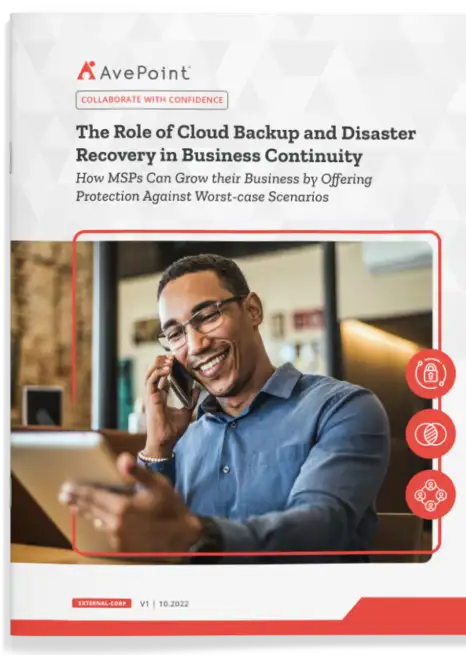 How MSPs Can Grow Their Business by Offering Protection Against Worst-case Scenarios
The demands of the modern working world cause us to rely on data more than ever before. From powerful insights to streamlined workflows, data can be transformational, making it essential for your customers to ensure they always have access to their content.
But it's not just data that needs to be protected. The systems that use, store, and harness our data are just as important, from powerful applications to user accounts.
As a managed service provider (MSP), you have a unique opportunity to help your customers by offering services and solutions that protect their data and ensure their business keeps running, no matter the circumstances.
What's more, your customers likely want it, even if they don't know it yet. A Forrester study found that nearly 80% of businesses indicate they'd invest in technology that would accelerate their middleware restart and recovery process.
This does more than protect your customers from worst-case scenarios; it can help you grow your business. Today, cloud backup and disaster recovery are essential services to the modern, cloud-based workplace, and by offering expertise and solutions that can meet your customers' needs, you are sure to gain additional revenue, referrals, and customer satisfaction.
In this eBook, you will learn the steps you should take to grow your business by helping your customers establish their proactive disaster recovery plan and offering better services and solutions.
Introduction
How to Better Prepare Your Customers for Worst-case Scenarios
AvePoint Solutions Can Drive Revenue
How to Assess Your Disaster Recovery Plan
Conclusion
Get a Sneak Peek
There is no native backup solution for Azure AD
Many of your customers likely use Azure AD, the cloud-based identity and access management service used to access external resources, such as Microsoft 365 and thousands of other SaaS applications. Yet there is no native backup solution. If something were to happen and they did not have a recovery plan, they would lose data, like distribution lists and user groups; security features like single-on and multi-factor authentication; and critical workflows, like reporting or self-service password resets. Backup alone will not ensure these features are recoverable; you need a disaster recovery solution. (Pg. 4)
You can protect your customers from unplanned downtime
Human error will always account for more security issues or outages than we may like to admit. In fact, the Uptime Institute found 40% of organisations suffered a major outage because of human error-related issues over the past three years. No matter the cause, outages resulting in unplanned downtime are costly – both in terms of money, time, and data loss. In fact, a recent Dell survey found the average cost of unplanned systems downtime was $513,067. (Pg. 5)
Learn how to conduct a risk audit
Once your business leaders are on board, it's time to perform a risk audit on their IT infrastructure. Conducting this audit identifies weaknesses, helping you establish and rank your customer's most critical vulnerabilities in their systems and determine what steps you must take to mitigate the risks they introduce. This is how you build the initial framework for their disaster recovery plan. (Pg. 6)
Discover how AvePoint solutions can help drive revenue
With AvePoint's easy-to-use solutions, you can deliver thorough coverage and faster recovery across your customer's organisations. With Cloud Backup for your collaboration platforms and Cloud Backup for Microsoft Azure, you know your customers are protected from data loss, system damage, or downtime. (Pg. 11)