Engage Students & Alumni Powerfully with Vitae
Gain insights on prospective students and alumni interests to drive powerful marketing campaigns and foster continuous learning with Vitae, your 360° engagement platform.
A Purpose-built Platform Designed for Alumni & Student Management
Build and manage relationships with students, alumni, prospects, partners and organisations. Centralize your IHL's communication and engagement with stakeholders in a targeted manner.
Engage
Holistic Industry Engagement
Conduct & manage powerful event promotions and campaigns that are targeted at audiences' personal or career interests.
Learn
Continuous Education & Training
Integrates with student information, learning & grants systems to offer holistic administration of courses for upskilling and lifelong Learning.
Manage
Student Lifecycle Management
Manage all prospects, students, alumni and public requests or issues with a unified case management system. Monitor fee payments and generate reports instantly.
Holistic Industry Engagement
Vitae enables IHLs to centrally manage industry partners & organizations, business contacts and industry engagement records.
Automatic Workflows configured for contact processing relieves manual administration.

Pre-Defined Relationship & Account Management enables cases to be followed up in a timely manner, with clear visibility of engagement history.

Performance Tracking & Reports can be easily generated from a unified dashboard to track event or program outcomes with various partners.
360° Student Life-Cycle Management
From a prospect to a student, and ultimately an alumnus, institutes can now capture their stakeholders' interest and cater content relevantly to their needs of the season.
Get Connected with alumni to stay informed on the latest campus news and remain engaged.

Targeted Campaign Engagements are supported with visibility on each contact's digital activities, events participation and case history.

One-stop platform for holistic CRM management by integrating information from student & alumni portals. No more toggling between systems.
Single Knowledge Management
Create value for alumni network to build relationship and stay connected through IHL programs. From marketing campaigns to fundraising, Vitae serves as a one-stop platform for powerful stakeholder engagement.
With Vitae:
Streamline Processes &Automate Workflows

Greater Accountability on Stakeholder Relations

Clear Case Tracking & Records Filling

Interest-led Engagements & Recommendations

Automated Reports & Performance Tracking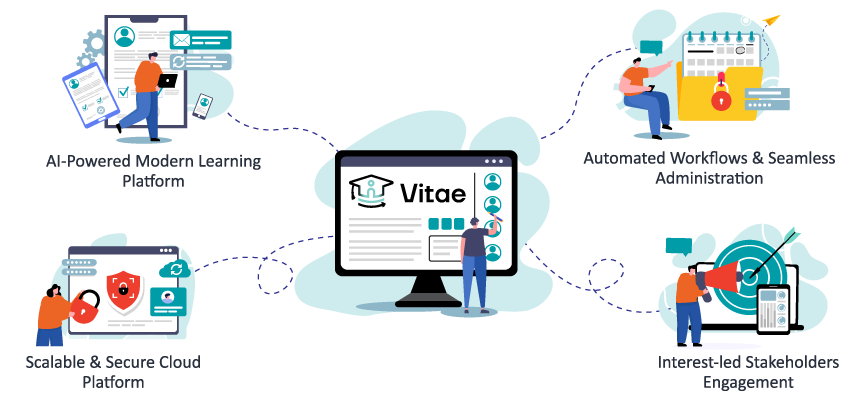 Vitae + Curricula Empowering Continuous Education & Training
Leading the industry in the empowerment of lifelong learning are the 6 Joint IHLs across Singapore with a Shared Training Management System, powered by the combination of Curricula, a Learning Management Platform and Vitae, a CRM platform to enhance contextual communication and learning for various stakeholders.
As students evolve into professionals in their various careers, it is important for IHLs to have a strong understanding of how skills and competencies match with actual job roles. With Vitae, IHLs can better profile the interests of their alumni or new learning professionals, and recommend the right courses to effectively address skills gaps.