Enhance Workplace Training with an Embedded Microsoft Teams LMS
Make learning work with tools that leverage the power of Microsoft 365.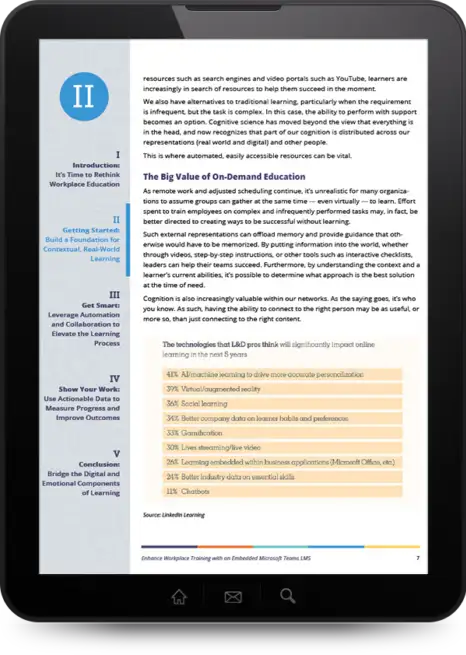 Do your employee training programs pass the test?
Successful workplace training and education programs are aligned with how our minds work — and with modern technology that supports collaboration, individualised learning, and on-demand access.
Generic materials (aka "content and a quiz") delivered in a set time and physical place are not only impractical, they're also ineffective. The COVID-19 pandemic and remote work have exacerbated longtime gaps in traditional learning models, especially as organisations face historic turnover.
A growing need to upskill team members quickly means employers must reconsider how they develop — and deploy — professional development.
This e-book will explain the shifting landscape of workplace learning, including common pain points and areas of opportunity. It will also demonstrate how AvePoint's EduTech suite of solutions can simplify and elevate the process, so your colleagues are positioned to perform at their best.
Table of Contents
I. It's Time to Rethink Workplace Education
II. Build a Foundation for Contextual, Real-World Learning
III. Leverage Collaboration and Automation to Elevate the Process
IV. Use Actionable Data to Measure Progress and Improve Outcomes
V. Bridge the Digital and Emotional Components of Learning
Sneak Peek:
Many organisations are already using Microsoft 365, so it makes sense to maximise the value of that asset. It can also simplify support as IT teams won't have to support multiple tools and users will benefit from a unified user experience instead of having to learn and interchange between multiple tools. (pg. 10)
Most learning environments include the opportunity for social learning. Leveraging a social network — such as Microsoft Teams — as the tool for formal learning as well as ongoing communication throughout an organisation provides the opportunity to cross the boundary from a community of learners to a community of practice. (pg. 14)