Boost performance & space
Unstructured data (or BLOBs) can potentially consume up to 95 percent of SQL Server storage. With DocAve Storage Manager, effectively mitigate content sprawl by easily implementing and enforcing BLOB externalization strategies throughout SharePoint's lifecycle.

Maximum performance
Optimize SQL Server storage and increase platform performance by removing unstructured data from SQL databases

Storage cost reduction
Reduce SharePoint total cost of ownership (TCO) by leveraging Hierarchical Storage Management (HSM) solutions

Maintain continuity
Provide end-users with uninterrupted access and interaction with externalized content, regardless of where it resides

Full-featured oversight
Protect and manage externalized content with SharePoint functions, third-party customizations, and other DocAve products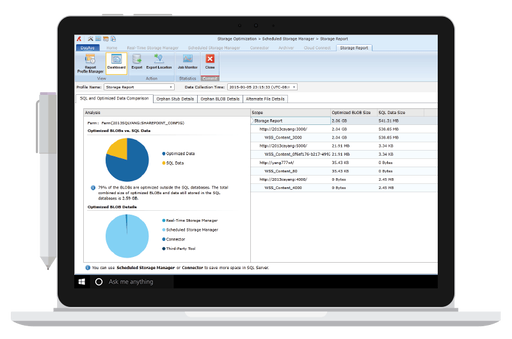 Cost-saving SharePoint storage management
Reduce accumulating storage costs and optimize platform performance for Microsoft SharePoint Server 2019, 2016, 2013, and 2010 with real-time or scheduled content externalization.

BLOB compression
Compress and encrypt the externalized BLOBs to reduce storage cost and protect BLOBs from unauthorized access

Alternate upload
Let end users upload alternate file types natively blocked by SharePoint and files that exceed SharePoint limitations

Additional scans
Examine and evaluate only content that's been modified since the last scan for incremental externalization

Report dashboard
View SQL and optimized data comparisons, orphan stub/BLOB details, and alternate file details within a selected scope

Data comparison
Compare optimized data against data found in SQL Server content databases

Content restore
Through one click, restore content from BLOB storage to the original SharePoint content database, with stubs included
Want more coin in your piggy bank?

Better hope we don't break the bank.
Create an account / Sign in
The AvePoint Portal is your centralized hub for all things AvePoint!
User guides
Release notes
Webinars
Videos
Create your account
Already have an account? Sign in
Get Started Today
Our experts are on it! We'll be in touch shortly to get you set up.