Zero Trust
Secure M365 Collaboration with a Zero Trust Framework
Increase security posture with a focus on least privilege across users and admin permissions, automated policy monitoring and enforcement, and data exposure reduction
Don't just protect with a moat - Evolve your security model in M365
A modern threat protection strategy that relies on user authentication and data level tagging for M365 is not enough to satisfy a "never trust, always verify" model. If your organization isn't taking proactive steps to ensure employees, administrators, and guests only have access to site collections, Groups, and Teams they need within M365 you are leaving the data within those collaborative workspaces vulnerable. Leverage our Confidence platform powered by AvePoint Online Services to secure your collaboration.

Reduce insider threats
Make sure every person's access to M365 is to information they only need.
Optimize policy compliance
Automate policy enforcement across workspaces and content while reducing policy oversight IT burden.
Prioritize security issues
Monitor sensitive data, the risk of exposure, and where the data is being accessed.
To say that AvePoint tools are valuable to us can't be stressed enough.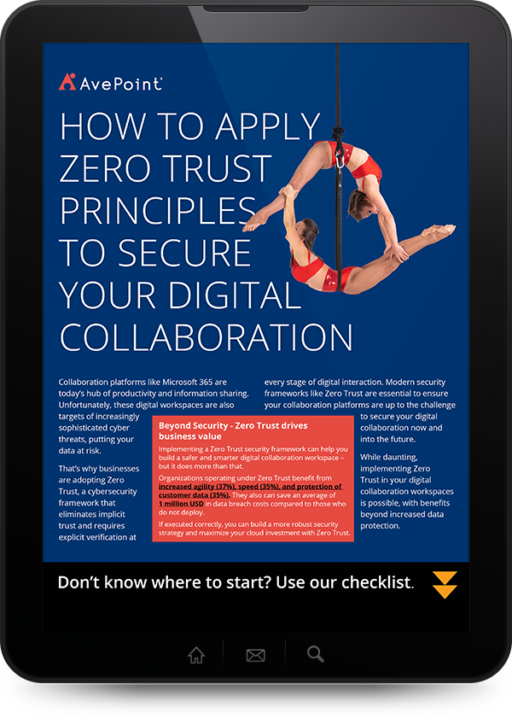 Secure Your Digital Collaboration
Checklist: Apply Zero Trust Principles to Secure Digital Collaboration
In today's digital world, security is more important than ever. The rise of cyber attacks has made it crucial for companies to adopt a Zero Trust approach to security. Implementing a Zero Trust security framework can help you build a safer and smarter digital collaboration workspace - but it does more than that. Our secure digital collaboration checklist is a comprehensive guide that provides a step-by-step process to begin implementing Zero Trust principles in your organization today.
Understand your digital collaboration environment

Safeguard your information

Invest in trusted partners to simplify management

secure your digital workspaces

Ensure long-term sustainability
GET THE CHECKLIST
AvePoint thru a Zero Trust Lens
USERS AND ADMINS: RIGHT-SIZE PERMISSIONS

Secure. Scale. Monitor.

A path to a least-privileged model for administrators

Our EnPower management solution empowers organizations to align M365 with their IT operations needs. Whether you need to manage by application, department, or location, the bottom line is anyone with admin permissions will gain access to your entire tenant. Not only will EnPower break down administration permissions with role-based access controls (RBAC) architecture to focus current admins on their assignments but opens the possibility of who can complete daily tasks creating much-needed efficiency and scale.

Manage multiple tenants in one window for complete visibility across your organization

Enable systems integrators to manage the scope of content and services they've been contracted to manage without over-privileging them with access to another division's content.

Quickly generate and export admin user audit reports for Exchange, Teams, SharePoint Online, OneDrive, Azure Active Directory, and Groups.

WORKSPACES: SECURE COLLABORATION

Discover. Automate. Enforce.

Can your sensitive data live in a "free and open sharing" system?

With AvePoint's Cloud Governance, you can empower users to create Teams, Sites, and Groups in real-time, automatically protected by the policies and procedures required to ensure your most sensitive data is safe. From the very moment, a Microsoft 365 workspace is provisioned, it enters the lifecycle management process. Organizations can right-size their policies to ensure that provisioned assets have the correct classification, retention, metadata, and access controls in place from the outset. Going forward, workspace owners can also be automatically asked to review permissions and metadata and revise or confirm as necessary.

Oversee configuration settings, membership, and ownership change requests, with the ability to delete, revert, or notify of unauthorized changes

Improve data quality and speed up processes with automated, structured end-of-life processes that trigger alerts for potentially idle or irrelevant sites and content

Ask workspace owners to explicitly confirm extending a workspace's lease or flag it for managed disposition

DATA: PROTECT AND MONITOR

Easily enforce controls for sharing, permissions, membership, and configuration.

Automate and monitor security policy enforcement

By combining AvePoint's Policies and Insights products your organization can easily enforce Microsoft 365 security rules and best practices while continuously monitoring and prioritizing action on your biggest risks. Get started by defining the rules for your organization from scratch or choosing from 30+ pre-loaded policies, including external sharing, ghost guest user detection, and Teams settings enforcement. Then measure your potential exposure with our out-of-the-box Risk Assessment Report that will summarize changes in your environment, as well as identify and prioritize high-risk action items that require immediate action.

Automatically detect, notify, and revert configuration drift and security issues. We pull directly from Microsoft 365 data, so no need to worry about throttling issues.

Prevent oversharing to external users and unauthorized changes on permissions or security settings


Gain context from basic permissions reports by cross-referencing an item's Sensitive Information Type with historical audit logs
DOWNLOADS & RESOURCES
Blog: How to Align M365 Collaboration With Your Agency's Zero Trust Architecture
The federal government issued an executive order that all federal entities must be using zero trust architecture by FY 2024. Learn what things you should consider while building out this new model. Read Blog
FREE EBOOK
Achieve Microsoft 365 Collaboration Security within a Zero Trust Architecture
Products to support your Zero Trust initiatives