Microsoft Dynamics CRM Backup and Restore
Easily recover CRM data with our automatic SaaS backup solution
Bounce back from service outages, ransomware attacks, and user errors with the most comprehensive backup for Microsoft Dynamics 365.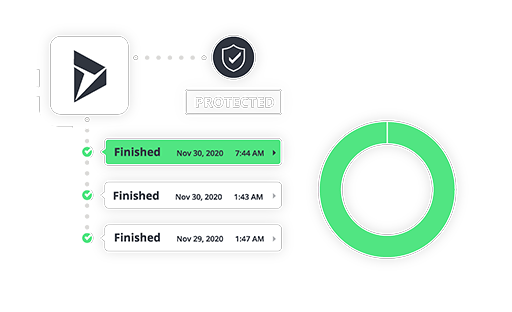 Complete Dynamics 365 backup for your CRM data. Guaranteed.
Around-the-clock protection for critical Dynamics 365 Sales and Marketing's data. Online backups run automatically, minimizing recovery point objectives (RPOs) for our item-level restore. Store data wherever and recover whenever—it's safe with our 256-bit encryption.
Worry-free CRM protection
Unlimited, automated backups of Dynamics CRM data up to four times a day. Data protection and backup retention requirements are met.
Anywhere, anytime access
Granular restore and access on-demand with full-fidelity recovery. Get back to work faster, so you can leave on time!
Sensible backup storage
Your CRM data is kept safe and encrypted in our cloud. Bring your own Microsoft Azure Key if you like, and your own storage too!
Appease recovery SLAs
Minimize Dynamics CRM data loss, downtime, and restore times while satisfying aggressive Service Level Agreements.
MINIMIZE DYNAMICS 365 CRM DATA LOSS AND DOWNTIME
A safe space for entities, contacts, & fields
Safeguard CRM data. With AvePoint Cloud Backup for Dynamics 365, security is always a priority. Whether you're exporting a backup, performing a granular restore, creating reports, or securing data— enjoy end to end data protection.
SaaS & chill
Cloud Backup is a 100% Azure-hosted SaaS application with automatic updates. No servers, installations, or stressed IT.
Bring your storage (or not)
Secure data in our Microsoft Azure storage, your own Azure Storage or any SFTP or FTP server.
Automatic backups
Log in, set it—don't fret it. Automatically backup up to four times a day and store data wherever you'd like!
Encryption prescription
Leaks and attacks are no match for our 265-bit encryption. Bring your own Microsoft Azure Encryption key for extra security.
Flexible restore
Access, search, and restore entities and records for targeted rollback based on properties, including content owner, date created and modified.
Compare backups
Comparison reports let you see what's changed between backups, and locate the entity you must restore, when you need it.
Maintain metadata
Metadata, permissions, and properties are fully maintained when you restore content.
Unlimited retention
We offer unlimited retention to ensure 100% of your backup data is safe, sound and fully recoverable.
Extend native Dynamics 365 functionality
| Benefits | AvePoint Cloud Backup | Dynamics 365 Native |
| --- | --- | --- |
| Flexible Backup Solution | Backs up Dynamics 365 data up to 4 times a day on flexible schedule | Backs up Dynamics 365 data once a day on fixed schedule |
| Granular Restore | Can restore granular items with metadata and permissions intact | Can restore only at the instance level and sandbox instance level |
| Backup Data Retention | Unlimited retention for 100% of your backup data | Automatically backup up from 7 to 30 days |
DOWNLOADS & RESOURCES
Discover why and how the BaaS landscape is changing.
The need for Backup as a Service in 2023 is greater than ever before with a steady increase in ransomware attacks and a larger need for companies to protect data in SaaS applications. Read the 2023 Gartner® Market Guide for Backup as a Service, to find out why AvePoint was recognized as a Representative Vendor.
FREE EBOOK
Your Digital Transformation Roadmap
Migration, management, security and governance best practices you need for life in the cloud!
Boost your cloud confidence
Exceed expectations with AvePoint Cloud Backup for Dynamics 365