tyGraph Pages - Analytics for SharePoint Intranet
Measure, analyze, and optimize your SharePoint Intranet
In-product SharePoint analytics help you optimize performance, improve user experience, and get site owners the usage data they need.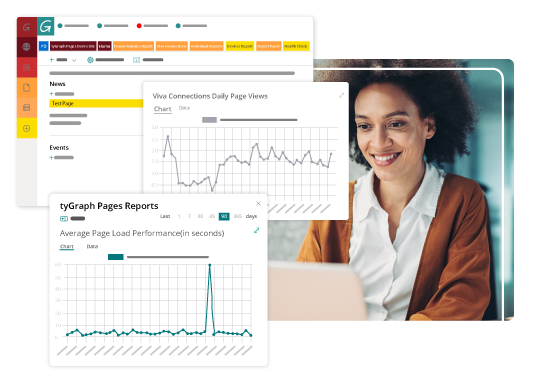 Intranets like SharePoint are the gateway to the modern workplace, serving as collaborative knowledge management hubs for a distributed workforce. A far cry from the file-sharing destinations of old, today's SharePoint sites are designed to drive user experience and retention, regardless of how and where the user is accessing the resources.
But how do you know whether your Intranet is successfully driving user engagement or whether slow page load times and incompatible devices are dragging down performance?

FIND OUT HOW TO EVALUATE THE HEALTH OF YOUR INTRANET
The insights we gleaned from tyGraph helped us identify what was needed and what was not. By getting rid of redundant, outdated data and focusing our time and energy on recreating and designing used and relevant content, we were able to create a far better user experience in the new tenant.
In-Product, In-Context, and In-Time
DELIVER A MODERN INTRANET FOR A MODERN WORKFORCE
Embedded analytics for SharePoint
tyGraph Pages gives SharePoint admins and portal owners easy access to comprehensive Intranet analytics by embedding web parts within existing SharePoint sites and pages to deliver cohesive, contextualized insights.
ARE YOU MONITORING THESE 10 SHAREPOINT METRICS?
Compliant? Check!
Lightweight and GDPR-compliant, tyGraph Pages enables you to measure your audience without exposing PII.
Purpose-Built for SharePoint
Unlike generic web analytics solutions, tyGraph Pages is purpose-built for Office 365 users to analyze SharePoint Intranet activity.

Outside the Out-of-the-Box
AvePoint's solution goes beyond the straightforward reporting available natively and adds critical context, enabling stakeholders to informed decisions about navigation and content strategy.
DOWNLOADS & RESOURCES
Checklist: 10 Metrics Every SharePoint Admin Should Monitor
Learn how to level up your intranet with insights into SharePoint usage and adoption. Download now.
FREE EBOOK
From Cluttered to Productive: How to Evaluate the Health of Your SharePoint Intranet
Turn insights into impact.
You already know SharePoint. Now meet our best-in-class SharePoint analytics.