AvePoint Named a Finalist for the 2010 Red Herring 100 North America Award
The Red Herring editorial staff selected AvePoint as a finalist in the 2010 Red Herring's North America 100 Award, a prestigious list honoring the year's most innovative and successful private technology ventures from the North American business region. Finalists are selected based upon their technological innovation, management strength, market size, investor record, customer acquisition, and financial health.

AvePoint's DocAve Software Platform Named "Best of Tech•Ed Award Finalist" by Windows IT Pro and SQL Server Magazine
The award, presented at the Best of Tech•Ed 2010 North America conference in June, recognizes the industry's most innovative SharePoint software solution

AvePoint Named to KMWorld magazine's "100 Companies that Matter in Knowledge Management"
The list, now in its tenth year, selects the top 100 global companies serving and advancing the field of knowledge management

AvePoint Receives Certificate of Networthiness from U.S. Army
Certification clears AvePoint's SharePoint infrastructure management technologies for deployment throughout the US Army's IT infrastructure

AvePoint is Named to Deloitte's 2009 Technology Fast 500™ List
With 1800% revenue growth over the last five years, AvePoint is ranked the 96th fastest growing company in North America, and 14th in the Tri-State area

DocAve Backup and Recovery Named 2008 'Editors Best' Award Winner by Windows IT Pro Magazine
DocAve is proud to have won the 2008 Editor's Best Award from Windows IT Pro Magazine. The magazine's editors' utilize their in-depth product knowledge and subject matter expertise to identify the market's most exceptional products, in 13 distinct categories. The DocAve Software Platform won the top award within the SharePoint category.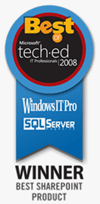 DocAve Software Platform Named 'Best of Tech Ed 2008 IT Pros Award' Winner
DocAve was named the winner of the Best of Tech Ed IT Pros Award in 2008 for "Best SharePoint Product". This prestigious award is presented by Windows IT Pro and SQL Server Magazine to recognize the industry's most innovative and effective SharePoint solution, and was presented at Tech Ed North America 2008, in Orlando, FL.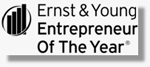 AvePoint Co-Founders Kai Gong and Dr. Tianyi Jiang Named Ernst & Young Entrepreneur of the Year 2008 Award Finalists in New Jersey
Award recognizes innovative business leaders in over 50 countries and is considered the most prestigious business award for entrepreneurs in the world

People's Choice Awards
AvePoint was named best-in-class by MSD2D's People's Choice Awards for Best SharePoint Backup Solution from 2003 – 2006, at which point the award was discontinued. MSD2D is a leading online resource for the SharePoint community, and award recipients are chosen from among thousands of nominations worldwide.

Better Business Bureau
AvePoint was named an accredited place of business by the renowned Better Business Bureau. Companies must pass strict standards regarding trust, honest advertising, transparency, fulfilling promises, responsiveness, respecting privacy, and embodying integrity in order to gain membership to this elite group.