AvePoint Media Contact
Nicole Caci
Tel: +1 201-201-8143
Email: nicole.caci@avepoint.com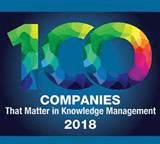 AvePoint Named in KMWorld Magazine's "100 Companies That Matter in Knowledge Management" for Ninth Consecutive Year
Annual list highlights companies whose unwavering commitment to knowledge management enhances productivity while meeting the customized business needs of organizations worldwide.
Jersey City, NJ – March 9, 2018 – AvePoint, a leader in enabling digital transformation success, has been named to KMWorld Magazine's "100 Companies That Matter in Knowledge Management" for the ninth year in a row.

The list of "100 Companies That Matter in Knowledge Management," now in its 18th year, is compiled over a year by KMWorld editors, analysts, experts and, users. Selected companies captured KMWorld's attention for various reasons including functionality, demonstrated success with clients, creativity and innovation. Companies named in 2018 were based on how they help customers solve business problems, reviews of product news for the most current offerings, widely adopted and revered technology, as well as technology on the cusp of greatness.
"The organizations named this year to our list of 100 Companies That Matter in Knowledge Management have captured and sustained our interest through their functionality, success with clients and innovation," said KMWorld Editor Sandra Haimila. "When we look at the technologies they offer, we are awed by the progress, excited by what the future will bring and confident they will enrich our lives. The companies we have chosen for our 2018 list have proven their business value to customers. We are impressed."

"We're proud to be recognized by KMWorld in the knowledge management area for almost a decade. It is a testament to AvePoint's agility and ability to pivot our offerings in a rapidly changing industry," said Dr. Tianyi (TJ) Jiang, AvePoint Co-CEO and Co-Founder. "Businesses that rely on speed and the ease of information exchange are having more sophisticated conversations about digital content management and modernizing their fundamental business processes. AvePoint is attuned to the challenges that companies face to operationalize their digital transformation, and we focus our strength in helping our customers transition to a highly collaborative and agile cloud world."
About AvePoint
Collaborate with Confidence: AvePoint provides the most advanced platform to optimize SaaS operations and secure collaboration.
Over 17,000 customers worldwide rely on our solutions to modernize the digital workplace across Microsoft, Google, Salesforce and other collaboration environments.
AvePoint's global channel partner program includes over 3,500 managed service providers, value added resellers and systems integrators, with our solutions available in more than 100 cloud marketplaces. To learn more, visit https://www.avepoint.com/uk.
All product and company names herein may be trademarks of their registered owners.