AvePoint Media Contact
Nicole Caci
Tel: +1 201-201-8143
Email: nicole.caci@avepoint.com
AvePoint Announces Second Quarter 2021 Financial Results
JERSEY CITY, N.J., Aug. 10, 2021 -- AvePoint, Inc. (NASDAQ: AVPT), the largest data management solutions provider for Microsoft 365, today announced financial results for the second quarter ended June 30, 2021.

"In the second quarter we delivered record results, with revenue of $45.3 million, up 38% year-over-year, driven by the continued growth of Microsoft Teams and strong adoption of our collaboration security technologies," said Dr. Tianyi Jiang (TJ), CEO and Co-Founder of AvePoint. "With the investments we are making across our go-to-market organization, including sales, customer success and channel, we aim to increase our market share of the Microsoft 365 user base, boost our customer retention rate and continue our strong growth in the SMB market via our channel partners."
Second Quarter 2021 Financial Results
Total Revenue of $45.3 million, up 38% year-over-year
Total ARR1 of $139.0 million as of June 30, 2021, up 33% year-over-year
SaaS Revenue of $20.6 million, up 76% year-over-year
GAAP Operating Loss of $11.2 million; GAAP Operating Margin of (24.7%)
Non-GAAP Operating Income of $3.3 million; Non-GAAP Operating Margin of 7.3%
GAAP net loss attributable to AvePoint, Inc. of $11.6 million or $0.98 per share
Cash and Cash Equivalents of approximately $66.3 million as of June 30, 2021
Net proceeds of $204.5 million from business combination which closed on July 1st, subsequent to second quarter end
Second Quarter 2021 Key Highlights

The AvePoint SaaS cloud platform, AvePoint Online Services, achieved FedRAMP Authorization signifying its SaaS solutions are approved for use across all United States federal agencies at the moderate impact level. The platform was also assessed against the Information Security Registered Assessors Program (IRAP), which ensures compliance with information security and requirements as mandated by the Australian Government
AvePoint released its Salesforce Cloud Backup for managed service providers (MSPs) across 36 countries and via 58 distributor app marketplaces
APAC's leading distributor of cloud solutions and services, rhipe, now offers AvePoint solutions to its managed service provider (MSP) customers
Continued expansion in user base with more than 8 million cloud users
Financial Outlook
For the third quarter of 2021, AvePoint currently expects:
Total revenues between $51.5 and $53.5 million
Non-GAAP operating income between $1.7 and $3.2 million
For the full year ending December 31, 2021, AvePoint currently expects:
Total revenues between $192.0 and $196.0 million
Non-GAAP operating income between $4.7 and $7.7 million
Conference Call
AvePoint will host a conference call today on August 10, 2021 to review its second quarter 2021 financial results and to discuss its financial outlook. The call is scheduled to begin at 4:30pm Eastern Time. Investors are invited to join the webcast by visiting https://ir.avepoint.com/events. The webcast will be available live, and a replay will be available following the completion of the live broadcast for approximately 90 days.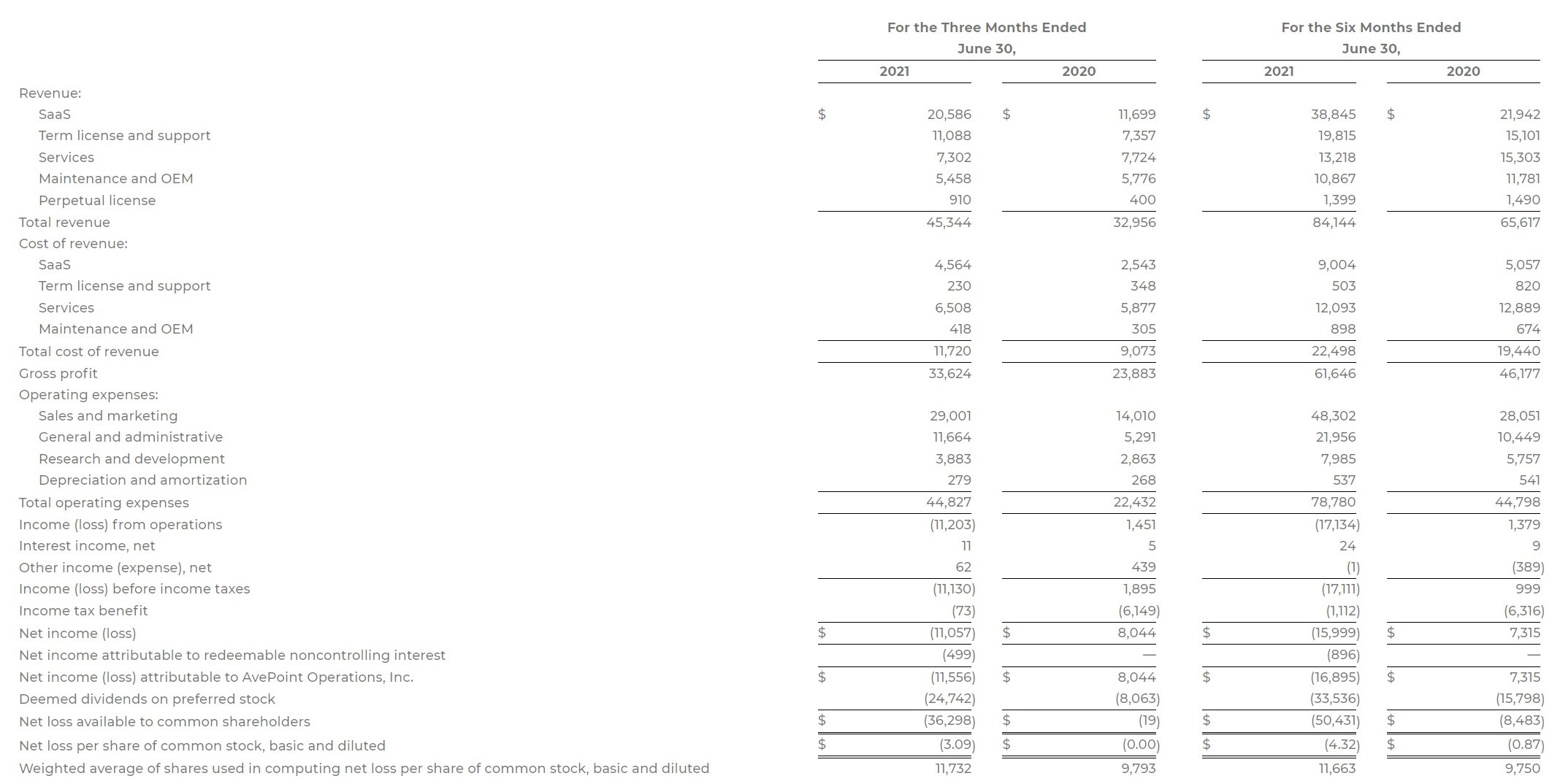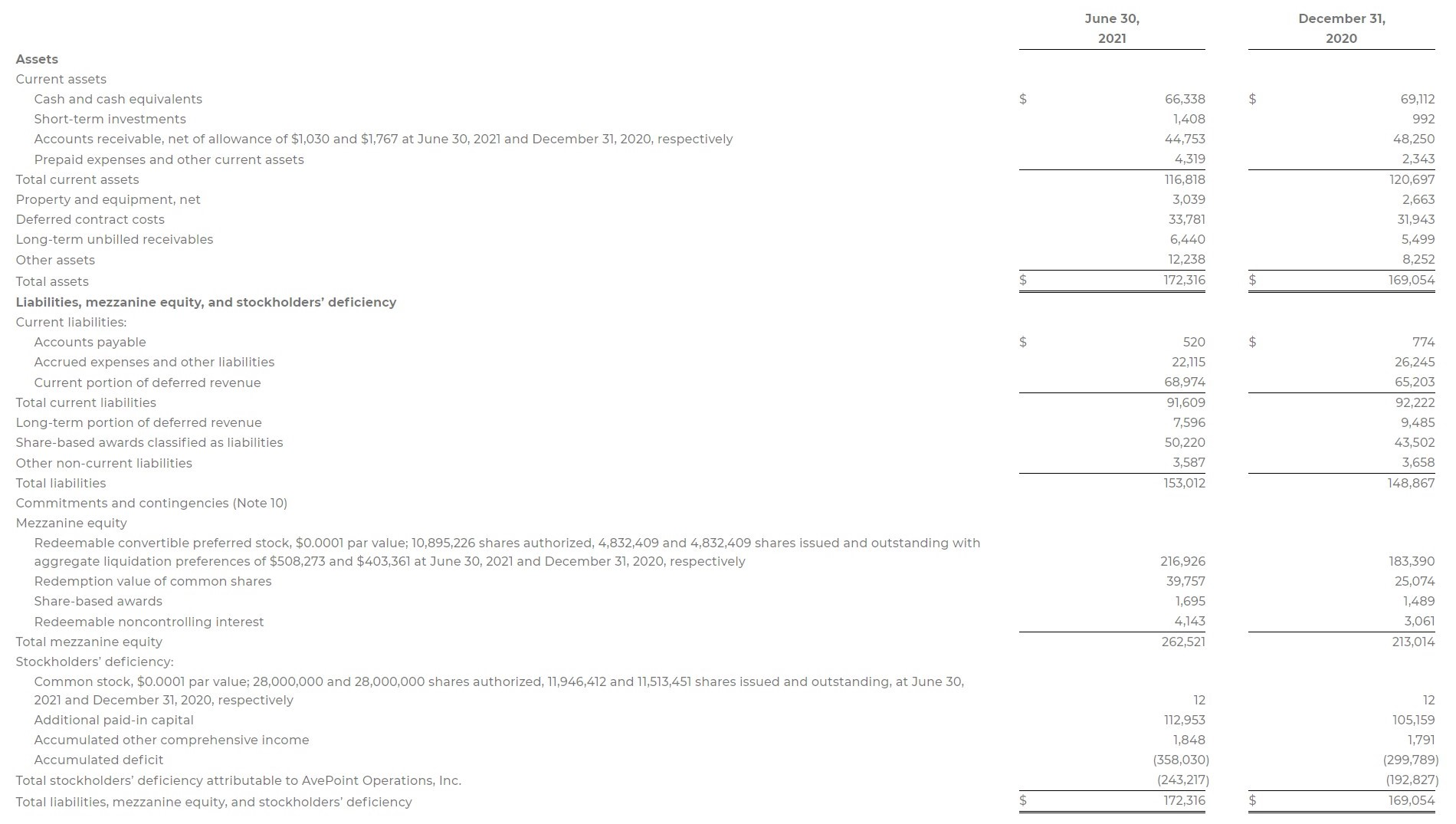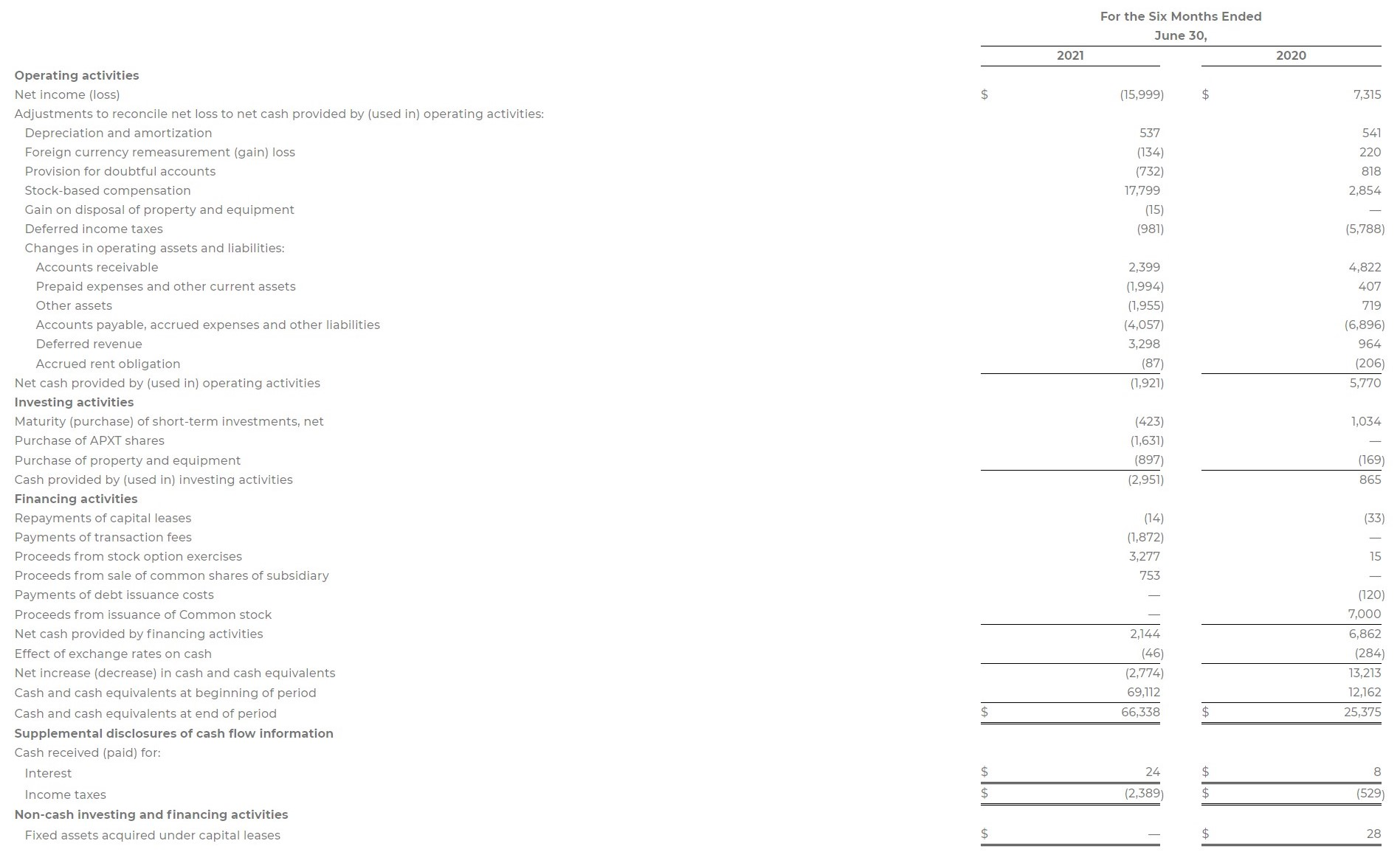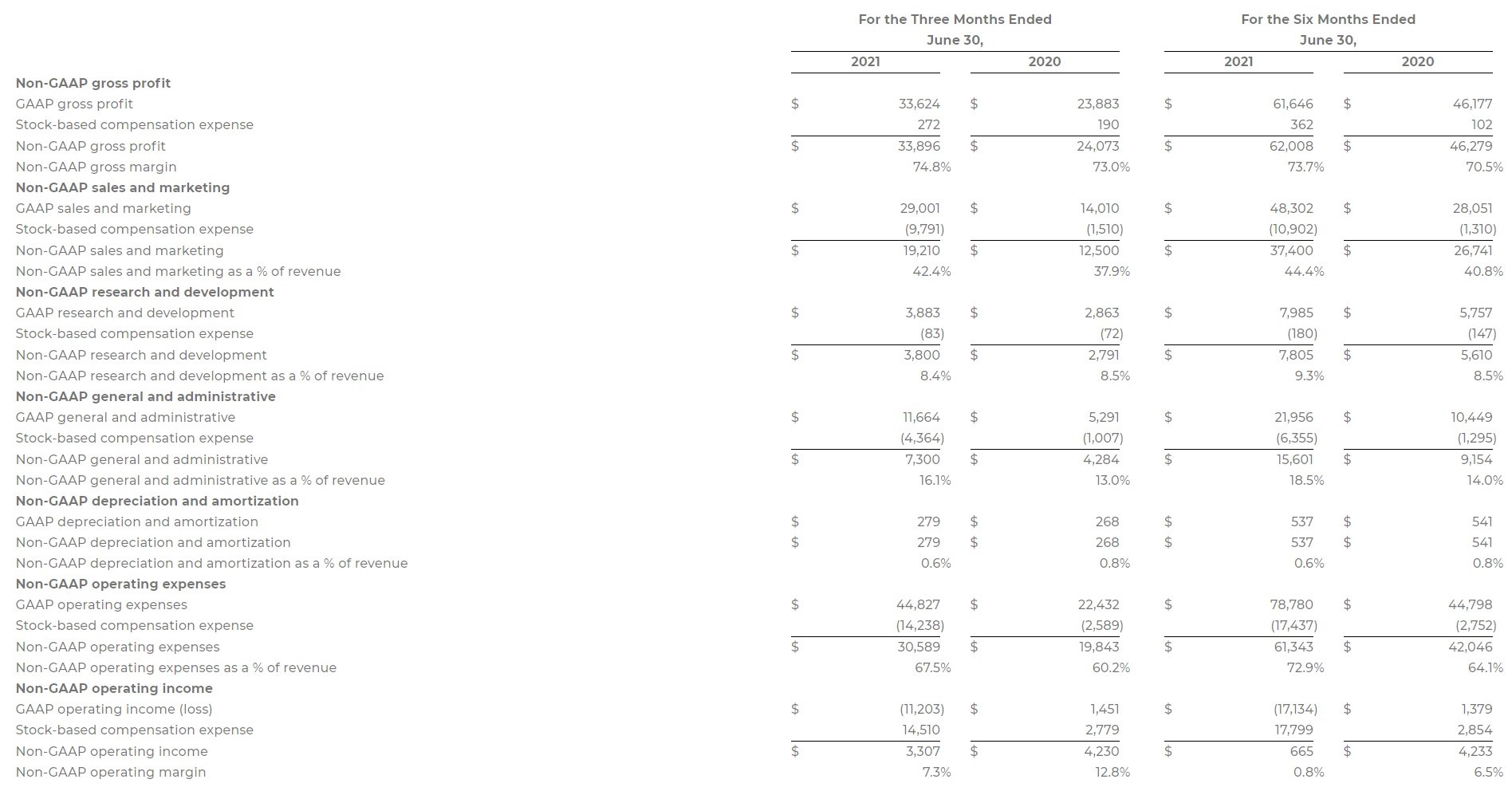 About AvePoint
Collaborate with confidence. AvePoint provides the most advanced platform for SaaS and data management to optimize SaaS operations and secure collaboration.
More than 8 million cloud users rely on our solutions. Our SaaS solutions are also available to managed service providers via more than 100 cloud marketplaces, so they can better support and manage their small and mid-sized business customers.
Founded in 2001, AvePoint is a five-time Global Microsoft Partner of the Year and headquartered in Jersey City, New Jersey. For more information, visit
https://www.avepoint.com
.
All product and company names herein may be trademarks of their registered owners.