Discover. Migrate. Govern
Accelerate Digital Transformation To Your Modern Workspace
Migrate, consolidate, and transform your cloud and on-premises content
WATCH ON-DEMAND BY REGISTERING BELOW.
Duration: 1 Hour
Proven Migration Experts Since 2003
Move, migrate, and consolidate legacy systems, cloud files, mail, and Microsoft Office 365 tenants into Microsoft Office 365 and SharePoint. We maintain data integrity and never compromise security. No matter the path, we take a proven approach!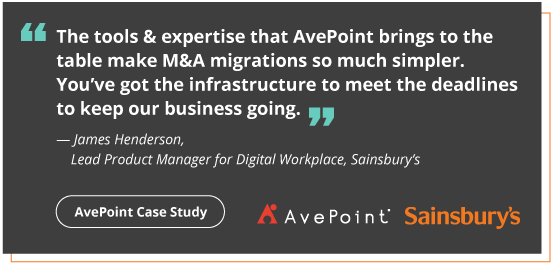 Whether you've been using Microsoft 365 for many years or have just introduced Teams into your organisation, migration will sooner or later cross your path.
Migrate from other applications to Office 365 offerings, including:

- Box, Dropbox, G Suite, Egnyte -> OneDrive
- Slack, Skype, Zoom -> Microsoft Teams
- Intranet software -> SharePoint portal
- Custom-Built and Workflow Apps -> Power Platform
3 Migration Steps:
Discovery
Arguably the best offensive move you can make when approaching a migration. No matter where your data lives, you must scan, map and analyse your data at the file and content level. Our migration will allow you to drill down to the container level and identify these migration tripwires allowing your organisation to get where it wants to be faster and with less risk.
Understand which content is most critical, what requires re-work, or what is unnecessary and can be excluded from the migration project—migration plans can be prioritized based on business needs.
Migration - making the move
Do it yourself
When to bring in the AvePoint migration service team
Governance
Setting up governance for your new cloud workspaces. All that discovery you did , well now it's time to set up those governance and classification policies in your new workspace.