Microsoft Teams: Adopt, Don't Stop
No matter where you are on your cloud journey, AvePoint solutions set you up for success in Teams. Whether data and content are spread across disparate file shares, on-prem email servers, in other cloud or collab platforms—or your Teams have already sprawled out of control—we can help!

Evolve & grow
Map and migrate mail, files, and collaboration—including existing Team Sites, channels, and users—into a desired Teams' structure, within or across Office 365 tenants!

Guide the way
Once in Teams, make the right thing easy to do. Guide users with tailored options and apps that are available for them based on their role, purpose or location.

Monitor adoption
Keep track of your Teams inventory with detailed reports to help you oversee, automate, and audit Teams' data, ownership, access, activity, and more.
Slide into Microsoft Teams
Whether you're moving from Slack, G Suite, tenant to tenant, or any other cloud or legacy server platform, we'll help ensure a speedy and successful slide into Teams! Score a home run with AvePoint's migration platforms which consolidate mail, files, and collaboration info into Microsoft Teams and Office 365 faster than you can say #winning.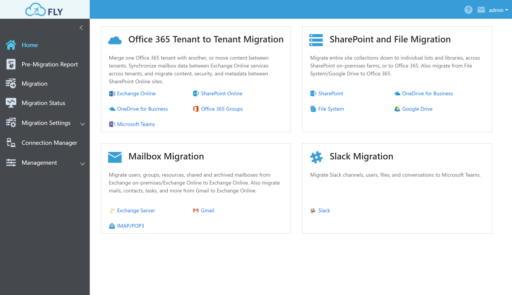 Slack to Teams
Migrate each Slack Channel into its own Team, or consolidate multiple Slack channels with similar membership into one Team with multiple channels.
Tenant to tenant
Migrate Teams into other Office 365 instances or restructure within your current instance. Map channels individually to ensure information architecture.
G Suite to Teams
Speedily move G Suite, G Drives, group drive files and mailboxes files into Office 365 while preserving the content's permissions and metadata.
Legacy servers to Teams
Ensure efficient and smooth migration from legacy SharePoint and FileSystems into Office 365.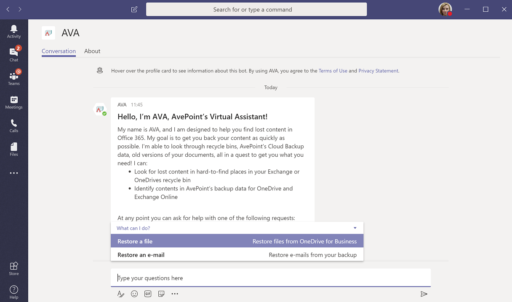 Protect Your Microsoft Investment
Teams delivers content, data, and collaboration across Office 365 services in a single modern workspace—so it's critical you cover your SaaS. Make sure your Teams' mail, files, SharePoint sites, users, and even Planner tasks stay in sync, and are easily recoverable. Accidents happen, and it's always better to be safe than sorry!
Built-in governance
Enable controlled release or roll-out of new Teams and Office 365 features to according to your own policies.
Managed disposition
Let users identify Teams that are ready for archival or deletion, or trigger disposal based on inactivity or lease expiration once their purpose has been served.
You NEED MyHub
MyHub provides one location within Teams where users can find, access, and request resources, break down data silos, minimize searching, and more.
Empower end users
Ensure users can recover content on demand with AVA, AvePoint's Virtual Assistant. She helps users find and restore lost content from within Teams!
Microsoft Teams Services
Let us help you! With AvePoint at your service, you'll never have to contemplate the who, what, when, where, why and how associated with the deployment, migration and adoption of Teams. Quite simply, we've got the tools, workshops and best practices to ensure your journey to—and through—Teams is smooth like butter.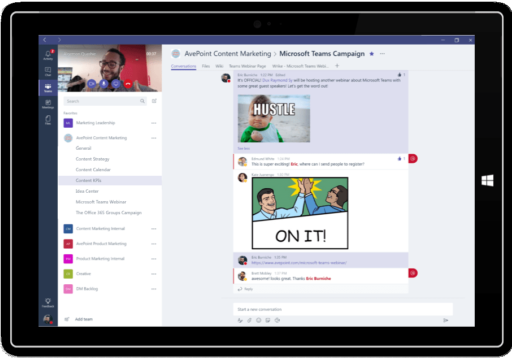 Teams Governance Workshop
Our tailored, interactive workshop will help you define and clarify governance in the context of Teams, and ensure you get started on the right path.
Teams Best Practice Assessments
We'll provide a starter Teams governance policy outline, a best practices assessment and a mapping exercise for Teams use cases.
Teams Governance Pilot
We'll provide a detailed analysis, suggest tools and techniques to implement IT governance, then execute a governance pilot using Office 365 and the cloud.
Intelligent Surge Management
Teams surging? Or need help getting started? This rapid, two-week deployment of products + services, helps you automate Teams management, fast.
Microsoft Teams Products
and Services
Get Started Today
Our experts are on it! We'll be in touch shortly to get you set up.