M&A Restructuring
Get Microsoft 365 and Microsoft Teams ready to support your new business combination
Enable rapid, digital collaboration so your users can get back to work faster after your merger, acquisition, or divestiture.
The State of M&A
Business re-combinations are disruptive. Many fail to hit their stated cost saving and revenue-generating targets within the first 5 years. But, they're also here to stay. Partner with AvePoint to respond faster, and with less risk. We help with your pre-deal due diligence with our virtual data room and all the way through your collaboration consolidation onto Microsoft 365. Your M&A team will have the tools they need to share and collaborate on your next deal. And, your users can get back to work faster post-deal, to drive critical innovation for your new organization.
M&A Transformation with AvePoint
Reduce time to value
Best practices state that cost saving measures, including technology consolidation, should happen within the first 18 months. With rapid discovery and seamless transformation, we get you to your new collaboration experience faster.
Decrease transformation risk
Our team of experts plus best-practice technology reduces project risk. Ensure all users, content, and even permissions are appropriately organized in your collaboration destination.
Better together for productivity and innovation
Microsoft Teams delivers the ultimate collaboration experience. Consolidate your new organization's workspaces on Teams with AvePoint to get to rapid digital collaboration, fast.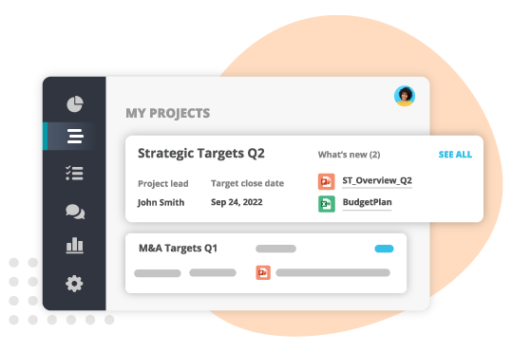 SEAMLESS DUE DILIGENCE ON YOUR EXISTING INFRASTRUCTURE
A Secure, Modern Data Room Built On Microsoft 365
Pre-deal due diligence requires secure external sharing, rigid permissions control, and the flexibility to accommodate new external parties throughout the process. Your M&A team requires efficient and secure information sharing to get and keep your acquisition targets on track. Consolidate due dil on Microsoft 365 with AvePoint's virtual data room.
When everything is on the line, trust in Confide.
Meet Confide
YOUR CLOUD CONSOLIDATION DREAM COME TRUE
Solutions to support post-deal integration
Whether you are still going thru due dil, at "Day 0", or playing catch-up to your M&A goals, we can help. Our range of solutions facilitates everything from discovery to complete concierge services.
On-demand webcast: One Team, One Dream, One Collaboration Environment
Understand Microsoft 365 license allocation and usage across all your tenants.
Where does your content reside? Has it been accessed recently? Is any of it sensitive? What external users should be migrated?
Easily consolidate multiple tenants, and even multiple clouds into Microsoft 365.
While the project to consolidate your collaboration will have an end date, AvePoint solutions can stay in play to help you optimize your ongoing operations and continuously improve.
Automatic backup and unlimited storage and retention allow you to bounce back fast from user errors, ransomware, and more.
Concierge services
Get a helping hand from our team of experts. We'll guide you through your project, or get our hands dirty and lighten your load.
Be prepared for your next business restructuring
Products & Services to Support Your M&A Collaboration Transformation