Deliver Online Exams Seamlessly
Conduct Secure Online Exams With Our Cutting Edge Proctoring Technology
Craft, monitor, and analyse online exams with confidence. Built on the latest Microsoft Technology to keep your students on track whether they're online or in-person.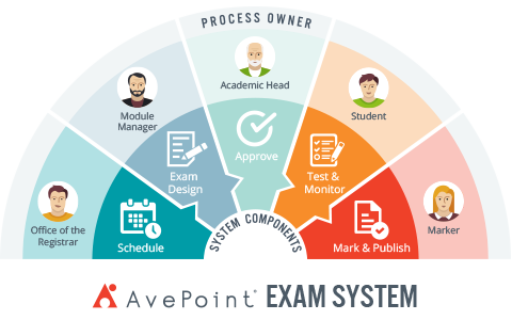 AN INCLUSIVE ONLINE EXAM SYSTEM TO MEET EVERYONE'S NEEDS
Going remote? No need to panic. AvePoint enables a secure, intuitive, and online testing experience for students and educators alike. Educators have flexibility at their fingertips to design exams perfectly aligned to course goals and outcomes. Proctoring and grading has never been easier. Plus, all your students get a consistent experience– even on their own device!
Value created just for you:
Academic Faculty
Save time and money, even with reduced headcount. Easily schedule exams, craft papers, proctor, and mark. Publish results seamlessly.
Students
Reduce exam anxiety. We provide an intuitive exam dashboard with alerts and notifications. View results online, as they're available.
Institute Management
Adhere to strict confidentiality requirements. We follow robust information security and data privacy protocols. Record and track misconduct in real-time.
Exam Scheduling & Planning
Schedule and plan for exams in just a few hours. Rapidly enroll and register students for exams. Timetables and exam types can be easily developed to meet your institutional requirements. We take care of all data processing and storage related to students and educators. Wizards are built in to guide you every step of the way!
Guided exam setup. No need to be a technology expert to use our expert technology. Our wizards guide you to ensure exams align to your course or institute goals.

Modular learning. Delegate exam module creation to teaching associates or even assistants.

Plan and schedule automation. Automate planning and scheduling based on student and proctor availability.

Staffing & resource allocation. Ensure exams have the required staffing, rooms, or other resources required in real time.

White listing done right. Select which technologies, books, or other materials to allow during exams.

The exam type you need. Configure open- or closed-book exams and more from multiple exam types.

Schedule notification. Notify students, teachers, TAs, proctors, and more of exam schedules as they are confirmed.
Question and Paper Crafting
Within Examena, your work is completely encrypted. Securely setup question papers and approvals. Easily register students for all course exams, fast.
Custom questions. Create more than 10 types of questions! We've got you covered with multiple choice, essay, matching, ranking, and more.

Take it to the bank. Build your question bank to reuse or repurpose questions or essays as needed. Or create new questions from scratch.

Enforce standards. Exam approval processes ensure Department heads or other stakeholders can view and approve exams before they are published to enforce academic standards.

Delegate to create. Delegate exam module creation to teaching associates or even assistants.

Aligned with the times. Easily view all questions and their associated competency or difficulty level, to ensure your exam is aligned to learning outcomes.
Intuitive Exam Experience
Students get an easy, straightforward experience. Moderators, proctors, or other exam administrators can keep watch with complete control. Our anti-cheating technology enables invigilators with live proctoring, using a screen-only or entire 360° workspace view.
Tailor-made dashboards. Intuitive dashboard for students and invigilators deliver quick insights based on who you are.

Work with anything, anywhere. BYOD-enabled exam packages ensure all students have a consistent experience.

Invigorate invigilators. Get central oversight into student attendance and progress.

Intelligent proctoring. Our advanced technology uses AI, 360°cameras, and screen monitoring for a comprehensive proctor oversight.

Smart authentication. Authenticate against IDs, or use facial recognition to verify student identity.

Kick off without a hitch. Let the online exams begin. Generate a key for students to unlock their encrypted exam packs.

Keep the pace. Students can easily track lapsed time and progress across sections and questions.
Grading & Result Publishing
Examena's auto-marking makes grading easy. Based on results, guide students towards areas of improvement with detailed insights. Measure performance across overall exams, topics, and competency levels. Ease students' exam anxiety with digital grade publication.
Central marking dashboard. One place to view and track your marking progress across courses.

Delegate to scale. Assign questions to teaching assistants to get your grading done faster. Or, take advantage of automatic marking.

Integrity, always. Hide student IDs from markers to ensure grading integrity, to remove any risk of bias during grade consideration.

Class & question statistics. View class, exam, and question statistics with built-in, dynamic dashboards.

Built in reporting. Take advantage of over 20 built-in reports.

Grade & publish. Grade on a curve or not, we'll make it easy to assess and publish results just the way you need!

Built-in feedback. Students will be able to quickly understand where they need the most improvement – based on topic or level of expertise.
Get the show on the road!
This walkthrough tutorial is designed to help you quickly understand the functions of Examena and how you could set up a simple exam. Click the video for a step-by-step guide that showcase how Examena works and meet your online testing needs!
Proven by Singapore's own Institutes of Higher Learning
An Intuitive Exam Experience with Cutting-edge Technology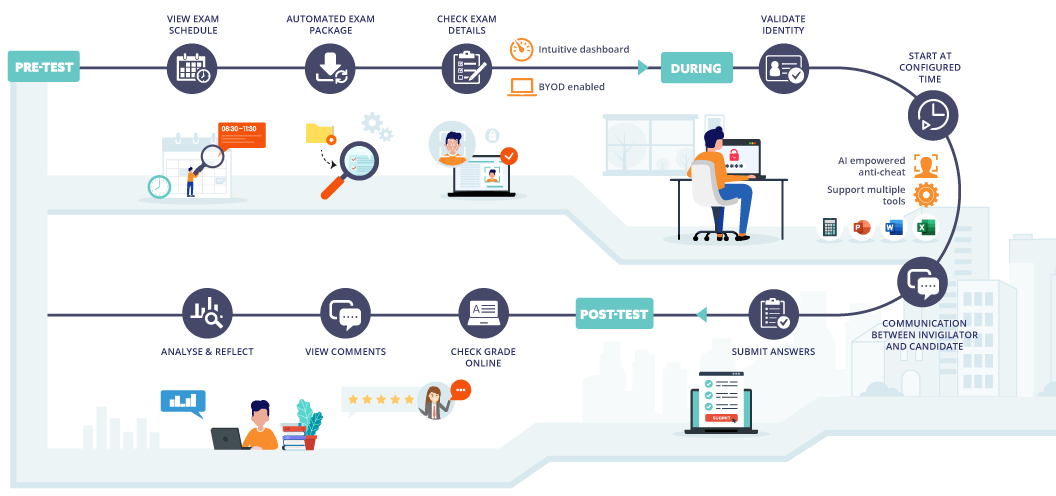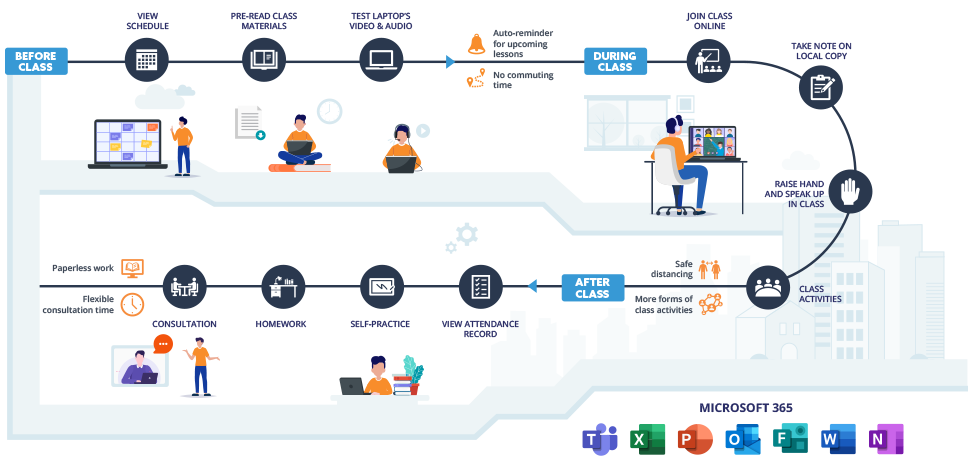 Online exams for the digital age.
Enable the remote learning revolution!