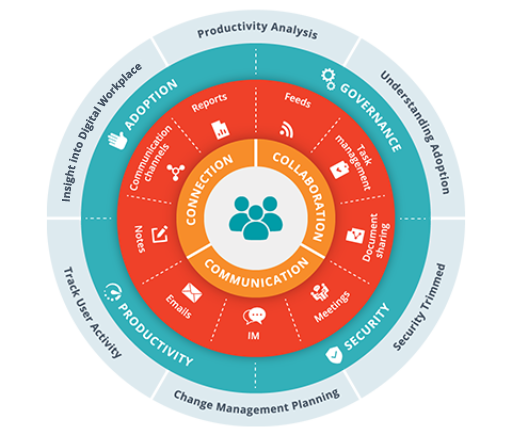 The Digital Workplace Is More Important Than Ever
The modern workplace has become truly digital over the past few years and information workers are now able to connect and work from anywhere. But with the recent COVID-19 pandemic, it's the first time in history that millions of people have been forced to work from home.
To support remote workers during the COVID-19 crisis, Microsoft 365 has been the leading platform to enable remote workers to collaborate, communicate, and ensure business continuity while working from home.

How does remote communication and collaboration work?

Are your digital tools being used in the right way?

Is everyone staying productive while at home?

Is your remote work surge under control?
AvePoint Workspace Productivity is designed to help organisations visualise their Microsoft 365 adoption with tools such as Microsoft Teams, SharePoint Online, Exchange Online and more.
With an interactive dashboard that displays how your team is operating with M365, it helps business stakeholders gain insight and make the right decision/strategy by offering proper support for team collaboration.
Visibility into all Microsoft 365 workspaces
Microsoft Teams, SharePoint Online, Exchange Online, Yammer, OneDrive for Business.
Gain detailed understanding and visibility into how your organization is utilizing relevant workspaces.
Easy & secure
With security trimming in place, reports are only available to relevant individuals. Your organization's security and privacy is protected.
Managers are able to review in-depth daily team activities from the past 90 days.
Report is exportable to csv.
Quick roll-out
No lengthy implementation needed.
You can start utilizing our Workspace Productivity dashboard within 5 minutes.
Limited Time Free Offering Until The End Of 2020

Register today and you'll have the free Microsoft 365 productivity dashboard for up to 5 business users until the end of 2020.
Create an account / Sign in
The AvePoint Portal is your centralized hub for all things AvePoint!
User guides
Release notes
Webinars
Videos
Create your account
Already have an account? Sign in
Get Started Today
Our experts are on it! We'll be in touch shortly to get you set up.