Fly: Your Cloud-Hosted Migration Solution for Seamless Digital Transformation
Move, Restructure, and Consolidate your data in the Modern Workplace
Swiftly respond to any needs for migration, whether going from on-premise to the Cloud, changing Cloud platform providers, or dealing with mergers, acquisitions, and divestitures. Our Azure-hosted SaaS solution has you covered for the following migrations:
M365 tenant-to-tenant (EXO, SPO, Groups, OneDrive, Teams, and Teams chats)
Google Workspace (formerly G-Suite) to M365
Exchange on-premise to Exchange Online
Hosted exchange to Exchange Online
Power Platform (Power Apps and Power Automate flows)
Full-fidelity Migration within or across Microsoft 365 Tenants
Unlimited content migration. No infrastructure hassle or installation needed. 24/7 live support.
Move, migrate, or restructure cloud content in Microsoft Teams and Microsoft 365. Migrate unlimited data easily and with full-fidelity. Our next-generation SaaS solution enables you to simply login and begin your next move. Built in discovery, mapping, and scheduling enable you to clean up or clean out data and reach your goals on time and within budget. Rest assured that 24/7 live support comes standard with AvePoint SaaS solutions.
Analyze
Know what's relevant and important, or just collecting dust before your move. Understand your total size, channels, information architecture, checked out files, and workflows that may impact your project to improve planning.
Migrate
Move entire OneDrives, Exchange Online, Groups and Teams instances, sites, or individual lists and libraries to achieve a desired end goal. Then map, filter, and schedule the move, or just migrate in real time.
Monitor
Track migration status and progress on the dashboard. Validate your migration progress, generate reports that highlight actions taken, and always be in the know with automated updates sent directly to stakeholders.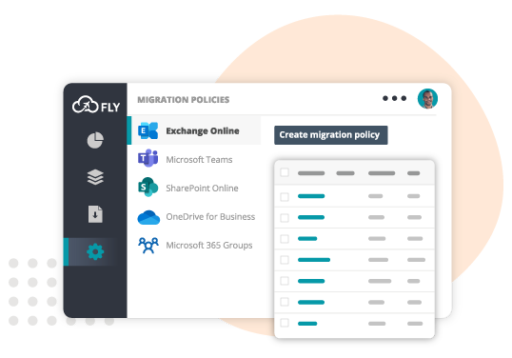 Pre-Migration Analysis
Get all the details. Understand your existing information architecture, data size, users, workflows, site activity levels, and customizations.
Create a project. Create migration projects according to your timetables – define the scope, filter policy, method, and schedule.
Migrate
Tenant-to-tenant migration. Migrate your SharePoint Online, Exchange Online, OneDrive, Teams, and Groups between different Microsoft 365 tenants to consolidate, split, or restructure your Tenants.
High speed. Migrate at top speeds using built-in Microsoft best practices. Use prime APIs to bulk upload the content within your migration scope into Azure BLOB storage plus App tokens for Microsoft 365 authorization to minimize throttling risks.
Full-fidelity data integrity. Maintain permissions, version histories, sensitivity labels, and more. Comprehensive mapping ensures data is properly retained.
Migrate Teams Chats. Migrate one-on-one chats, group chats and meeting chats across Teams.
Teams Shared Channel to Shared Channel Migration. Migrate all channel types within Teams, either to a new tenant or within the same tenant.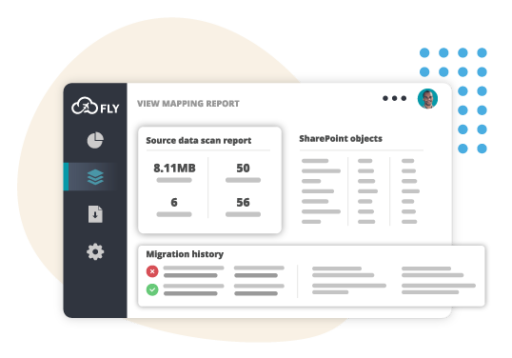 Monitor
Track the progress. Monitor migration status and progress on the built-in dashboard.
Validate the migration. Report on migrated data volumes as well as site, list, library, and item counts. Understand migration trends across sources and destinations.
Standard, stand-out Support. Our support team is standing by, 24/7. If you need an extra hand, explore our Migration Services. Our experts have more than 20 years of experience and are here to help.
Multiple Workload Error Reporting. See all errors in a single file, regardless of workload type or when working on multiple projects for a single workload.
Fly Resources
One Dream, One Team, One Collaboration Environment
How to launch a stunningly successful Microsoft 365 migration in 5 simple steps.
See the Webinar!