AvePoint Media Contact
Nicole Caci
Tel: +1 201-201-8143
Email: nicole.caci@avepoint.com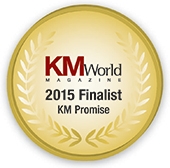 AvePoint Selected as a Finalist for the 2015 KM Promise Award
KM Promise Award recognizes companies who go above and beyond simply delivering technology by making sure their customers achieve real business results
Jersey City, New Jersey — December 7, 2015 — AvePoint, the established leader in enabling enterprise collaboration across platforms and devices, today announced it has been named a finalist for the KM Promise Award, presented by KMWorld magazine. AvePoint was nominated for its DocAve Software Platform.
The KM Promise Award is given to organizations that deliver on the promise to their customers by providing innovative technology solutions for implementing and integrating knowledge management practices into their business processes. Award-winning organizations demonstrate how they go beyond simply delivering technology to working with clients to ensure that both the technology and knowledge processes are embedded into the work processes.
"AvePoint places utmost importance on our customers and meeting their enterprise collaboration needs," said Dr. Tianyi (TJ) Jiang, Co-CEO and Co-Founder, AvePoint. "Being selected as a finalist for the KM Promise award further validates the success we've helped more than 14,000 customers worldwide achieve by allowing them to overcome any collaboration challenges they face."
AvePoint's nomination was based off of a success story involving Kern County Sheriff's Office, which works in partnership with its community to enhance the safety, security, and quality of life for the residents and visitors of Kern County, California through professional public safety services. With approximately 2,000 employees utilizing Microsoft SharePoint, Kern County Sheriff's Office's implementation expanded quickly to become a critical system, storing content that needed the utmost protection. With DocAve, the agency was able to:

Protect data according to specific agency needs, with full platform and granular backups running automatically at the end of each day
Restore accidentally deleted SharePoint sites within 30 minutes, saving days of time that would be required using only the platform's native capabilities
Automatically move BLOB files larger than one megabyte off of SharePoint content database and onto additional storage, externalizing 84 percent of SharePoint data and significantly improving overall platform performance
With DocAve, the agency was able to ensure its growing SharePoint environment was protected and optimized, all through one convenient solution. "We wear many hats at our organization, and SharePoint is not my only responsibility," said Chris Mulanax, Senior Information Systems Specialist, Kern County Sheriff's Office. "With DocAve backing up our SharePoint data at all times and offloading our storage automatically, I can focus my efforts on other important matters at the agency."
To read more about Kern County Sheriff's Office's success story with AvePoint, read the published case study on AvePoint's website.

About AvePoint
Collaborate with Confidence: AvePoint provides the most advanced platform to optimize SaaS operations and secure collaboration.
Over 17,000 customers worldwide rely on our solutions to modernize the digital workplace across Microsoft, Google, Salesforce and other collaboration environments.
AvePoint's global channel partner program includes over 3,500 managed service providers, value added resellers and systems integrators, with our solutions available in more than 100 cloud marketplaces. To learn more, visit https://www.avepoint.com/sg.
All product and company names herein may be trademarks of their registered owners.