AvePoint Media Contact
Nicole Caci
Tel: +1 201-201-8143
Email: nicole.caci@avepoint.com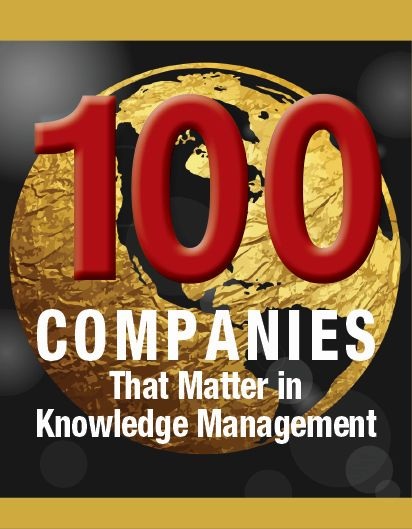 AvePoint Named to KMWorld Magazine's "100 Companies That Matter in Knowledge Management" for Eighth Consecutive Year
Annual list highlights companies whose unwavering commitment to knowledge management enhances productivity while meeting the customized business needs of organizations worldwide
Jersey City, New Jersey — March 7, 2017 — AvePoint, the Microsoft Cloud expert, today announced that it has been named to KMWorld magazine's "100 Companies That Matter in Knowledge Management" for the eighth year in a row.
Now in its 17th year, the KMWorld "100 Companies That Matter in Knowledge Management" list is compiled by knowledge management practitioners, theorists, analysts, vendors, customers, and colleagues. Selected organizations in 2017 were recognized for having traits including innovation, ingenuity, resourcefulness, usefulness, collaboration, community, and expertise while also helping their customers attain such qualities.
"The banner of knowledge management spans a wealth of territory to encompass solutions that range in functionality from the tried-and-true to the futuristic. Those designated to this year's list of KMWorld 100 Companies That Matter in Knowledge Management run the gamut of capabilities, but share such similar characteristics as innovation, ingenuity, usefulness and resourcefulness," says Sandra Haimila, Editor at KMWorld. "Moreover, the companies on this list create solutions that help their customers turn vast amounts of data into usable knowledge that they can leverage to enhance collaboration, gain insights, and achieve their goals."
AvePoint helps over 15,000 companies and more than 17,000 customers worldwide accelerate the migration, management, and protection of their Office 365 and SharePoint data. Through AvePoint's fully integrated cloud, hybrid, and on-premises software solutions, organizations across six continents and all industries have been able to ease transition to the Microsoft Cloud, increase IT administrator productivity, and satisfy governance and compliance objectives.
"It's an honor to be recognized by KMWorld as a leader in the knowledge management space for eight years straight," said Dr. Tianyi (TJ) Jiang, Co-CEO and Co-Founder of AvePoint. "As organizations worldwide continue to embrace the concept of digital transformation and adopt the Microsoft Cloud, AvePoint is committed to helping them overcome any roadblocks – whether it's meeting aggressive service level agreements for data recovery, enforcing governance policies, or protecting sensitive data – while achieving business success along the way."

About AvePoint
Collaborate with Confidence: AvePoint provides the most advanced platform to optimize SaaS operations and secure collaboration.
Over 17,000 customers worldwide rely on our solutions to modernize the digital workplace across Microsoft, Google, Salesforce and other collaboration environments.
AvePoint's global channel partner program includes over 3,500 managed service providers, value added resellers and systems integrators, with our solutions available in more than 100 cloud marketplaces. To learn more, visit https://www.avepoint.com/sg.
About KMWorld
KMWorld is the leading information provider serving the Knowledge Management systems market and covers the latest in Content, Document and Knowledge Management, informing more than 21,000 subscribers about the components and processes - and subsequent success stories - that together offer solutions for improving business performance. KMWorld is a publishing unit of Information Today, Inc.
All product and company names herein may be trademarks of their registered owners.