Stop sprawl in its tracks
Data storage costs represent up to 3.8% of global revenues, and users waste up to 60% of their time searching for, or recreating work. Regain control of your enterprise content and storage with AvePoint solutions for integration, optimization, and lifecycle management.

Search & conquer
Users and records managers can quickly and easily locate what they need across File Shares, SharePoint, and Office 365.

Lower storage costs
Move the bulk of your data to lower-cost storage. Reduce data volume and management costs with automated pruning.

Automate Policies
Seamlessly create and apply automated lifecycle management policies across SharePoint, Office 365, and File Shares.

Share silos…begone
Connect, then manage file shares or Box directly from SharePoint or Office 365. Whether it's blocked file types, large files, whatever—you name it, we connect it.

Optimize storage
Move BLOBs and infrequently accessed data to lower-tier (and lower-cost) storage. Reap performance benefits and cost savings.

Manage lifecycles
Keep only what you need. Automate rules to identify, and quickly delete, move, archive, or preserve content that's been labeled as old, irrelevant, or as records.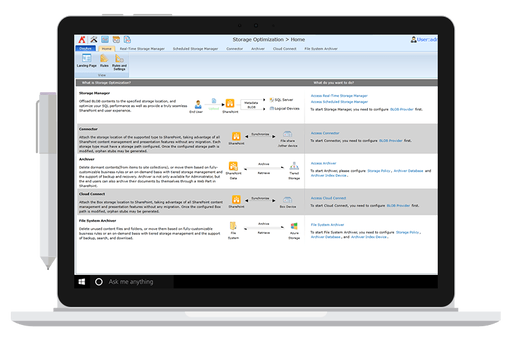 Access. Manage. Integrate.
Choose between a completely seamless integration into SharePoint to avoid a file share or Box migration project, or simply give users a window into file shares through Office 365 or SharePoint.

Link file shares
Users can access and interact with SharePoint content. Support for full-text search and native management capabilities.

SharePoint meets Box
Empower users with Box's mobile access and sharing capabilities, and SharePoint's robust ECM features.

Navigate file shares
Users can access and manage files from file shares, SharePoint, or Office 365 and preview large pptx or video files.
Boost performance. Save money.
SharePoint SQL storage isn't optimized to store BLOB content, which is up to 95% of your footprint. Move BLOBS to lower-tiered storage to extend storage architecture, cut costs, and boost performance.

Be selective
Move BLOBs out of SQL based on metadata or properties to target specific content for hierarchical storage.

Easy integration
Native SharePoint and DocAve capabilities for management, restructuring, replication, and backup work with BLOB content.

Migrate BLOBs
Switch to DocAve and we'll make it easy for you to migrate your existing BLOBs into our award-winning system.
Automate content lifecycle management
Automatically identify, then make a move on File Share, SharePoint, and Office 365 content to improve data quality and save on storage and discovery costs.

File Share Archiver
Flexible archiving of file share data to preserve discoverability, enforce compliance, and automate lifecycles.

Archive smarter
Move, archive or remove stale or end-of-life Office 365 and SharePoint content while ensuring policies are met.
Storage management & optimization products
Stop the space invaders...

They're coming soon to storage near you.
Get Started Today
Our experts are on it! We'll be in touch shortly to get you set up.