Sharing is caring
Extend the collaborative power of on-premises SharePoint beyond the walls of your organization. Boost productivity—enable users to work with anyone, anywhere, anytime—while maintaining security over the on-premises and Microsoft 365 content shared with robust administrator options.

Eliminate shadow IT
Users no longer need to turn to Dropbox, Google, or other file sharing solutions outside the purview of IT control

Unify productivity
Information workers can share content from approved libraries with just a click in the SharePoint ribbon

Secure & controlled
Maintain administrative control and ensure security over content shared by external users

Access auditing
Enforce compliance…monitor for and respond to alerts about suspicious file shares, remote access, and content downloads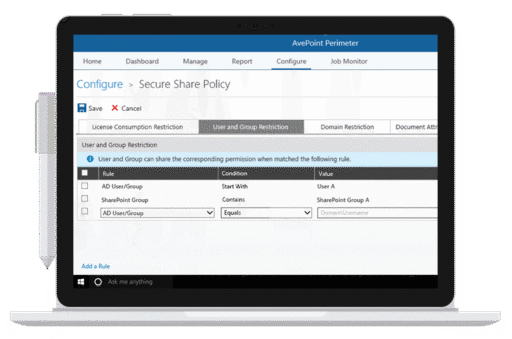 Share files securely & seamlessly
Securely collaborate with external partners and users directly from SharePoint and Microsoft 365 without creating separate partner portals or extranets.
Secure share
Shared content is replicated to a secure container to ensure your internal content is always protected
In-app sharing
Allow users to share directly from SharePoint or Microsoft 365 libraries
Sharing options
External users can read, edit, or upload content to your secure Perimeter workspace and changes will be synced
Access expiration
Grant temporary rights for users to access and modify shared content
Remote access management
Control access to SharePoint and Microsoft 365 content based on document sensitivity, location, or metadata.

Audit access
Centralize control for AvePoint Perimeter administrators to define where and how sensitive documents are viewed or accessed

Sharing controls
Restrict sharing by setting rules based on content metadata, permissions, domains, expiration dates, etc

Geo-fencing
Easily manage external user accounts and define password requirements for accessing the external portal

Be alarmed
Track, monitor, and get alerts on suspicious content actions, including inappropriate access, downloads, or shares

Detailed reports
Generate and export granular, customized reports on SharePoint activity, like content access, sharing, and downloads

Mobile access
Remotely access SharePoint through these mobile devices: iPad, iPhone, iPod Touch, Android™ platform and Windows Phone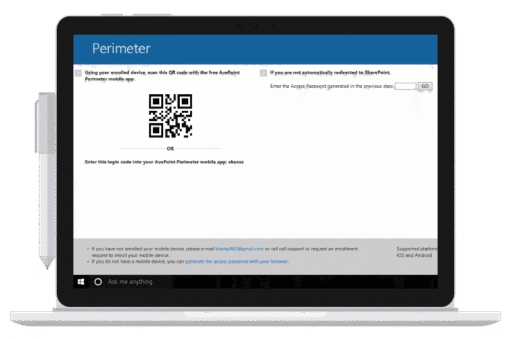 Share and share alike

What's ours is yours and what's yours is ours
Create an account / Sign in
The AvePoint Portal is your centralized hub for all things AvePoint!
User guides
Release notes
Webinars
Videos
Create your account
Already have an account? Sign in
Get Started Today
Our experts are on it! We'll be in touch shortly to get you set up.