Connect anywhere, anytime
Seamlessly merge content from Microsoft Office, Outlook, and Windows File Explorer into SharePoint and Microsoft 365. With seamless integration and unparalleled ease of use, users can add content, emails, and attachments with just a click.

Cut costs
Lower Exchange storage costs and reduce data sprawl of personal archives by promoting links instead of email attachments

Reduce risks
Help eliminate compliance risks by getting key content into SharePoint and Microsoft 365 with automated classification

Effortless integration
Copy or move content from Microsoft Office, Outlook, and Windows File Explorer to SharePoint or Microsoft 365 in a click

One collaboration space
Let users easily onboard via a centralized management panel and locate, organize, and access content via one platform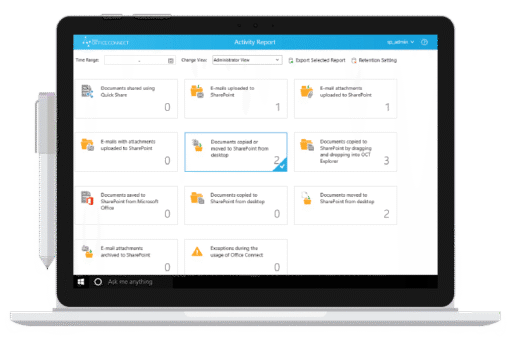 Maximize productivity. Minimize costs.
Break down data silos and streamline workflows by allowing users to surface Microsoft Office, Outlook, and Windows File Explorer content via SharePoint and Microsoft 365, creating a central collaboration hub.
Easy integration
Quickly drag and drop emails and attachments into the location of your choice

Quick share
In one click, documents can be shared with external stakeholders securely via email with "view" or "edit" permissions

Inside explorer
Navigate, sort, and filter SharePoint and Microsoft 365 sites, libraries, and lists, and securely share from the desktop

Easy onboarding
Remove the need to host a Manager server through an Online Manager option for hybrid or "all-in" Microsoft 365 customers

Report dashboard
View user activities and pending or failed uploads in Office Connect
Sharing is caring.

Don't get frisky. Oversharing can be risky.
Create an account / Sign in
The AvePoint Portal is your centralized hub for all things AvePoint!
User guides
Release notes
Webinars
Videos
Create your account
Already have an account? Sign in
Get Started Today
Our experts are on it! We'll be in touch shortly to get you set up.