Backing up SharePoint since 2001
Limit downtime and quickly restore lost or corrupted SharePoint or Office 365 content. Metadata, configurations, workflow—all covered. Recover one site or an entire farm in the cloud, or on-premises.

Minimize data loss
Schedule platform or granular backups as often as you need, or enable a warm stand-by for disaster failover

Recover faster
Restore and access here, there, and everywhere…delegate restore operations to a Help Desk, or centrally manage

Security & control
Backup data is encrypted by default. With central control set, manage, and monitor your operations, rest easy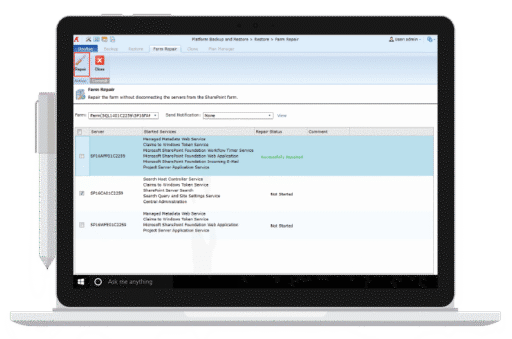 Granular or platform, SharePoint backup & restore
Business-aware and comprehensive protection of SharePoint Server 2019, SharePoint Server 2016, SharePoint Server 2013, SharePoint Server 2010, virtual machines (VM), SharePoint Online, and OneDrive for Business.

Protect the whole farm
Ensure platform-level components are protected in one backup plan—all applications, databases, web front ends, and VMs

Farm restore wizard
Whether restoring a site collection, mailbox, document, calendar, or contact, it's full fidelity and on-demand

Granular backup
Manipulate scan results to determine the impact of various scope parameters, like including or excluding content.

Full or incremental
Full backups capture all data, or use differential and incremental options to capture only changes since the last backup

On-demand restore
Whether restoring a database, site collection, document, or version, your restoration is full fidelity and on-demand
High Availability
Ensure business continuity and 24/7 fault tolerance with one-switch disaster recovery failover for SharePoint Server 2019, SharePoint Server 2016, SharePoint Server 2013, and SharePoint Server 2010.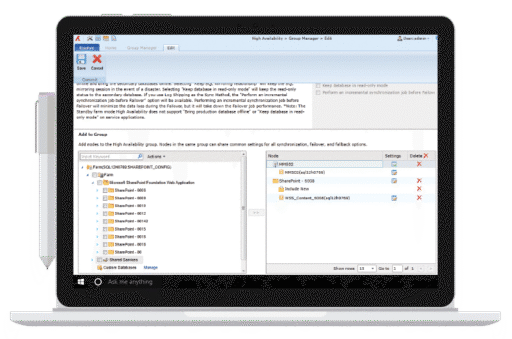 Farm synchronization
Real-time or scheduled synchronizations keep your stand-by farm up to date with your latest production content and configurations

Multiple sync methods
Use SQL Mirroring, AlwaysOn Availability Group, Log Shipping, SnapMirror, or DocAve Platform Backup Log Shipping to synchronize databases

Failover validation
Ensure your stand-by environment is configured correctly for synchronisation, and test failovers, to guarantee success

Custom configuration
Control throttling, cache settings, access controls for failover content, and more, through a central management console
All the coverage. All the time.
All your content, under lock & key

Ensure it is secure with backup & restore
Get Started Today
Our experts are on it! We'll be in touch shortly to get you set up.